Resurrection Creek Gold Panning Area
The second discovery of gold on the Kenai Peninsula was on Resurrection Creek in about 1888. The creek has produced an estimated 30,000 to 40,000 oz. of gold since 1895. Below Palmer Creek, Resurrection Creek flows through a 1,000 foot-wide alluvial flood plain. Creek gravels rest on a tan to yellow clay hard-pan with streaks of blue clay present. Bench gravels are exposed on both sides of the creek. Gold is disseminated throughout the gravel, but is concentrated on clay and bedrock.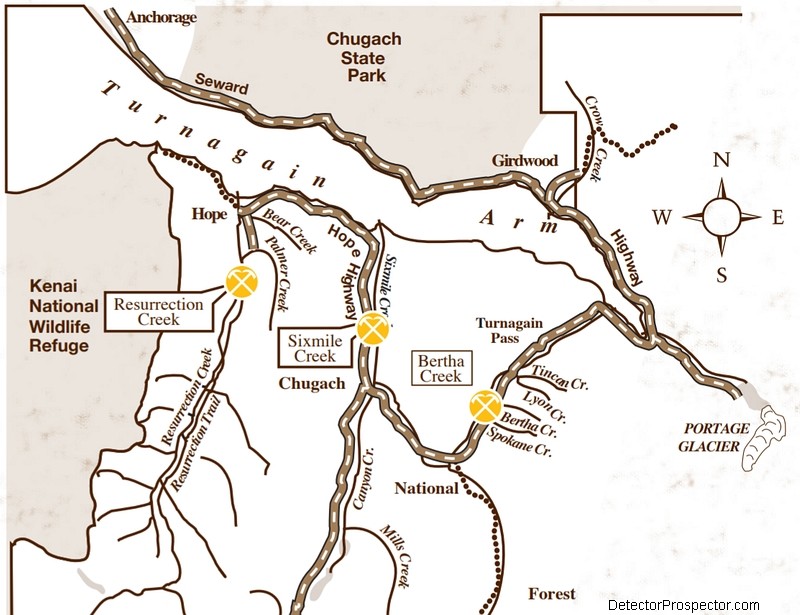 Resurrection Creek south of Anchorage on the Kenai Peninsula
A half-mile stretch of Resurrection Creek lies within a withdrawal and is available for recreational gold panning. This area is a favorite site for recreational mining. Suction dredges (4-inch or smaller) are allowed from May 15 to July 15 with a free ADF&G permit and a ADEC permit ($25 annual fee). You can access this area via the Resurrection Creek Road out of Hope. The mining area begins at the Resurrection Pass Trail footbridge, 4.5 miles from Hope, and continues upstream for 0.5 miles to a patented (private land) claim (Forest Order No. 10-04-30-05-01). The claim boundary is marked with a gate.
Fine gold can be panned from gravels all along the creek. Try for fine, flat gold near the campsite 0.25 mile above the footbridge and along the creek bank near the recreational mining information sign. Bedrock is exposed on the east canyon wall just above the campsite and just below the private lands. Both spots are good bets for gold. Rounded boulders piled along the creek are tailings from old hydraulic operations. Much of the road has been built on these tailings.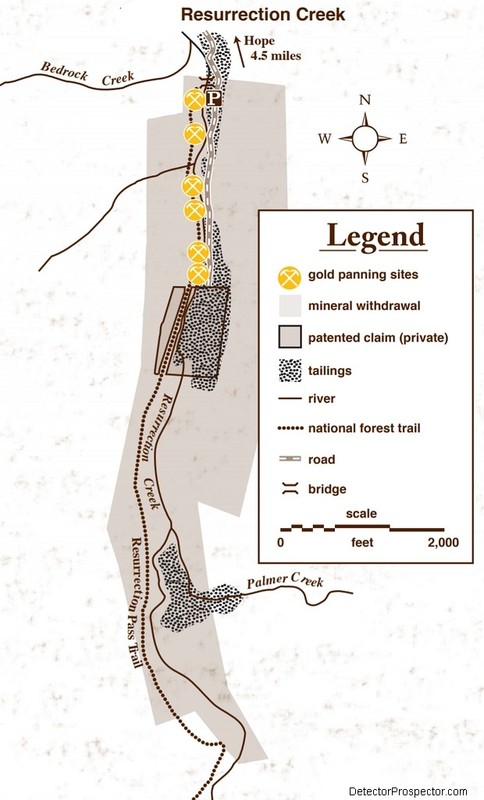 Resurrection Creek Public Mining Site
 Here are a few simple rules and guidelines that all recreational gold panners must know:
Recreational gold panning on the Chugach National Forest consists of the use of hand tools, panning, sluicing, and suction dredging with a 4-inch or smaller intake hose.
You must follow all National Forest rules, such as camping limits, discharge of firearms, and use of trails. You can find regulations in Title 36 Code of Federal Regulations (CFR), with general prohibitions in part 261. Review these regulations before you go gold panning. You can find copies of these regulations on the Internet and at Chugach National Forest offices in Anchorage, Girdwood, Seward, and Moose Pass.
You can use gold pans and hand tools-fed sluice boxes year round in the streams listed in this booklet.
No hydraulic mining or use of earth-moving equipment is allowed.
Work only the active stream channel or unvegetated gravel bars. Do not dig in stream banks!
You are not allowed to build structures, cut trees or dig up archaeological, historical, or paleontological objects, nor are you allowed to obstruct others in their recreational pursuits. If you find those objects, please report them to the Chugach National Forest.
Suction dredges (4-inch nozzles or smaller) are permitted from May 15 to July 15 only. Remember that permits are required.
The Kenai Peninsula is home to brown and black bears. Stay alert and avoid bears whenever possible. For more information, get Bear Facts from the U.S. Forest Service or Alaska Public Lands Information Centers.
The water is cold and you can expect to get wet— after all, the gold is in the water. Wear insulated waterproof boots and gloves. Wool clothing can keep you warm even when wet. Bring extra clothing and dress in layers.
Keep Alaska green, do not trash or litter. Many places have a $1,000 fine for littering. Follow Leave No Trace principles.
Good luck and good prospecting!
Resurrection Creek, Alaska in 2014

Most of the information above was derived from GOLD PANNING, Guide to Recreational Gold Panning on the Kenai Peninsula, Chugach National Forest, Alaska (2018) found here - See the full text for more information and details.