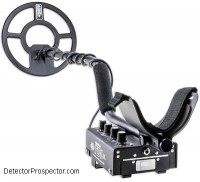 From original forum post 5/27/2008 updated 2/14/2010, 1/13/2013 and 1/3/2014
The White's PulseScan TDI is a ground balancing pulse induction (GBPI) metal detector and as a rule these detectors are considered "dig-it-all" type detectors. The TDI, however, has a number of manual controls that can be adjusted to allow for a degree of discrimination not normally found in PI units.
Most normal pulse induction (PI) detectors have a monotone audio response on targets. In other words, the soft threshold tone simply increases in volume in relation to the target strength. All target sound more or less the same, the only difference being a stringer or weaker audio response. This makes things real simple - you just dig everything.
Ground balancing pulse induction, or GBPI detectors, employ a method of ground rejection that in current models has an audio side effect. Tones are produced in relation to the current ground balance setting. In the case of the Garrett and Minelab models, a dual tone is produced by a single target. Either a high-low tone or a low-high tone, depending on the target and how it relates to the current ground balance setting. The White's TDI has a simpler response on a single target, either a high tone, or a low tone.
The targets and the tones they produce fall into two broad categories. In general one category has low conductive items, like aluminum, US nickels, most gold, and small ferrous trash. On the TDI these items produce a high tone. The other category has highly conductive items including clad, copper, and silver coins, silver rings, some large gold rings and very large gold nuggets, and large ferrous items. The ground balance varies depending on the ground itself but usually is around the same as zinc pennies, and therefore these may read in either category. Other settings, such as the pulse delay on the TDI, can also cause items to vary.
The following photo shows how the two target categories break down digging around school yard playground equipment.

Coins found with GBPI detector
Left side high tone targets, right side low tone targets
As you can see in the photo the vast majority of targets produce a high tone response. What is lacking at this location is large nails. Large nails will give a low tone response and so would end up with the coins on the right. Still, by digging low tones only, the vast majority of trash targets can be passed up and excellent results had on deep copper and silver coins. The following photo shows what might result digging low tones only in a park setting.

Coins and nails detected with PI
Low tone only targets
The icing on the cake with the TDI is the Target Conductivity switch. Normally you would have to listen to all the tones the detector produces, the vast majority of them being high tone, to pick out the much rarer low tones that would possibly indicate a deep coin. The Target Conductivity switch allows one response or the other to be suppressed, and by selecting for high conductive low tones only, the TDI operates very quietly in very trashy environments. This value of this feature cannot be overstated, and it makes the TDI a secret weapon for pulling coins out of extremely mineralized ground where VLF detectors would fail.
The TDI can go even farther, because unlike the Garrett and Minelab models it features a manual ground balance. This means that in milder ground conditions the ground balance control can be purposefully misadjusted to directly affect target tone responses. This method was passed on to through comment from Reg Sniff and George Kinsey so credit goes to them for turning me on to this.
The method involves purposefully misadjusting certain controls to get results and I'm not saying these are the best settings per se. I would encourage more experimentation to see what you can coax from the Whites TDI as I have not seen a detector so prone to experimentation and yet with relatively few controls. This is not a VLF detector and so lessons learned with VLF detectors often do not apply, and in fact could get in the way of understanding the TDI. Have an open mind and experiment.
I highly recommend the use of a PI pinpointer with the Whites TDI. You need some serious pinpointing power. The DetectorPro Uniprobe units are very good, but you may need to switch the TDI off when employing the Uniprobe pinpointer if the TDI interferes with the Uniprobe. Coiltek makes a 1" probe with switch box that can use the TDI itself as the pinpointer as another option, along with the more common self-contained pinpointers like the Garrett Pro-Pointer.
With the unit powered off, set the TDI Gain at 12, Pulse Delay at 10uS, Ground Balance knob at 1.5, GEB switch On, Target Conductivity On, and then turn the unit Power On. Set for a faint Threshold. If you are getting any interference (uneven threshold, warbles, and funny noises) slowly run the Frequency knob through its range seeking the quietest setting. Then flip the Target Conductivity switch to High. The threshold should go extremely smooth. If you get spikes or noises breaking through the normally rock solid threshold you may need to reduce the Gain. But usually at this point the threshold will be so smooth and solid you will find you can reduce it so low as to be barely heard.
Now try waving various steel items and coins a few inches under the coil and note the responses. You will see that most steel and iron, aluminum, and bottle caps will not signal. Beyond that, there are three basic responses. First, hold a coin 6-8 inches from the coil. Note the soft, sweet tone, woo, woo. Listen to it over and over, as this is your deep coin signal.
Now run a coin or larger steel item within 1 inch of the coil. You will get an overload signal, a strong baaaaawo, baaaaawo. This is the shallow item overload signal. If you are trying a steel or iron item, increase the distance from the coil. Note that at a certain distance it abruptly cuts off. Now try a coin and slowly increase the distance from the coil. It will gradually turn into that sweet coin tone. The way you tell shallow coins from shallow junk is to slowly raise the coil. If the target just cuts off – junk. If it slowly mellows out – dig!
OK, let's go detecting. What follows is the results of an outing using these settings. Listen for that sweet, deep coin sound. Those are the oldies and you main goal. In some hunted out parks this may be about the only signal you get as there are no shallow targets to generate to overload tone. Just go dig coins. Walk around each target and insure it gives a good, clean response from all angles. Be sure and use proper digging practices to leave the ground undamaged. Please protect our hobby.
In other places you will get lots of overload signals. If all you care about is deep coins, ignore them. If you want, however, just raise the coil while sweeping, and if the signal cuts off, skip it. If it fades to the deep coin tone, use your pinpointer and there should be a coin within an inch or two of the surface you can just pop out.
The Target Conductivity switch can be set too All to investigate questionable targets and to size targets. A pipe buried horizontally will have a high tone its entire length but a low tone at each end. When you walk around these in the High setting you will only hear the low tone and think it is a coin, but they tend to fade in one direction as you walk around them. If the target seems iffy, switch to All and see if you are picking up the end of an elongated iron or steel item. This false positive can occur well off the end of the pipe and so if you dig and nothing is there you may be off the end of a pipe or rebar. This is where a top notch pinpointer comes in handy.
The Pulse Delay seems to be most critical, and if you set in much higher than 10uS the ability to ignore iron is lost. But when it is working right the iron rejection is amazing. Try walking up to a garbage can or other large steel item. You will get no signal until you get close enough to overload the unit.
Not only does the unit ignore iron, but nearly all aluminum and bottle caps. The only ferrous target I found was a very rusted bottle opener buried vertically in the ground. If flat it is rejected but the TDI does pick it up if held vertically. I never did dig a bottle cap. I did get two aluminum screw tops that gave the shallow overload and that then sounded like shallow coin when the coil was raised. I got one older aluminum screw cap that was not deep or shallow so I checked it out. I also got positives on two copper wires, two chunks of broken heavy aluminum, an aluminum grommet, and a copper screw cap.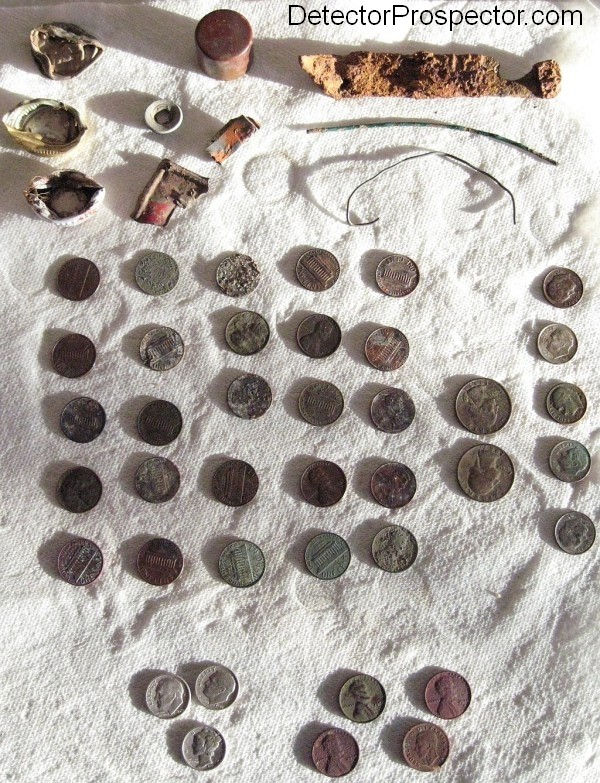 Coins found with White's TDI
Oh yeah, I found 39 coins. Including three silver dimes and three wheaties so they were not all recent drops. That is 39 coins to 10 trash targets using a PI detector in a turf setting. That is a four to one ratio, and when hunting the deepest targets no worse than a VLF. Better yet, the targets that fooled me were not exactly bad targets by deep detecting standards. There was a time I would have said this was impossible with a pulse induction metal detector. I really did feel most of the junk was iffy but I wanted to check as I am learning. Coins sound oh so sweet and when I'm 100% sure it is a coin it almost always is.
What else to say? The GB control is in effect the discrimination control. It is all about setting the Pulse Delay, the GB control, and the Target Conductivity switch to get the best balance of depth and iron rejection. The iron rejection tends to be best at low GB settings, and in high mineral settings best depth is at high GB control settings. If you have no clue what I'm trying to say, you are not ready for the Whites Pulsescan TDI. In high mineral conditions you are trading max depth for max iron rejection. You have to set the unit for the best balance for your conditions. But if you get it right, hold on. This detector is like no PI you've ever used.
I have been able to run the Gain very high. I'm sure not everyone can based on where they are. So experiment, experiment, experiment! What about coils? Things might change depending on the coil you use.
To summarize the TDI can find coins using two different methods. The simplest is to just run the detector tuned for best depth and dig low tones only. In high mineral ground this will produce coins VLF detectors have been unable to reach while passing on most common trash. The second method makes the TDI into a very effective coin detector, but the misadjustment of the ground balance ends up giving up the extra depth attained with the first method. Still, it does something no PI has ever been able to do before, and that is to find coins with nearly as much efficiency as a VLF detector.
I do not want to give the impression I am pushing the TDI as a coin detector. If you want a detector strictly for coin detecting I suggest you get one to do just that. The real point of this article is to highlight that the TDI is a unique detector prone to experimentation. It is a machine for more serious detectorists willing to think outside the box. For those willing to dig some junk and having locations that favor the method, digging low tone targets will find deep coins missed by the best VLF detectors.
The main use for the TDI is still nugget, beach, and relic detecting, make no mistake about that. But if you have a TDI , it can pay to experiment with it as there is really nothing else quite like it on the market. Thanks to Eric Foster and White's Electronics.
~ Steve Herschbach
Copyright © 2008 Herschbach Enterprises
Edited by Steve Herschbach
5