The Fisher Gold Bug Pro was released in 2010 and is still in production. It is the final version of a series of new digital Gold Bug releases intended to replace the older analog Gold Bug models. The easiest way to tell the new Gold Bugs from the old Gold Bugs is that the new models sport a prominent digital readout. The model is also marketed separately by First Texas, Fisher's parent company, as the Teknetics G2. The G2 has a different rod and handle assembly and comes standard with the 11" elliptical DD coil for slightly more money. The Gold Bug Pro comes standard in three versions - with a 5" round DD coil (actually 4.7" diameter), or with the 7" x 11" elliptical DD in which case it is called the Fisher Gold Bug Pro DP. Finally, there is a dual coil package the includes both the 5" round DD coil and the 5" x 10" DD coil. In addition to the three coils mentioned here DeTech markets the 13" Ultimate DD coil for the G2 that will work on the Gold Bug Pro. For more information see the Guide to Different Versions of the Fisher Gold Bug.
I have come to rely on the Gold Bug Pro as my general purpose prospecting detector for when I want a unit that can handle trashy areas. I appreciate its light weight and simplicity in getting the job done. I prefer to run the detector in all metal mode for the best depth and sensitivity. The nice thing is that the meter always displays possible target ID information to help make digging decisions without having to switch or toggle to another mode. This is far more efficient in the field not to mention wear and tear on switches. I prefer the 5" x 10" DD coil for general use - it is too bad Fisher does not sell the Gold Bug Pro with that as the stock coil. The only way you can get it is as a package deal or as a separate accessory item.
The only thing I wish was that instead of displaying the ground phase as a large number while in all metal mode the Gold Bug Pro instead displayed the possible target ID number. The target ID is displayed on a small "racetrack" display above the ground phase number. I rarely if ever need to know what the ground phase is but I constantly refer to the target ID. Hopefully this will be addressed in future versions.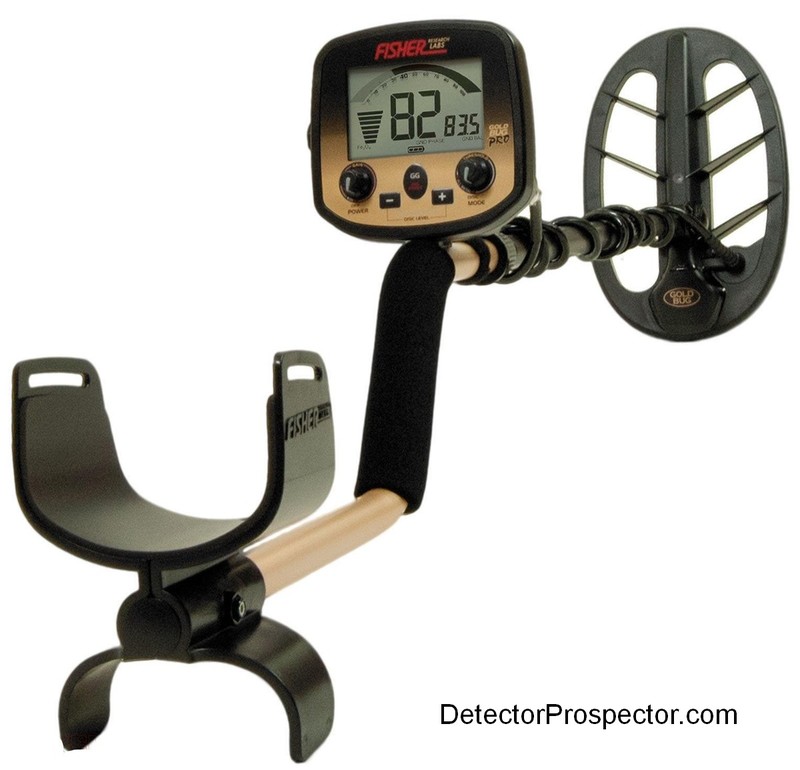 Fisher Gold Bug Pro - Gold Bug DP variant (7" x 11" DD coil)
I normally hunt in all metal. The detector hits all targets with the same audio signal except the stronger the target, the stronger the signal. There is a little "speedometer" target id readout in all metal above the big ground phase reading and so after hearing target I work it and eyeball the reading. If you get no target id it is target deeper than disc can hit (all metal prospect mode goes deeper than discriminate mode) so dig until you get target id or target.
You need to decide on what target id to dig and what to pass. In theory all 40 and above is non-ferrous so in theory just dig all 40 and higher. Reality is small gold or very deep gold can read iron. I usually opt for digging some iron, and so depending on types of ferrous trash and ground mineralization the actual number I choose may be 35-39, usually 38.
Then, and this is key, work the target. If the number bounces even once to or above your chosen break point, dig. The numbers bounce around, and if they consistently read at or below your chosen reject number, for example 38, if the number is always 38 or lower pass it up. If it bounces even once to 39 or higher dig it. Again, number picked depends on actual ground conditions. Start lower, maybe 35, then adjust upwards after digging targets. As long as you are not digging too much ferrous stay put but is too much digging adjust higher. VLF discrimination can and will lie on small or deep gold so better conservative and digging at least some ferrous than leaving gold.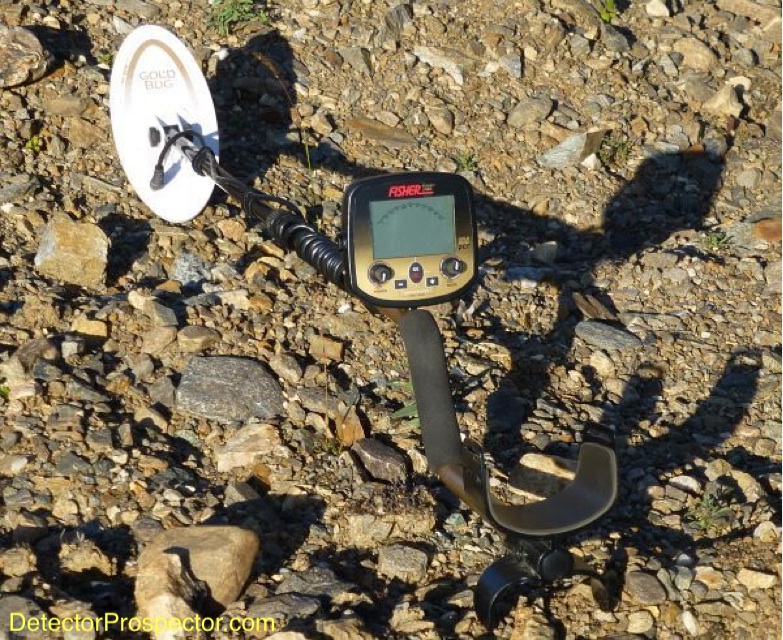 Fisher Gold Bug Pro with 5" x 10" elliptical DD coil
Ok, let's assume too much trash, to many signals to analyze each one. Go to disc mode. Immediate depth loss! But now we can set target id audio break point. The unique tone disc system has three tones, mid tone, low tone, and no tone (target rejected). You can move range but it is not totally adjustable. The low tone area compresses as the disc is set higher. If you set low tone cutoff at 30 all target below 30 make no sound at all and all passed up. You never know they are there. 30 to about 55 will be low tone, meaning most gold and small ferrous, 56 and above will be mid tone, usually brass but maybe big nuggets. There is no high tone on the GBP.
You can adjust this potential gold tone range to a certain extent. Set at 35 and nothing below 35 reports, 35 to maybe 60 (doing this from memory so may be off a bit on the numbers) will be low tone, above 60 mid tone. Or if trash really is bugging you set at 39 so only 40 and above beeps.
But because some targets read mostly ferrous but bounce non-ferrous at times it is a fuzzy choice. If you set for 40 and above and small nugget reads 38 on first pass, you miss it and never know it was there. At the end of the day it depends on trash level and how much target analyzing you want to do in the fuzzy zone. Most small nuggets actually read around 50 but again all depends on gold size, shape, purity, ground mineralization and other factors.
ads by Amazon...
Lots of nuance in what is a deceptively simple detector. The more I use it the more I appreciate it. In all metal with 11" x 7" DD it approaches PI depths on most average size gold in moderate to mild ground. I very much like having the dual ability of hunting in all metal while having visual target id. No toggling back and forth.
I not only use the Gold Bug Pro for prospecting but for jewelry detecting. It is a not the best coin detector in the world but does well, especially in trashy areas with the little 5" coil. All in all a great little machine, one I can swing high and low all day long with little fear of arm strain. I highly recommend the Gold Bug Pro for anyone looking for their first nugget detector or for old pros like myself wanting something light, simple, and effective.
Official Fisher Gold Bug Pro Page
Download the Fisher Gold Bug Pro Instruction Manual Here
Guide to Different Versions of the Fisher Gold Bug
Forum Threads Tagged "fisher gold bug"
First Texas (Fisher) Metal Detectors Forum
Fisher Gold Bug Pro Technical Specifications*

| | |
| --- | --- |
| Internet Price | Basic Gold Bug $499 / Pro $549.00 (5" coil) or $599.00 (7" x 11" coil) |
| Technology | Induction Balance (IB) |
| Transmit Frequency | 19 kHz |
| Autotune Mode(s) | Pre-Set Slow Motion |
| Ground Rejection | Manual Touch Pads with Grab Function |
| Soil Adjust | No |
| Discrimination | One turn control, Visual ID, Tone ID |
| Volume Control | No |
| Threshold Control | One turn control |
| Tone Adjust | No |
| Audio Boost | No |
| Frequency Offset | No |
| Pinpoint Mode | Yes |
| Audio Output | 1/4" headphone socket & speaker |
| Hip Mount | No |
| Standard Coil(s) | Choice of 5" round DD or 7" x 11" DD |
| Optional Search Coils | Many accessory coils available from Fisher and aftermarket |
| Battery | One 9V |
| Operating Time | 15 hours |
| Weight | 2.5 pounds with 5" coil |
| Additional Technology | Continuous ground phase readout |
| Notes | Also available as 5" plus 10"x5.5" DD two coil package for $749 |
*Notes on Technical Specifications - Detailed notes about the specifications listed in this chart.
Edited by Steve Herschbach
6