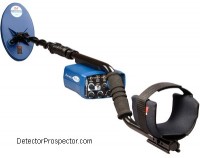 The Minelab Eureka Gold was introduced in 1998 and was discontinued in 2017 after a 20 year run. The Eureka Gold has been replaced by the new Minelab Gold Monster 1000. The Minelab Eureka Gold for a long time was the only nugget detector that allowed you to change frequencies with the flick of a switch; 6.4, 20, and 60 kHz, all using the same coil, unlike the Minelab X-Terra units. This made the Eureka Gold one of the most versatile VLF gold prospecting detectors available for handling different ground conditions.
The Eureka Gold 20 kHz mode is used for most detecting for great all-around performance. The 60 kHz mode is used in low mineral soil looking for extra small nuggets. The 6.4 kHz mode is used in extreme mineralized soil that would overwhelm most VLF detectors. The Eureka Gold is a good choice for someone hunting areas with widely varying mineral conditions. Weight including rechargeable battery pack 5.3 lbs. The control box may be chest or hip mounted removing most of that weight from the operators arm. It comes stock with a 5" x 10" elliptical DD coil. Four accessory coils are available for the Eureka (Minelab and Coiltek).
The Eureka Gold with its three selectable frequencies will handle a wider range of ground conditions than most other VLF detectors. For a 60 kHz detector, it  lacks the edge of the Gold Bug 2 or GMT when it comes to the smallest nuggets. This is because the 60 kHz mode is not the native operating frequency of the Eureka Gold but a harmonic offset of the main frequency. The Gold Bug 2 and GMT are dedicated single frequency units designed specifically around their respective operating frequencies. The best setting on the Eureka Gold appears to me to be the 20 kHz mode, as the detector seems optimized for this frequency. You will generally lose depth in the 60 kHz mode and so this mode should only be used for small shallow gold.
The 6.4 kHz mode on the other hand is more of a fallback frequency only for situations where the 20 khz mode is proving ineffective due to hot rocks of ground interference. 6.4 kHz is simply too low a frequency to be effective on small gold nuggets but can help penetrate highly mineralized ground to find larger gold nuggets.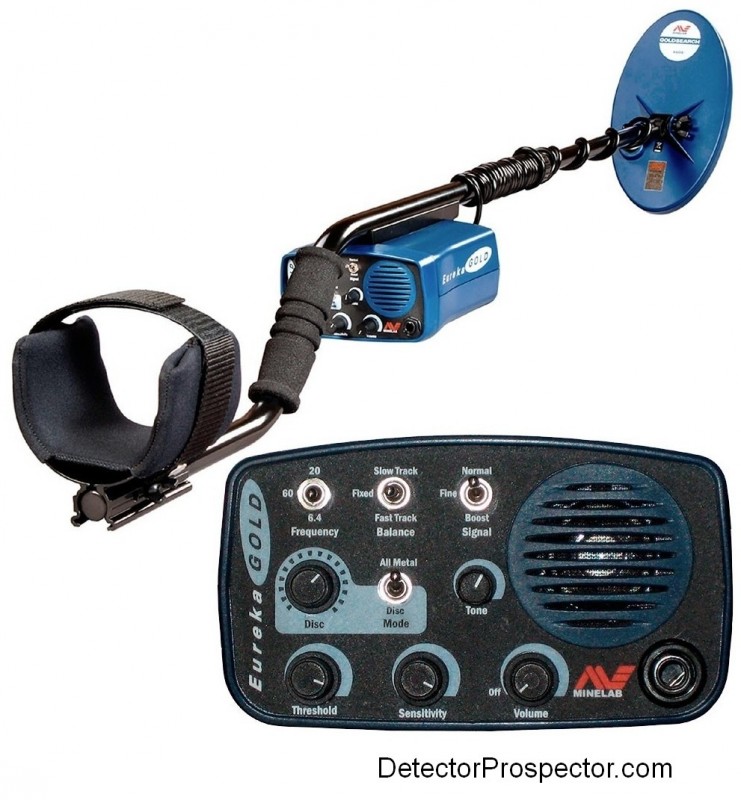 Minelab Eureka Gold prospecting metal detector
I used the Minelab Eureka Gold and it's predecessors, the XT 18000 and XT 17000 as well as the American Gold Striker. My favorite of the three was the XT 17000 which ran at 6.4 kHz and 32 khz. The 32 khz may seem quite high for the time, but it is a low gain 32 khz and so ran quite well in mineralized ground. I was in Alaska at the time however and low mineral ground and small gold is the norm. Neither the XT 18000 nor the Eureka Gold impressed me much as their 60 kHz frequency was no match for the 71 kHz Fisher Gold Bug 2 or even the 50 khz White's Goldmasters of the time. Those detectors did better for me in the areas south of Anchorage, Alaska that were my stomping grounds for many years.
The ferrous discrimination on the Eureka also seemed less reliable than that available on those detectors. The bottom line is that while I used them enough to get familiar with them and find a little gold, they did not suit my particular ground and gold as well as some other detectors. Still, I always recognized that and acknowledged that the Minelabs were a better choice for highly mineralized ground, especially variable ground where its ground tracking shines.
The Minelab Eureka Gold played a part in gold rush history. Around the turn of the century new gold rushes were igniting in several third world countries, driven by the discovery of goldfields amenable to metal detecting in those countries. Certain models would be seized on by the locals as being the only thing that would work. The Minelab Eureka Gold enjoyed this status for some time in Mongolia, with all available units worldwide being sought out and shipped to Mongolia, often at exorbitant prices. The rush eventually subsided but probably had something to do with the Eureka Gold being on the market for as long as it was.
The Eureka is a good detector, but lighter and less expensive detectors will do just as well for most people. The weight and high price made the Eureka hard to recommend in later years. Now that it has been discontinued Minelab will continue to service existing units for at least seven more years (until 2023-2024).

Steve with Minelab XT 17000 in early 1990's
Regarding used models. The XT 17000 and XT 18000 both came with rechargeable battery packs before the battery technology was really up to it. Those old battery packs had very limited lives and any still in existence are probably bad. A strange little adapter was available to convert the XT 17000 and XT 18000 to AA battery use, but those were rare and hard to find. If you ever shop a used Minelab XT 17000 or XT 18000 be sure to investigate the battery situation.
The Eureka Gold also came with a rechargeable battery pack, but a AA battery holder option was widely available. Again, the older rechargeable battery packs are not likely to have much life in them, so rounding up the AA battery holder is important if looking for a used Eureka Gold.
~ Steve Herschbach
Copyright © 2018 Herschbach Enterprises
Official Minelab Eureka Gold Page
Minelab Eureka Gold Instruction Manual
Note On Differences Between Early Minelab VLFs
Minelab Eureka Gold Technical Specifications*

| | |
| --- | --- |
| Internet Price | $1049.00 (Last price before discontinued in 2017) |
| Technology | Induction Balance (IB) |
| Frequency | 6.4, 20, & 60 kHz |
| Autotune Mode(s) | Preset Slow Autotune |
| Ground Rejection | Fixed, Fast & Slow Automatic Ground Tracking |
| Soil Adjust | No |
| Discrimination | Variable Iron Reject Level |
| Volume Control | Yes |
| Threshold Control | Yes |
| Tone Adjust | Yes |
| Audio Boost | Yes |
| Frequency Offset | No (Except for three main frequencies) |
| Pinpoint Mode | No |
| Audio Output | 1/4" headphone socket & speaker |
| Hip Mount | Yes |
| Standard Coil(s) | 10" x 5" DD |
| Optional Search Coils | Several accessory coils available |
| Battery | Rechargeable |
| Operating Time | Up to 20 hours |
| Weight | 5.3 pounds |
| Additional Technology | Change frequency with the flip of a switch! Comes with hip mount bag. |
| Notes | Discontinued in 2017 |
*Notes on Technical Specifications - Detailed notes about the specifications listed in this chart.
1