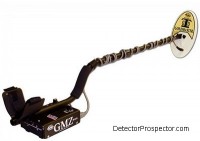 The White's GMZ was released in 2009 and discontinued in 2016. The GMZ is a simple to operate 50 kHz metal detector with exceptional sensitivity to small gold nuggets. The GMZ shares the coils used by the White's Goldmaster/GMT series of metal detectors.
The GMZ might appear to be a stripped down GMT, but it is in fact an entirely different design. Dan Geyer, a White's engineer, started the GMZ as a side project. It really is more of a simple coin detecting type circuit, but stepped up to operate at 50 kHz. Dan's goal was to make a detector as simple as possible yet while still being exceptionally sensitive to small gold. It proved to be a functional design and White's eventually decided to put it into production.
The GMZ only has three controls - two knobs and a switch. The switch flips from the normal operating mode to a "salt" mode. This tunes out alkali salt flat mineralization but does reduce sensitivity to small gold. There is an On/Off Sensitivity dual control. And finally, a single turn ground reject control.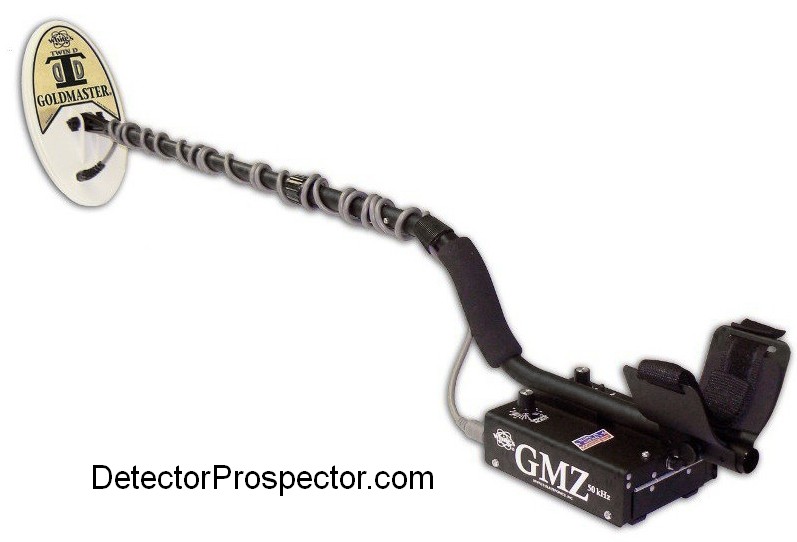 White's GMZ 50 kHz gold prospecting metal detector
From the White's GMZ Owner's Manual:
Set the Ground toggle switch to the Normal position.
Turn the Ground Reject knob fully counter clockwise to the lowest setting.
Turn the Sensitivity/ Power knob on & set it to the factory suggested preset mark.
Sweep the search coil across the surface of the ground and listen for any sound level variations produced by changing mineralization levels from spot to spot. This will be evidenced by chatter or a sort of clicking sound.
Now adjust the Ground Reject knob clockwise while sweeping or pumping the search coil over the ground until the chatter diminishes or goes away.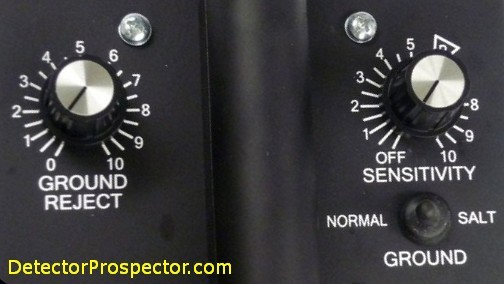 White's GMZ - two knobs and a switch!
That is basically all there is to tuning the GMZ for operation. Unique also to the GMZ for a nugget detector is the fact that it is a silent search detector. Most nugget detectors have a faint threshold sound that the operator listens to for faint variations that indicate very small or very deep nuggets. The GMZ, since it is based on a simple coin detecting circuit, lacks that threshold tone and does operate more like a coin detector - silent until it beeps on a nugget or some other item. This was deemed preferable for beginners.
The White's GMZ is a very lightweight, well balanced, and easy to operate detector. At 50 kHz it does have great sensitivity to small gold nuggets. The price when it came out was attractive at only $499.00
As mentioned before a good feature on the GMZ was the ability to use any coil that would work on the Goldmaster/GMT series of detectors.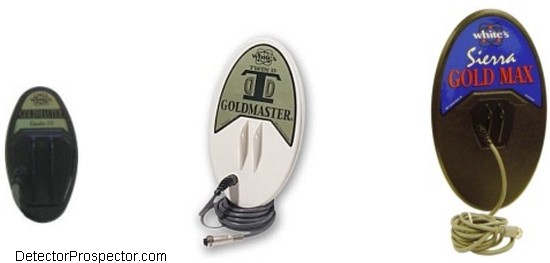 4" x 6" Shooter DD, stock 6" x 10" DD, and 8" x 14" Sierra Gold Max DD coils. These GMT coils also work on the GMZ.
Unfortunately, at about the same time as the GMZ was released the market started seeing other detectors with far more capability for a similar price. The new digital version of the Fisher Gold Bug in particular proved to be strong competition. The Gold Bug offers a digital target id display, both all metal and discrimination modes, and the normal threshold based operation prospectors had come to expect and rely on. All in a lightweight package for the same price as the GMZ.
The GMZ just never caught on because of this. More experienced operators were generally put off by the lack of threshold tone. Beginners and pros alike missed having any sort of iron discrimination, a standard feature on all other offerings at the time. Ultimately the GMZ was a great little detector but it really was sold at too high a price when compared to other machines on the market. I think it would have done much better at $399 but that was probably too low for White's. As a result the GMZ languished and even many White's dealers never really were aware of the model. It was finally discontinued in 2016.
White's GMZ Instruction Manual
White's GMZ Technical Specifications*

| | |
| --- | --- |
| Internet Price | $450 (Discontinued) |
| Technology | Induction Balance (IB) |
| Frequency | 50 kHz |
| Autotune Mode(s) | Pre-Set Slow Motion |
| Ground Rejection | Manual One Turn Control |
| Soil Adjust | Yes - Salt Mode |
| Discrimination | No |
| Volume Control | No |
| Threshold Control | No (Silent Search) |
| Tone Adjust | No |
| Audio Boost | No |
| Frequency Offset | No |
| Pinpoint Mode | No |
| Audio Output | 1/4" headphone socket & speaker |
| Hip Mount | Shaft Mount Only |
| Standard Coil(s) | 6" x 10" DD Coil |
| Optional Search Coils | Three accessory coils available |
| Battery | Eight AA |
| Operating Time | 30 - 40 hours |
| Weight | 3.4 pounds |
| Additional Technology |   |
| Notes | Discontinued |
*Notes on Technical Specifications - Detailed notes about the specifications listed in this chart.
Edited by Steve Herschbach
1