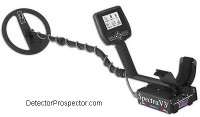 The White's V3i was introduced in 2009 and ceased production in 2020. The V3i was originally released as the White's Spectra Vision or simply White's Vision. Due to a name conflict with another company the name was changed to White's Spectra V3. The original Vision and V3 models both suffered from software issues. Updates were issued and finally consolidated into the final White's Spectra V3i model which is still being manufactured today. All previous models could be updated to the latest V3i software by returning the detector to White's Electronics. This all leads to quite a bit of model confusion when buying used versions of these detector because it is not always clear if a model has been updated or not. The V3i was also later released in a feature limited model called the VX3.
There are several things that make the White's V3i unique. One of the most obvious is the use of a very bright high contrast color screen, still ahead of its time compared to anything else on the market. The V3i takes screen customization to a level that quite frankly is unlikely to be exceeded in the near future if ever. There is a reason for that that I will explain shortly.
The V3i was also one of the first metal detectors to incorporate a proprietary wireless headphone system designed to overcome the lag issues common in aftermarket solutions at the time. It was initially promised that the wireless system would also enable communication via a plug in dongle that would allow the V3i to be programmed via software on a PC. This ended up being one of the never realized disappointments of the White's V3i. The headphone system ended up working well enough after initial problems were ironed out but the proprietary nature of the system limits the choice of headphones to a single model.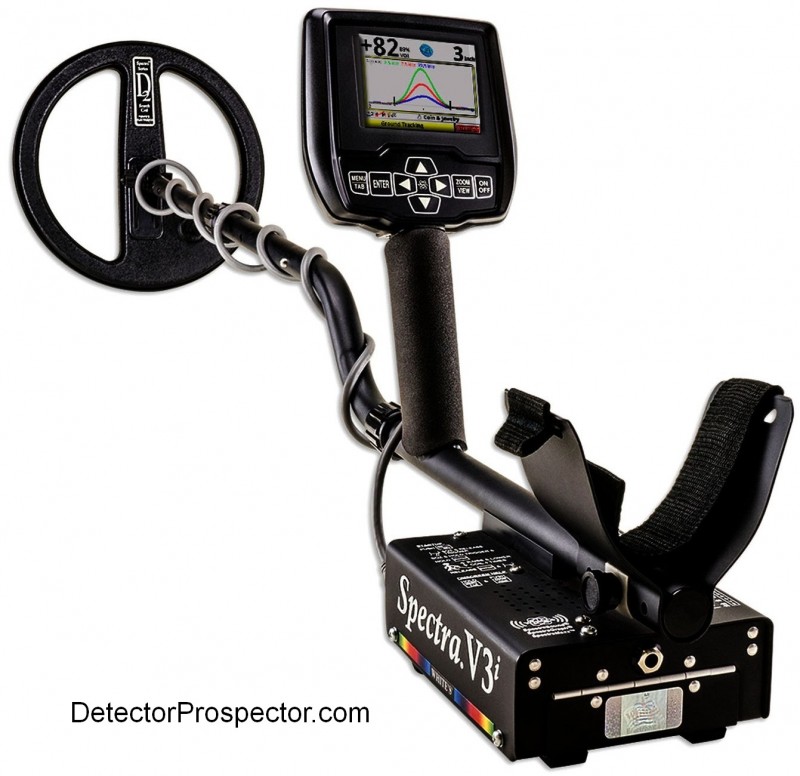 White's V3i multifrequency metal detector
The V3i is the direct successor to the White's DFX, a dual frequency metal detector that could run at 3 kHz and 15 kHz, either separately or both at once. The V3i took this another step, by running at 2.5 kHz, 7.5 kHz, or 22.5 kHz, again either separately or all three at once. This is very unique on the market today. Most multifrequency detectors either let you selectively choose a single frequency to run at from several choices, or they run several frequencies at once. The V3i is unique in letting you do it either way.
The V3i comes with a 10" round DD coil. One of the design goals was that is was to be able to use the coils already in existence for the White's DFX and MXT models, the so-called Eclipse series. The V3i did achieve this goal, but the ability to use a transmit boost function was generally limited to newer versions of those coils that are "V" rated. Coils that are not V rated may overload when transmit boost is employed. This is honestly a bit of a non-issue as there is little reason to ever employ transmit boost but it does seem to worry a lot of people that non-V rated coils might not be performing up to specs. White's coils are individually serial numbered, with the serial number stamped into on mounting ear of the coil. Serial numbers that start with "V" indicate the coil is V rated. Aftermarket coils would be especially suspect in this regard. For more information on Spectra coils some excellent information has been compiled here.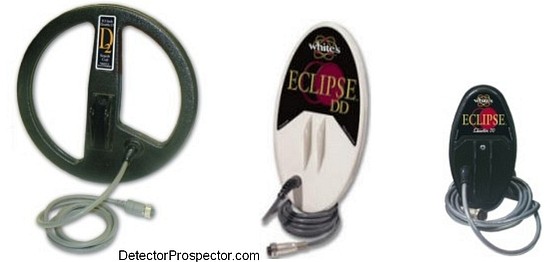 D2 10" Round DD coil, 6" x 10" DD coil, and 4" x 6" DD "Shooter" coil
The 10" round DD coil that comes with the V3i is a decent coil. The 6" x 10" Eclipse DD coil however is possibly the best all around prospecting coil for the V3i. The solid construction is less likely to hand up on stubble and the narrow profile is good for getting into tight locations. The 4" x 6" Shooter DD coil is great for trashy locations and small gold nuggets. The large 12" concentric coil and even the 9.5" concentric coil do not handle extreme ground mineralization very well, and the 12" is too large for many other tasks, like coin detecting trashy locations.
One aftermarket coil is worth mentioning, because it is one of the only reasons I own a White's V3i. A company called Applied Creativity made some coils marketed by famed White's dealer Jimmy Sierra. One of these coils was a 3" x 18" model with a special "figure 8" winding called the Bigfoot. This coil was actually made for the DFX and is an exceptionally light weight coil yet capable over covering large areas quickly and efficiently. The Bigfoot does not get a lot of depth, but for recovering shallower targets like recent coin drops and jewelry it is unmatched in performance. Unfortunately this coil is no longer made and used ones easily go for several hundred dollars if you are lucky enough to find one. Several types were made and not all will work on the V3i, only those made for the the MXT and DFX are compatible.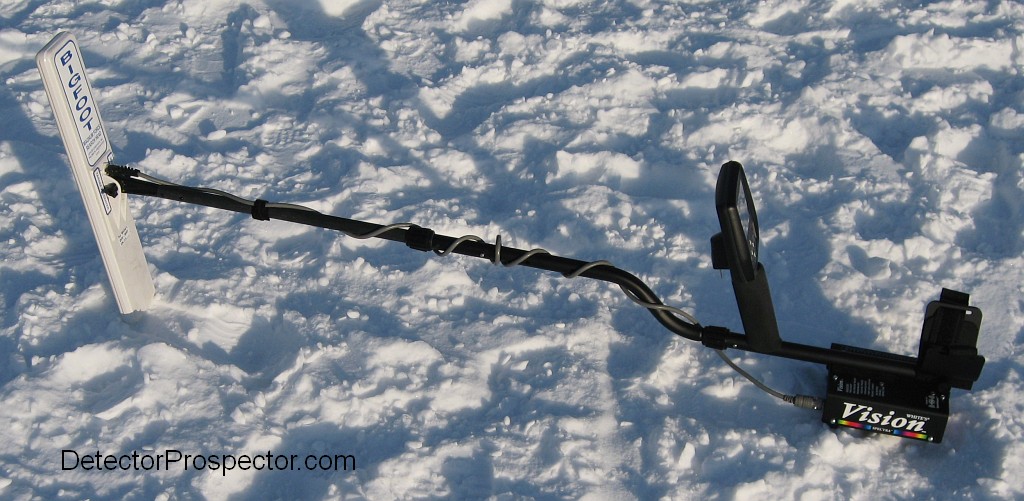 Original White's Spectra Vision model from 2009 with Bigfoot Coil
Compatible being a relative thing. The Bigfoot is not V rated and some will not work properly on the V3i. Almost any of them will exhibit highly skewed target id numbers in the 22.5 kHz range, but oddly enough this can be used to good effect for some jewelry detecting. The bottom line is I had a Big Foot for my DFX and kept it for use on my V3i. The Big Foot / V3i combo is my number one dry land jewelry detector. White's V3i - My Third Try.
The White's V3i does have a 22.5 kHz Prospecting Mode and other features that in theory make it a proficient prospecting detector. The machine is hot on small gold in the 22.5 kHz mode. When the original Vision came out I did some bench tests on it versus the MXT using a 0.7 grain test nugget (480 grains per Troy ounce). An MXT with a 4" x 6" Shooter coil at max Gain would barely signal on the nugget within 1/4" of the coil.
The same Shooter coil was used on the Vision in Prospecting Mode (22.5 kHz only), with no tweaks except max RX Gain. The threshold a bit ratty but no worse than MXT at max Gain. The Vision got a good hit at 2" and whisper at 3". I then engaged the TX (transmit) Boost, raising voltage to the coil from 10V to 30V. I then got a good hit at 3" and whisper at 4". That is a 50% increase on a tiny nugget by engaging TX Boost. This is easily better than MXT performance and actually closer to what I'd expect from a GMT.
This was an air test and ground conditions are unlikely to allow running at full gain with TX Boost engaged but it would work in milder ground. In fact Transmit Boost will work against you in bad ground and it also cuts battery life dramatically. Still, this test shows there can be benefits on small gold items in particular. Of interest also is that the test was done with an old coil from my MXT, proving that not all coils need to be V rated to work properly.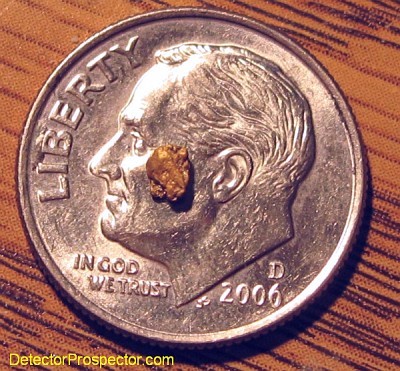 0.7 Grain (480 grains per Troy Oz) Gold Test Nugget
There have been some good gold nugget finds made with the V3i in the mild ground at Ganes Creek, Alaska. My friend Marko used the V3i there for at least two visits and reported to me that he thought the V3i was unexcelled at identifying deep ferrous junk versus gold nuggets in the relatively mild ground at Ganes Creek. He had quite a few ounces of gold to prove it! He used the stock Prospecting mode exclusively.
The bottom line is that the V3i is first and foremost a detector designed for coin and jewelry detecting, and I would not recommend it specifically for somebody looking for a gold nugget prospecting detector. Other machines like White's own GMT or MXT can be had for half as much money that are far more practical as nugget detectors. However, if you do own a White's V3i, rest assured it can be used to find gold nuggets. It would in particular be useful in milder ground with copious amounts of ferrous trash where its advanced discrimination capabilities can be put to good use. In more mineralized ground the V3i the V3i may struggle however because it's ground balancing system is not up to tracking in bad ground and manual adjustments can be difficult to make due to the way the ground balance system is controlled. The tracking must be "locked" and the only manual adjustment that can be made from that point forward are small offsets to the locked setting. Don't worry about this for regular metal detecting - I am specifically talking about gold prospecting in highly mineralized ground. If the V3i has a weak spot this is it.
ads by Amazon...
I said earlier in this article that the V3i takes customization to a level unlikely to be exceeded now or in the future. The V3i is very much metal detector engineers dream detector, with direct access to many machine functions that are hidden in other detectors. This in theory allows the user to create almost any detector they want with the right degree of programming. What has been revealed in actual use however is that the number of functions and their interactions create layers of complexity that overwhelm most people. The V3i can be operated quite well with its factory preset programs and a bit of tweaking, but at the end of the day it represents feature overkill. It is a great detector for people who love to fiddle with the detector itself, but for most metal detecting the average users prefer something simpler that just gets the job done. The VX3 was a response to this by offering similar functionality in a more feature limited way. I think the V3i will be a high water mark when it comes to this type of feature overload and it is unlikely anyone will in the future try to outdo it, for the simple reason doing so is not the sure way to sales success.
For me personally the V3i is one of the most capable jewelry detectors ever made, especially when coupled with the Bigfoot coil. The ability to customize both the screen and audio responses combined with expanded target VDI ranges on jewelry type targets at higher frequency ranges makes the White's V3i a jewelry hunters dream machine. That said, similar results can be had by people with simpler and less expensive detectors. The V3i is just a machine for the true detector nerd, and I have to say I guess that is what I am!
White's V3i Instruction Manual
White's V3i Advanced User Guide
White's V3i & VX3 Master Reset
Selectable Frequency And Multiple Frequency
Forum Threads Tagged "whites v3i"
White's Spectra V3i Technical Specifications*

| | |
| --- | --- |
| Internet Price | V3i $1349.00     w/Wireless Phones $1555.00 |
| Technology | Induction Balance (IB) |
| Frequency | 2.5, 7.5, & 22.5 kHz, together or separately |
| Autotune Mode(s) | Varied Motion Settings |
| Ground Rejection | Tracking, Fixed & Manual |
| Soil Adjust | Beach Mode |
| Discrimination | Visual, Tone, Notch - Ultimate Customization |
| Volume Control | Yes |
| Threshold Control | Yes |
| Tone Adjust | Yes |
| Audio Boost | Yes |
| Frequency Offset | Yes |
| Pinpoint Mode | Yes |
| Audio Output | 1/4" headphone socket & speaker |
| Hip Mount | Shaft Mount Only |
| Standard Coil(s) | 10" Round DD |
| Optional Search Coils | Over 15 accessory coils available |
| Battery | Eight AA |
| Operating Time | 8 - 10 hours |
| Weight | 4.5 pounds |
| Additional Technology | Wireless headphones, exceptional color screen, ultimate in programmability |
| Notes | A machine for true "detector nerds"! |
*Notes on Technical Specifications - Detailed notes about the specifications listed in this chart.
V3i example screens - click image for larger version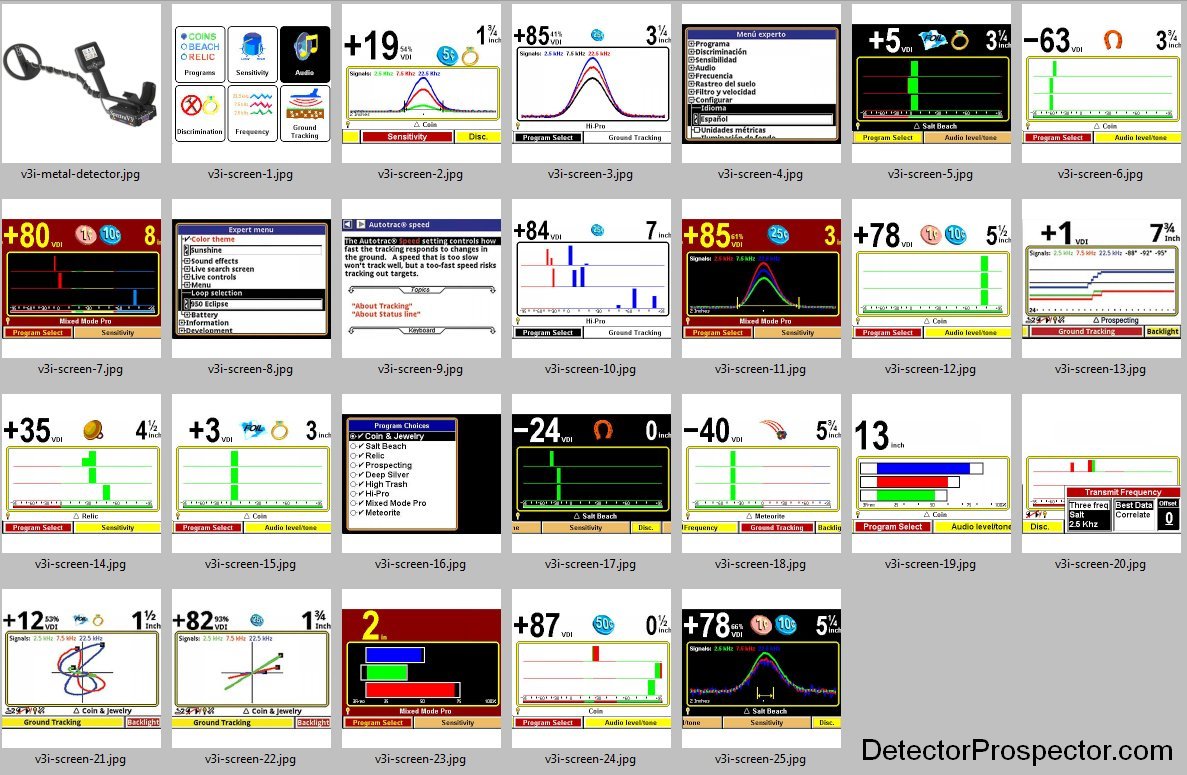 4