The Garrett ATX metal detector was introduced in 2013 and is still in production. The ATX is a fully submersible ground balancing pulse induction (PI) metal detector aimed primarily at relics, gold prospecting, and beach detecting.
"High-End, All-Terrain Pulse Performance. Highly sensitive on tiny gold and extends depth in the most extreme mineralized soils. HUNT ONCE, GET IT ALL." Source: Garrett 2018 catalog

Garrett ATX metal detector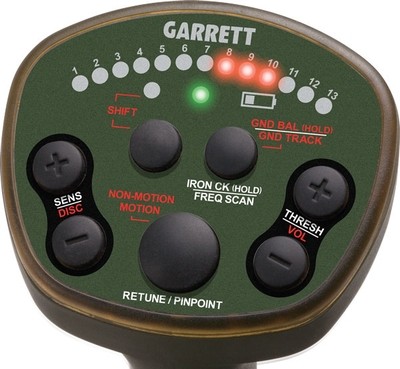 Garrett ATX control panel
Maximum Detection on all targets at the same time. No need to switch modes to enhance detection of one target while degrading another.
Advanced Ground Balance Has wide range to ground balance from heavily mineralized ground (ironstone) to saltwater without switching to special modes.
Quick Iron Check feature Allows the operator to audibly identify iron targets when using a DD searchcoil.
Quickly and Fully Collapsible
Rugged military-spec design
Motion and Non-Motion Modes Provides optimum performance based on your hunting preference and conditions.
All Terrain use: Weatherproof design for dusty, humid, or wet environments; and fully submersible to 10-foot depth.
Adjustable Sensitivity, Discrimination, Volume, and Frequency Scan Each can be adjusted with one hand.
Ground Track (Automatic) Choose from four tracking speeds to have the ATX continuously measure ground mineralization and automatically adjust itself for optimum performance.
Advanced DD searchcoil Provides easy pinpointing and enhanced detection of small items without having to slow the scanning speed of the searchcoil.
Official Garrett ATX Product Page
Forum Threads Tagged "garrett atx"
Edited by Steve Herschbach