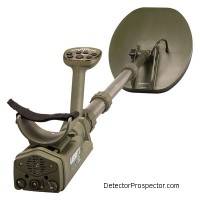 The Garrett ATX was introduced by Garrett Electronics in 2013 and is still in production. It is a pulse induction metal detector waterproof to ten feet. It is unique in that it is one of the few metal detectors retailed to the general public in a housing developed for military applications. Garrett makes a military land mine detector called the Recon Pro AML-1000. It was developed and marketed after the Garrett Infinium, the only underwater ground balancing pulse induction (GBPI) metal detector made by a major manufacturer at the time. The Recon is notable for the waterproof telescoping compact design with hidden coil cables. The new ATX is a highly refined detector combining the best of the Garrett Infinium and Garrett Recon AML-1000 into a single package. The actual housing is almost identical to that used by the AML-1000. The electronics has attributes from both detectors. It is a considerable improvement over the much older Infinium electronically and folds into a remarkably small package without disassembly.
I was one of the first individuals to obtain a Garrett ATX when they came out as I had been waiting for a new waterproof ground balancing pulse induction metal detector ever since the Infinium came out over ten years ago. I honestly was a bit surprised Garrett came out with a second generation waterproof GBPI before the competition has released any at all. Ground balancing PI detectors have the ability to work in a combination of salt water and black sand/hot rock environments in unique ways. VLF and even standard non-ground balancing PI detectors suffer under these extreme conditions. The Infinium showed me what might be possible in Hawaii but it suffered from issues common in first generation detectors. There was room for improvement, and I am hoping the ATX addresses the electromagnetic interference (EMI) and salt water instability problems that plagued the Infinium.
My first impressions were positive, with my first detailed report at Gold and Silver with the New Garrett ATX. I have a separate article on prospecting with the ATX at Gold Nugget Detecting with the Garrett ATX. The ATX is a versatile detector and will see use prospecting, relic hunting, jewelry detecting (above water and under) and even coin detecting. I have two beach detecting articles on the ATX - Beach Detecting in Hawaii With The ATX and Garrett ATX Return To Hawaii.


Garrett ATX waterproof pulse induction (PI) metal detector with 10" x 12" coil
The Garrett ATX is uniquely versatile in its physical aspects. It can be extended longer than most people need yet can collapse into a very short diver configuration due to the three piece lower rod design.


Garrett ATX collapsed for diving use
For storage or backpacking the ATX folds even shorter yet to only 20" in length due to the rotating/folding coil design. The ATX coils are rather unique in that they are integrated with the lower rod with the wires running through the rod and a rear mounted hinge on the coil. This allows the coil to fold back completely over the rod and/or detector body. The rod/coil assembly can be rotated 90 degrees for hunting walls and to enable a more compact stowed configuration.


Garrett ATX folded for storage or backpacking
All the ATX functions are accessed through a top mounted control panel with rubber topped touchpad buttons and LED indicators. A shift button allows each button to have at least two functions allowing for a full feature set in a simplified layout.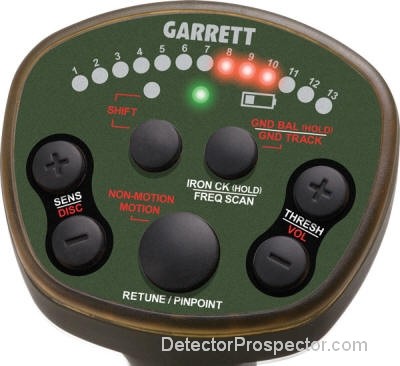 Garrett ATX Control Panel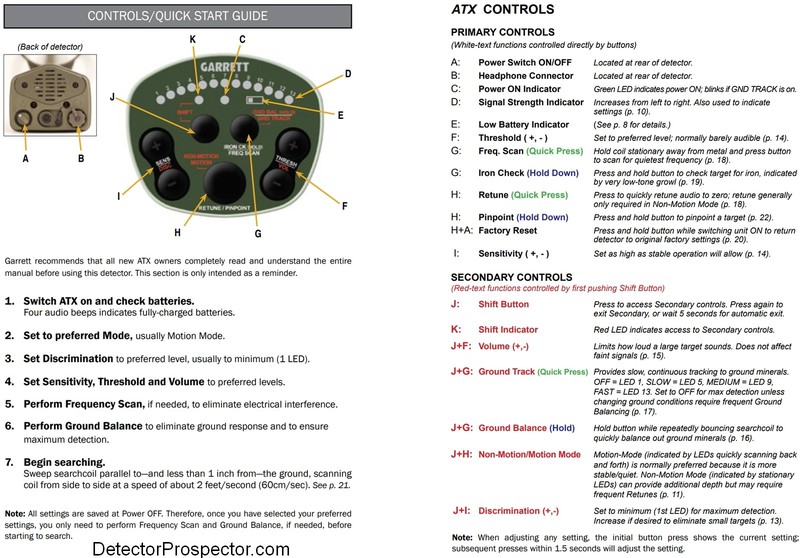 Quick Guide to Garrett ATX controls from Owner's Guide  - Click image for larger version
The Garrett ATX comes standard with a 10" x 12" DD search coil. Optional 8" round and 15" x 20" mono coils with integrated lower rods are also available. New for 2017 are 11" x 13" enclosed coil options in both mono and DD designs.
The ATX does have a built in waterproof speaker and so does not require headphones. It does come with land headphones that use a waterproof connector, the same connector that Garrett uses on the Infinium and AT Pro/AT Gold models. The same waterproof headphones available for those models work on the ATX and are required if it is desired to put the headphones underwater. The included headphones have a waterproof cable that can be submerged but the headphones themselves must be kept dry. A short adapter dongle is also available to convert the ATX waterproof headphone connector to the standard 1/4" female receptacle so standard metal detector headphones may be used.
See the Garrett ATX Accessory Page for details on headphones, search coils, and other accessory items available for the Garrett ATX. There is information there on using Garrett Infinium coils on the ATX, and notes on how to chest mount or even backpack mount the ATX control box.
Finally, the ATX runs off eight standard AA batteries, eliminating any shipping or airline issues that can be a problem with some PI detectors. The detector comes complete with both alkaline and NiMH rechargeable batteries plus a 110V and 12V charger system. The detector runs approximately 10-12 hours on a charge when using headphones, less if running off the speaker. The best method is to use the rechargeable batteries and carry the alkaline set as backup.


Garrett ATX search coil options
I have had the Garrett ATX now since the fall of 2013 and so have had a solid year with the detector. It really does take about a year for me to settle down my thoughts about a detector. I tend to be all giddy with the new toy at first, having fun, and discovering new things. The strong points and weak points are revealed with use over time, and now I think I can offer up a fair summary of the detector.
The ATX is a bit difficult in that Garrett started with the premise of using an existing housing designed to military specifications, and then decided to put a detector in it for consumer retail sales. On one hand this is really great as we get this very unique detector design that would never have been developed just for consumer sales. On the other hand it means for some uses the ATX is just not a very good fit. For other uses it works pretty well.
It just so happens I am an avid prospector and an avid beach hunter. I do not beach hunt as much as I like but when I do it I really go after it. Because of this the ATX hits a particular sweet spot for me personally. I really do need a good pulse induction metal detector that can be submerged in saltwater. I would keep the ATX for that purpose alone. I am very happy with its performance as a beach detector especially on beaches where there is black sand mineralization or volcanic rock to deal with. The fact it also does very well as a prospecting PI is almost a bonus for me.
From a straight up prospecting perspective Garrett also scores though nobody needs a seven pound detector waterproof to 10 feet while desert prospecting. However, if all I had was a couple thousand dollars to invest in a brand new, full warranty PI for gold prospecting it would be a Garrett ATX. I believe the ATX is superior to the White's alternatives in overall performance and it is far less money than a new Minelab PI detector. I will not speak for the Australians but in the U.S. the ATX holds its own for PI performance and I feel quite comfortable using it gold prospecting. I could wish for a lighter package but the fact is it works and a person who puts in the effort should do just fine with the ATX. I know I can.
The ATX does well for relic hunting applications and I have even found I can cherry pick coins halfway well with it. I have always been partial to pulse induction detectors and Garrett has won me over with the ATX. I enjoy using the detector and I can make good finds with it, and that is all I can ask of any detector.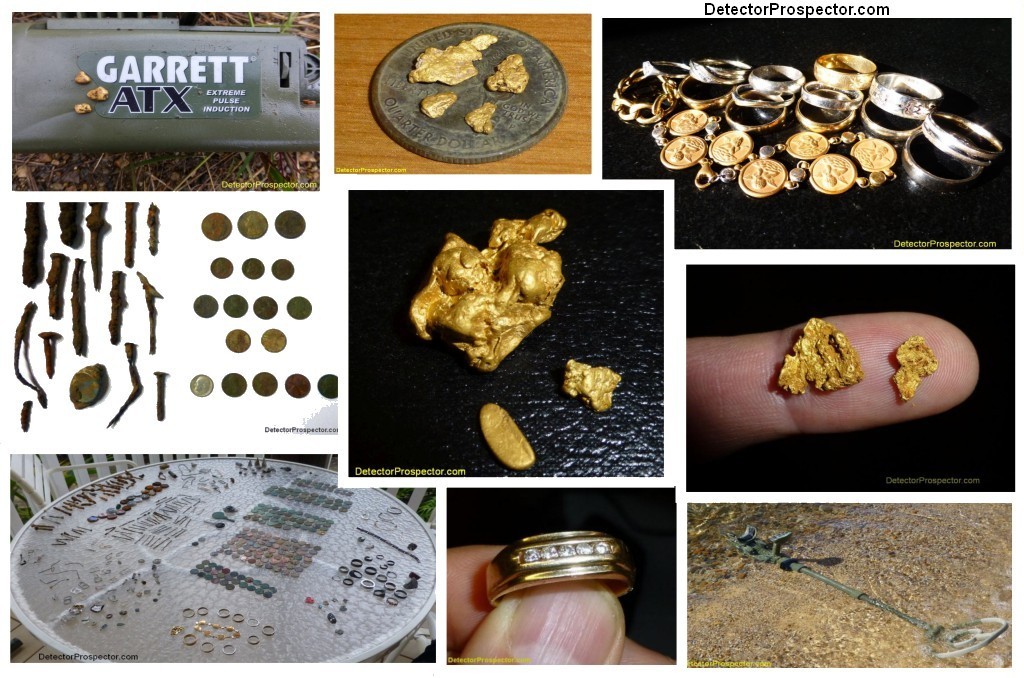 Some of Steve's finds with the Garrett ATX in the first year of use
In retrospect I have actually done remarkably well with the ATX since I got it, considering it is only one of several detectors I have been using and not the one with the most hours on it. I have found about 3 ounces of gold and platinum jewelry with the Garrett ATX plus about two ounces of gold nuggets with it. I have found gold nuggets in Alaska, Arizona, California, and Nevada with the ATX under sunny skies and in pouring rain. My ATX has spent a couple weeks of days underwater in rough surf and is none the worse for wear. Many thanks and a hat's off to Garrett for producing my all time favorite Garrett detector.
~ Steve Herschbach
Copyright © 2015 Herschbach Enterprises
Garrett ATX Instruction Manual
How To Disassemble and Clean the ATX Coil Shaft & Camlocks
Report on new 11" x 13" Search Coils
Forum Threads Tagged "garrett atx"
Garrett ATX vs Minelab GPX 5000
Garrett ATX Technical Specifications*

| | |
| --- | --- |
| Internet Price | $2120.00 |
| Technology | Ground Balancing Pulse Induction (GBPI) |
| Frequency | 730 pps |
| Autotune Mode(s) | Slow Motion and Non-Motion |
| Ground Rejection | Four Tracking Speeds and Fixed |
| Soil Adjust | Can ground balance into salt soils |
| Discrimination | Dual Tones, Iron Check & Reverse Disc |
| Volume Control | Volume Limiter plus headphone controls |
| Threshold Control | 25 level push button setting |
| Tone Adjust | No |
| Audio Boost | No |
| Frequency Offset | Automatic |
| Pinpoint Mode | Yes |
| Audio Output | Proprietary headphone socket, Headphones supplied plus Waterproof Speaker |
| Hip Mount | No |
| Standard Coil(s) | 12" x 10" Open Spoke DD (Or Optional 11" x 13" Coils) |
| Optional Search Coils | 8" Round Mono, 20" x 15" Mono, 11" x 13" Enclosed DD, 11" x 13" Enclosed Mono |
| Battery | 8 AA rechargeable and disposables supplied |
| Operating Time | 10 - 12 hours |
| Weight | 6.9 pounds |
| Additional Technology | 13 level adjustable gain control |
| Notes | Waterproof to 10 feet (requires optional submersible headphones) |
*Notes on Technical Specifications - Detailed notes about the specifications listed in this chart.
Edited by Steve Herschbach
5

1