The Minelab Equinox 600 metal detector was introduced in 2018 and is still in production. The Equinox 600 is a fully submersible VLF metal detector aimed primarily at coin, jewelry, relic detecting, and saltwater beach detecting. The Equinox 600 is a multifrequency detector that can also run at one of several single frequencies: 5, 10, and 15 kHz.
"With innovative NEW simultaneous multi-frequency technology, the EQUINOX Series redefines all-purpose detecting for the serious enthusiast. Equally adaptable for all target types and ground conditions, just set your detecting location and go!" Source: Minelab website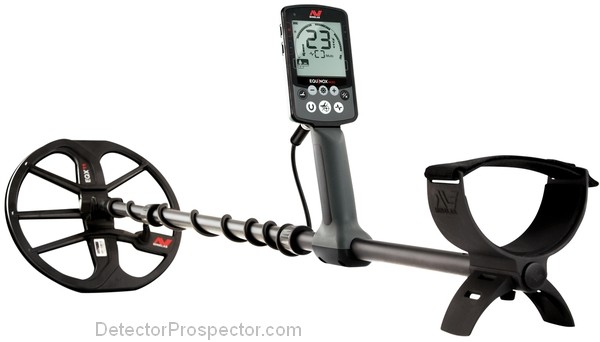 Minelab Equinox 600 metal detector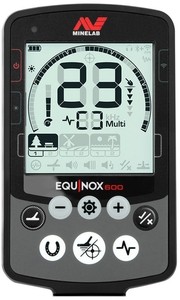 Minelab Equinox 600 control panel
Simultaneous Multi-Frequency - True intelligent Simultaneous Multi-Frequency for maximum performance, plus a wide range of single frequencies.
6 Custom Search Profiles - Each Detect Mode features 2 custom Search Profiles so you can save your favourite settings in each mode.
Waterproof Design - EQUINOX is fully submersible, ideal for detecting at the beach and in rivers, streams and lakes. (3m / 10-feet)
Fast & Accurate Target ID - Fast recovery speed with accurate Target ID ensures you won't miss any valuable targets amongst the trash.
Sleek & Lightweight - Rugged and lightweight construction allows you to enjoy long detecting sessions in any environment.
Wireless Audio Compatible - Compatible with ultra-fast wireless audio with the WM 08, and fast aptX™ Low Latency / Bluetooth headphones.
Official Minelab Equinox 600 Product Page
Minelab Equinox 600 Owner's Manual
Forum Threads Tagged "minelab equinox"
Minelab Equinox Metal Detector Forum
Edited by Steve Herschbach