The Minelab Equinox 800 metal detector was introduced in 2018 and is still in production. The Equinox 800 is a fully submersible VLF metal detector aimed primarily at coin, jewelry, relic detecting, and saltwater beach detecting as well as gold prospecting. The Equinox 800 is a multifrequency detector that can also run at one of several single frequencies: 5, 10, 15, 20, and 40 kHz.
"With innovative NEW simultaneous multi-frequency technology, the EQUINOX Series redefines all-purpose detecting for the serious enthusiast. Equally adaptable for all target types and ground conditions, just set your detecting location and go! With the added functionality of Gold Mode, High Frequency 20/40 kHz., Wireless audio accessories and Advanced settings, the EQUINOX 800 offers extra versatility." Source: Minelab website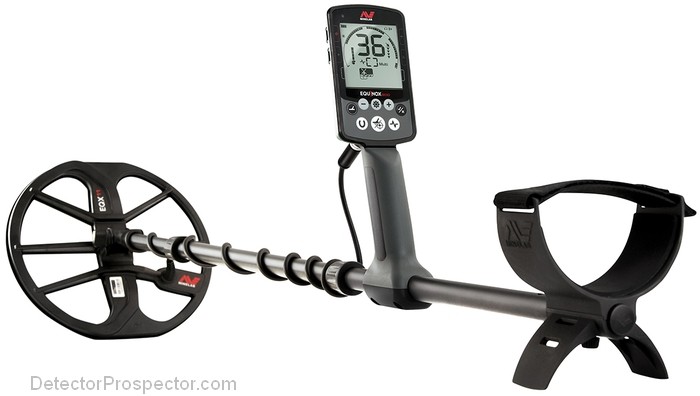 Minelab Equinox 800 metal detector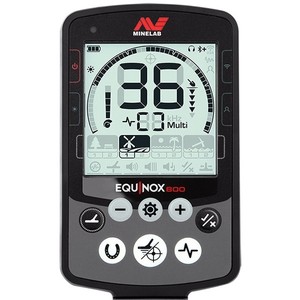 Minelab Equinox 800 control panel
Simultaneous Multi-Frequency - True intelligent Simultaneous Multi-Frequency for maximum performance, plus a wide range of single frequencies.
8 Custom Search Profiles - Each Detect Mode features 2 custom Search Profiles so you can save your favourite settings in each mode.
Waterproof Design - EQUINOX is fully submersible, ideal for detecting at the beach and in rivers, streams and lakes. (3m / 10-feet)
Fast & Accurate Target ID - Fast recovery speed with accurate Target ID ensures you won't miss any valuable targets amongst the trash.
Sleek & Lightweight - Rugged and lightweight construction allows you to enjoy long detecting sessions in any environment.
Advanced Settings - Gain even more control of your detector audio with Advanced Settings; you decide how much target information you hear.
High-Speed Wireless Audio - Experience ultra-fast wireless audio with the WM 08, or use fast aptX™ Low Latency / Bluetooth headphones.
Gold Detecting Mode - Gold Mode operates the high single frequencies of either 20 kHz or 40 kHz to detect gold nuggets in mineralised soils.
Official Minelab Equinox 800 Product Page
Minelab Equinox 800 Owner's Manual
Minelab Equinox 800 - Steve's Review
Forum Threads Tagged "minelab equinox"
Minelab Equinox Metal Detector Forum
Edited by Steve Herschbach