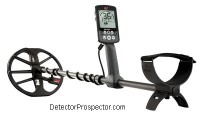 The Minelab Equinox 800 was announced in 2017 and has really made an impression in the detecting world. Never before have so many features been packed into a lightweight metal detector at such a low cost. Key items include waterproof to 3 meters (about ten feet), genuine multifrequency operation, extremely fast recovery speed, built in wireless headphone capability, and the ability to run one of several different frequencies separately from the multifrequency mode. All this and more at the stunningly low announced price of $899.00.
Visit the new Minelab Equinox Forum!           9/5/18 - New Equinox Software Version Download Announcement
This website tends to focus on metal detectors that have some sort of included gold prospecting capability. The Equinox 800 is of interest due to a dedicated prospecting (Gold) mode and it's ability to run at either 20 kHz or 40 kHz. The 40 kHz frequency in particular is clearly in the realm normally only available in detectors made specifically for gold prospecting.
Minelab has actually released two Equinox models, the Equinox 800 (US$899) and the lower price (US$649) Equinox 600. Both have identical performance in the modes they share, but the Equinox 800 offers one extra mode (the Gold Mode) plus other advanced audio tuning features.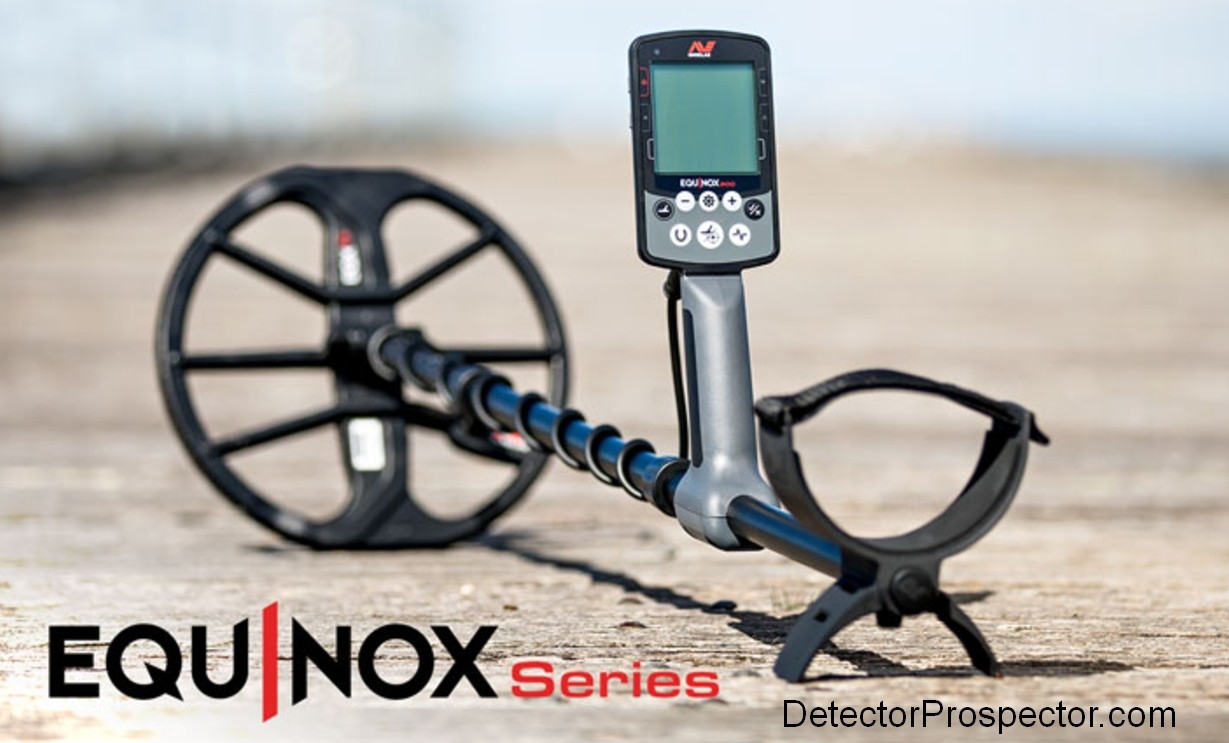 Minelab Equinox Series Metal Detectors
Minelab Equinox 600 basic features:
3 Detect Modes (Park, Field, Beach)
4 Frequency Options (5kHz, 10kHz, 15kHz, Multi)
Wired Headphones Supplied
Minelab Equinox 800 basic features:
4 Detect Modes (Park, Field, Beach, Gold) 
6 Frequency Options (5kHz, 10kHz, 15kHz, 20kHz, 40kHz, Multi)
Bluetooth Headphones and WM 08 Wireless Module Supplied
As can be seen the main difference is the Equinox 800 adds the ability to employ the 20 kHz and 40 kHz frequency settings separately that could enhance the ability of the detector to find very small items. These could be small jewelry items or small/thin silver hammered, cut coins, gold nuggets, or micro jewelry.
ads by Amazon...
Introducing Minelab Multi-IQ
Multi-IQ is Minelab's next major innovation and can be considered as combining the performance advantages of both FBS and VFLEX in a new fusion of technologies. It isn't just a rework of single frequency VLF, nor is it merely another name for an iteration of BBS/FBS. By developing a new technology, as well as a new detector 'from scratch', we will be providing both multi-frequency and selectable single frequencies in a lightweight platform, at a low cost, with a significantly faster recovery speed that is comparable to or better than competing products.


Minelab Multi-IQ Simultaneous Multi-Frequency Range
Multi-IQ achieves a high level of target ID accuracy at depth much better than any single frequency detector can achieve, including switchable single frequency detectors that claim to be multi-frequency. When Minelab use the term "multi-frequency" we mean "simultaneous" – i.e. more than one frequency is transmitted, received AND processed concurrently. This enables maximum target sensitivity across all target types and sizes, while minimizing ground noise (especially in saltwater). There are presently only a handful of detectors from Minelab and other manufacturers that can be classed as true multi-frequency, all of which have their own advantages and disadvantages.
How does Multi-IQ compare to BBS/FBS?
Multi-IQ uses a different group of fundamental frequencies than BBS/FBS to generate a wide-band multi-frequency transmission signal that is more sensitive to high frequency targets and slightly less sensitive to low frequency targets. Multi-IQ uses the latest high-speed processors and advanced digital filtering techniques for a much faster recovery speed than BBS/FBS technologies. Multi-IQ copes with saltwater and beach conditions almost as well as BBS/FBS, however BBS/FBS still have an advantage for finding high conductive silver coins in all conditions.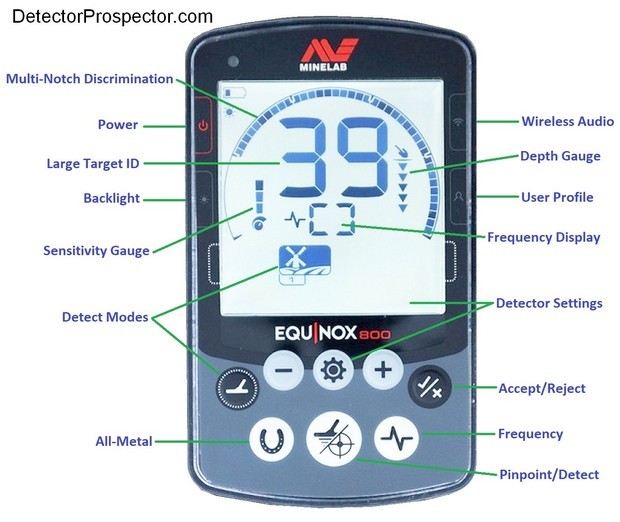 Minelab Equinox 800 Controls Explained
Note from Steve Herschbach - I have never seen a detector release that has come so close to matching up with my list of desired features. There are certain things I want in a genuine "do-it-all" metal detector. I like to hunt just about anything that can be found with a metal detector so when I think of multipurpose I really mean it. My desired detector would be waterproof and able to handle saltwater well, and that calls for multifrequency. Yet I want the detector to be hot on small gold, and that calls for a high single frequency mode. So far getting both multifrequency and a hot single frequency in a waterproof detector has not been possible. Now, in theory at least, I can use the same detector to surf detect on saltwater beaches and while looking for gold nuggets on dry land.
Multifrequency also means highly accurate target id capability, but this has usually come at the cost of recovery speed. The Equinox promises recovery speeds as fast or faster than the competition. Long story short I have had to have multiple detectors for what I do as even today's so-called multipurpose detectors fall short in one way or another. The Minelab Equinox looks to truly be able to do it all and do it well, and as such represents a definite break with what has been available in the past, especially at the prices quoted.
Official Minelab Equinox 800 Page
Minelab Equinox Color Brochure
Minelab Equinox Getting Started Guide
Minelab Equinox Full Instruction Manual
Minelab Equinox Essential Information
Gold Nugget Detecting With Equinox 800
Forum Threads Tagged "minelab equinox"
New Equinox Software Version Download Announcement
Minelab Equinox 800 Technical Specifications*

| | |
| --- | --- |
| Internet Price | $899.00 |
| Technology | Induction Balance (IB) |
| Frequency | 5, 10, 15, 20, 40 kHz plus Multifrequency |
| Autotune Mode(s) | Adjustable Detect Speed |
| Ground Rejection | Manual & Tracking |
| Soil Adjust | Four Tuned Modes (Park, Field, Beach, Gold) |
| Discrimination | Variable with Visual ID, Tone ID, Notch ID |
| Volume Control | Yes |
| Threshold Control | Yes |
| Tone Adjust | Yes - High Level Of Tone Controls |
| Audio Boost | No |
| Frequency Offset | Yes (Manual & Automatic) |
| Pinpoint Mode | Yes |
| Audio Output | 1/8" Headphone Socket, Speaker, APTX Bluetooth Wireless, Minelab WiStream (aptX LL Headphones Included) |
| Hip Mount | Shaft Mount Only |
| Standard Coil(s) | 11" Round DD |
| Optional Search Coils | 6" Round DD and 12" x 15" DD |
| Battery | Built In Li-Ion Rechargeable |
| Operating Time |  Up to 12 hours |
| Weight | 2.96 lbs |
| Additional Technology | Multi-IQ Technology, Screen Backlight, Minelab WiStream Low Latency Wireless Audio, Waterproof to 10 feet |
| Notes | Battery can be charged while in operation. The Equinox 800 comes with both APTX Bluetooth wireless headphones and the new Minelab WM08 WiStream low latency wireless module that may be used with any detector headphones |
*Notes on Technical Specifications - Detailed notes about the specifications listed in this chart.
7