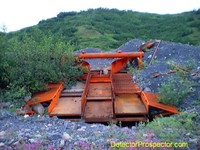 I decided it would be nice to take a trip to Petersville and do a little exploring. Some miners in the area recently purchased some mining gear from me and invited me up to visit. It turned out that my friend Ben knew them also, so we decided to meet at the Petersville State Recreational Mining Site Saturday morning to try to go find them. We both planned to leave Friday, but our differing schedules made hooking up at Petersville easier than trying to coordinate going up at the same time.
I tried to get off work early, but as usual barely made it out before closing. It is 150 miles to Petersville from Anchorage, and so it was getting dark by the time I pulled into the Recreational Site. I threw my sleeping bag over myself in the front seat of my truck, and went to sleep.
The next morning revealed overcast skys with a little blue showing here and there. I had one of the new Bombardier Traxter ATV's on a trailer behind my truck, and so after a quick breakfast I got it off the trailer. Ben showed up about that time, and we decided to take a quick exploratory run over towards Cache Creek. I drove the Traxter and Ben followed in his truck. Our real goal was upper Peters Creek, so as we went down the road we kept our eyes open for a side road heading off in the right direction.
After a short while, we decided we must have missed our turn-off and doubled back. We found a road headed the right way, and proceeded on. The road ended up following upper Peters creek into a narrow canyon. We came to a creek crossing followed by a very steep hill that tested both the truck and the Traxter. We both got across the water and up the hill, but Ben got a flat tire somehow in the process.
A short tire change and we were once again on our way. A little side trail ran off to one side, and Ben thought it led to the miner's camp. It was a good thing Ben was with me, as I would have missed it entirely. The women of the operation were in camp, and after visiting a bit, they led us up to the dredging operation.
The miners had two 4" dredges working in the creek. They were on some shallow bedrock, and reported finding some decent gold, but nothing to get too excited about. The bedrock sure looked nice through that clear water, however, and it made me wish I had my dredge along. Ben did have his, and he took the guys up on an invitation to throw his rig in the water and give it a try.
One 4" dredge was a standard Keene 4" dredge. The other was one of the more creative dredges I have seen in quite a long time. The miner had the frame mounted on a set of axles and ATV tires. He could roll it around and drag it up the creek on gravel bars, and when the water was deep enough the tires actually had enough floatation to keep the setup above water. It looked like a very good dredge for shallow water use.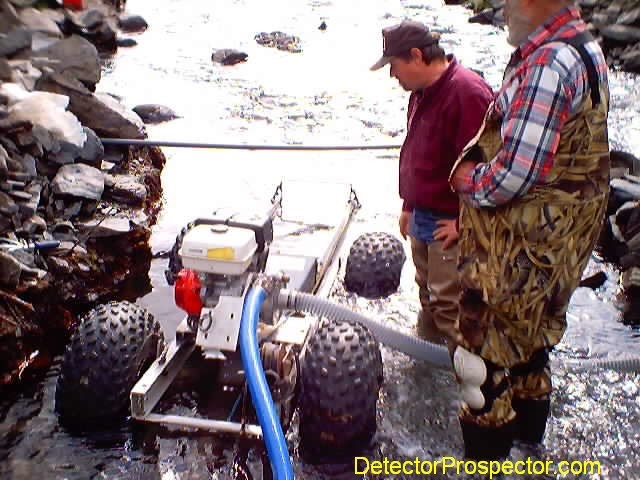 Dredge On Tire Floatation!
I decided to explore further up the valley on the Traxter. These units are some of the larger and more powerful ATVs available, and driving the machine around was a lot of fun. I drove up the valley as far as I could go and got pretty far up on the hill overlooking the valley. It was a great view, well above tree line. I sure do like alpine country!
I decided to explore down the valley, and ended up following an old ditch line that had been converted into a rough trail. It got to where I was pretty far down below the road, with no end of the trail in sight. Rather than double back, I decided to really put the Traxter to the test and see if I could just head straight up the hill across rough terrain.
The hill was about as steep as I could negotiate, and rocks covered with moss tossed the machine around quite a bit. I wondered if this was such a wise idea after all! There were many brush patches, and it looked like I might not be able to pick a path all the way to the road. It turned out to be a close thing, but I did find a narrow passage through the brush, and after a heart-stopping last second climb, I found myself back on the road.
I went back up to where the dredging was going on. Not much gold to report, but Ben wanted to spend the night and keep trying Sunday. The thought was tempting, but I was feeling a little under the weather at that point, and so decided I'd head back towards town after some more exploring. I wished everyone good luck and headed back on down the valley.
On the way up the valley, some large mining pits had caught my eye, and I explored them a bit. There was an old pipe system feeding into the pit, and a large triple box sluice down in the middle of the operations. The pipe and some old mining gear appeared to date from the early mining in the area, but the triple box was obviously from a more recent heavy equipment operation.

Old Pipe System     and      Loader Fed Triple Box
I poked around the pit and some gullies exploring, but someone up along the road started firing a gun. They were obviously target practicing, but did not know I was in the area, and I did not know which way they were firing. It made me nervous enough that I cut my explorations short and got back up on the main road. The area looked like it would make for some interesting metal detecting, but I will have to track the claim owner down for permission first.
I made my way back to my truck and loaded up the Traxter. Although I had not found any gold, I have found that these exploratory trips are well worth the time. In fact, I need to do them more often. Once I get looking for gold I tend to stay in a pretty small area. So taking a day now and then and just looking the country over can be a good idea. You never know what new prospects might be waiting just over the next hill.
Postscript: I talked to Ben on Monday and reported that he had found a bit of gold, but not enough that I felt like I had missed out on a major strike. In fact, the miners were anxious to move on to some new ground they had staked farther up the valley. However, it sounds like I missed a great meal at the camp that night!
~ Steve Herschbach
Copyright © 2001 Herschbach Enterprises