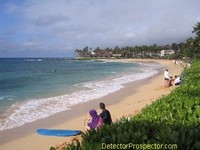 Winter in Alaska! What is an Alaskan gold miner to do? Go somewhere warm to look for gold, that's what!! My wife and I have been long overdue for a vacation together. We wanted to return to Kauai, Hawaii, as we had been there years ago and fell in love with the island. Kauai still retains much of the quiet, laid back style of Hawaii that has been lost in some of the more popular areas of the state. We chose to stay in the Poipu resort area, which is on the southern-most tip of the island. The area tends to have sunnier weather than other parts of the island.
I have wanted to do some underwater metal detecting in Hawaii for many years. Friends have returned with some incredibly nice jewelry finds after vacations there, and I wanted to give the sunny beaches a try myself. I underwater detect in the Anchorage area quite a bit, but the cold water tends to mean that the quality of jewelry found is that lost by teens and young adults. The items lost in warmer waters tends to be from older, more affluent folks, and so the finds can be more exciting. I have never found any kind of serious diamond jewelry (except tiny little things) and hoped this trip would produce a gem or two. We stayed at the Kiahuna Plantation, the only beach-front condominiums on Kauai, directly adjacent to the Kauai Sheraton. One of the nicest beaches on the island fronts this location, and several other popular beaches are within walking distance. I figured this to be a hot location for metal detecting.
I had purchased a new White's Surfmaster PI detector just for this trip. The PI is a pulse-induction unit that excels in saltwater/iron mineral conditions found in the marine environment. I usually employ VLF/TR (very low frequency/transmitter receiver) units, such as the Fisher Aquanaut, in the freshwater lakes around Anchorage. This is because the VLF/TR units have superior discrimination capabilities, since they are standard coin hunting type units packaged for underwater use. Some of the lakes have a lot of trash, especially nails and bottle caps, and the discrimination can help a lot.

Steve with White's Surf PI detecting on Kauai
The pulse units feature the ability to work in areas that will give VLF/TR detectors difficulties with false signaling, but for all practical purposes one digs all items with a pulse detector. Some, such as the Surfmaster, feature a type of discrimination circuit, but it is not very effective compared to that on the VLF/TR detectors, especially when looking for jewelry items. The best idea when gold nugget hunting is to dig everything, and this is a good idea when looking for jewelry also. Digging sandy areas is so easy that trash items are not as much an issue as in hard pack soils in parks or elsewhere. Just remember to take the trash to a garbage can.
A little side note here: Test a new machine underwater before a big trip such as this. I have previously had a brand new detector leak like a sieve after bringing it on vacation with me. I never was able to get it to seal, and had to stay above water for that trip. Just because it is new does not mean it will work. My new unit spent a night weighted to the bottom of my full bathtub before coming along with me!
I watched where people were playing a lot. There was the line of beach towels and chairs at the top of the beach where it leveled out. The hot spot in the water seemed to be the waist to shoulder deep area, where people would wait for waves to ride in. There was also the "wipeout" zone close to the beach where the rides ended, sometimes spectacularly. I also checked out the bottom with mask and snorkel. The condition of the bottom seemed ideal. Much of the area had less than a foot of sand on top of a hard coral base. I wanted to concentrate on this kind of spot, with a layer within range of the detector where items would come to a stop as they settled into the sand.
The main problem was the waves. They were rather large, more than I could handle un-weighted. I was retrieving targets by holding my breath and ducking to the bottom, and needed to stay in place while I worked. I had considered SCUBA since I am a certified diver, but hauling the gear around is a pain, and I did not like the thought of being underwater for long stretches with lots of people around. It is too easy for them to lose track of where you are, and I could not very well "claim" the area as mine by putting out a dive flag. I solved my problem by going to a dive shop and renting a 40 pound weight belt. This helped me stay put while waves crashed into and over me, and allowed me to drop straight to the bottom to recover the finds.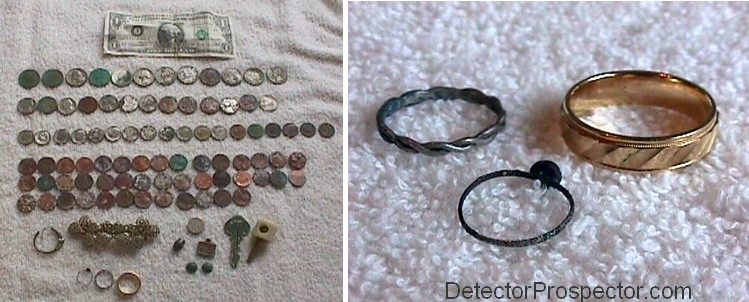 Steve's finds, including first gold ring from Hawaii!
I put in quite a few hours of time in the water, plus hitting the beach itself. The Surfmaster worked very well; coins were easily detectable down to about a foot, and the machine was very stable. The smallest ring I found (pictured above) was nothing more than a silver wire. I found plenty of coins, a bunch of pull tabs, but only a few jewelry items. These included a fake-diamond encrusted broach, a silver hoop earring, a the very thin silver ring (with a black stone), a twisted silver ring, and the real find of the trip, a very large men's gold band. It was located in a trough on the bottom near the coral base layer. An interesting find was a dollar bill that I saw floating a couple feet underwater. All in all, not bad, but no large diamond ring. I certainly was making finds, and the pull tabs and coins indicate the area is not hunted out, but there was less jewelry then I expected. Oh well, I'll just have to keep returning here until I get it right!
~ Steve Herschbach
Copyright © 2000 Herschbach Enterprises