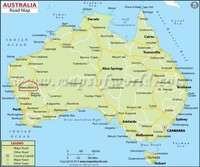 The July 2016 issue of the ICMJ magazine contains an article I wrote reprising my 2011 trip to Australia to hunt gold with Chris Ralph and Jonathan Porter. Subscribers can view the article online.
There was of course a lot more to say about the trip than was contained in the article, and in particular I have a lot more photos to share. I kept a diary while on the trip, and this thread is intended to provide a much more detailed look at the trip. I will keep posting on this thread in a serial fashion similar to what I did with my Alaska gold adventures with my diary providing daily details.
It all started in 2010 at the old AMDS Adventure Forum when I made this post on a thread:
"Hi murph,
You know, for many years it was my dream to go hunt nuggets in Australia. I got Doug Stone's books and read everything else I could and dreamed of those monster nuggets.
But as years went by I read between the lines and figured it is a tough go to find the big nuggets in Australia these days. The fact is you only read about people making finds, but plenty of visitors to Oz find no gold. There is always the home team advantage. It is not so much what you know as who you know, and I'll always have a tremendous advantage in Alaska just because I've lived here all my life. Though I do have a few contacts in Oz that might give me a leg up on the average visitor. Still, it may be that my chance to visit Australia is coming as my circumstances have taken a turn for the better. So maybe in a couple years?"
That in turn generated a response from famed Australian gold prospector Jonathan Porter:
"Steve I will tell you this, if you ever decide to visit Australia it would be my pleasure to show you around. There is still plenty of potential here in Australia, the auriferous areas are just too extensive and in some cases very inaccessible so there just has to be good nugget patches waiting for someone gutsy enough to come along and swing their coil over that first lump. I intend to get into some tiger country this year and could do with a good partner who doesn't need a gold fix every day, interested? - JP"
It turns out that JP and ICMJ Associate editor Chris Ralph had been discussing the possibility of a joint prospecting trip in Australia. I had met Chris previously when I had invited him up to visit my Moore Creek pay-to-mine operation several years earlier. A few messages were passed back and forth offline, and I was fortunate enough to be invited to join in on the adventure. Trying to pick the best time as regards weather was a big priority, and it was decided that the fall of 2011 would be the best bet for putting a trip together. Australia is in the southern hemisphere, and so the seasons are the reverse of what we experience in the United States. Our fall is their spring and we timed it to hit cooler temperatures that would be warming while we were there. Jonathan's advice was critical here. We wanted several weeks to give it a good go and decided the entire month of September 2011 would work well. That gave us plenty of time to plan and make arrangements so we put it on our calendars.
This adventure is continued on the DetectorProspector Forum as a series of posts - see here for the full story.