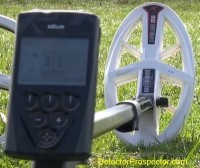 I finally went out and found my first gold nuggets with the new DEUS elliptical high frequency coil. I want to emphasize that I am a newbie on the XP Deus. Although I purchased an 11" Deus V3.2 model almost two years ago, it was with the express purpose of being able to test the V4 update with the new high frequency coil options for gold prospecting. I decided I was better off just starting fresh with version 4.0 before really digging in and learning the detector. I do get the hang of detectors quickly but this does show what can be done by somebody who went out barely knowing the machine.
The other catch is that I picked a location that favors the Deus with relatively mild soil for a gold location, so mild I could run the machine full out to get the maximum possible sensitivity with the machine. These results are not going to be as easy to obtain in extreme mineral ground. You have to start someplace however and being new to the machine I wanted to give myself someplace easy to start. Finally, the goal here was to find the smallest gold I could so for the purposes of this report - smaller is better.
These nuggets were recovered over the course of a day. Ten nuggets, 4.7 grains total weight. There are 480 grains per Troy ounce and with an average weight of less than half a grain I think you can agree this is some pretty small stuff. The smallest bits are probably near 1/10th grain or 1/4800th of a Troy ounce. Click picture for larger version.

Ten nuggets, 4.7 grains total weight, found by Steve with Deus HF elliptical coil
The new HF elliptical coil running at 74 kHz is clearly in the same league as the 71 kHz Fisher Gold Bug 2,  45 kHz Minelab Gold Monster, 56 kHz Makro Gold Racer, and 48 kHz White's GMT. However, the devil is in the details and it will be some time before I sort out how the machines compare under more difficult and varied conditions.
Again, I am not an expert with the Deus and so the settings I mention are not to be taken as "the best" or anything like that. I was actually gold prospecting so the primary focus was to find gold, not to test every possible combination of settings on the Deus. With 10 program options and numerous settings that will be a longer term project. I obviously wanted to try the Gold Field program 10. After a little experimenting I settled on the GM Power program 2 as an alternate disc mode to try. Getting from program 10 to program 2 is only a couple button pushes, so I bounced back and forth between the two programs and tweaked settings higher as I found targets and could compare readings.
Gold Field is a threshold based all metal mode with what I find to be a rather pleasant digitized buzz. That's me of course, others may differ on that point. I was able to run sensitivity full out at 99. All my work was done at 74 khz, the default highest frequency setting without trying to push it higher via the offset. I figure the coil is tuned at 74 khz and so stuck with that for now. Manual ground balance about 84.
GM Power I got sensitivity to 94 with only minor falsing. I reduced reactivity (similar to SAT for you nugget hunters) to 0 from the default of 2 and ran the audio response (audio boost) up to 7 (max).
Both modes exhibit just a little touch sensitivity at these high gain levels. This might be tamed with the ground notch but I have not fooled with that yet and it did not bother me at all anyway.
What I found was Gold Field has a softer response in general but that my boosted version of GM Power banged hard on the little bits. Not unlike going from all metal mode on the Gold Bug 2 to the Iron Disc mode. Instead of faint threshold variations you get a strong "beep". The difference is that the Gold Bug 2 Iron Disc mode has an obvious loss in sensitivity. The Deus by comparison in this particular situation actually seemed to work better in GM Power mode, but that is mainly the boosted audio at work.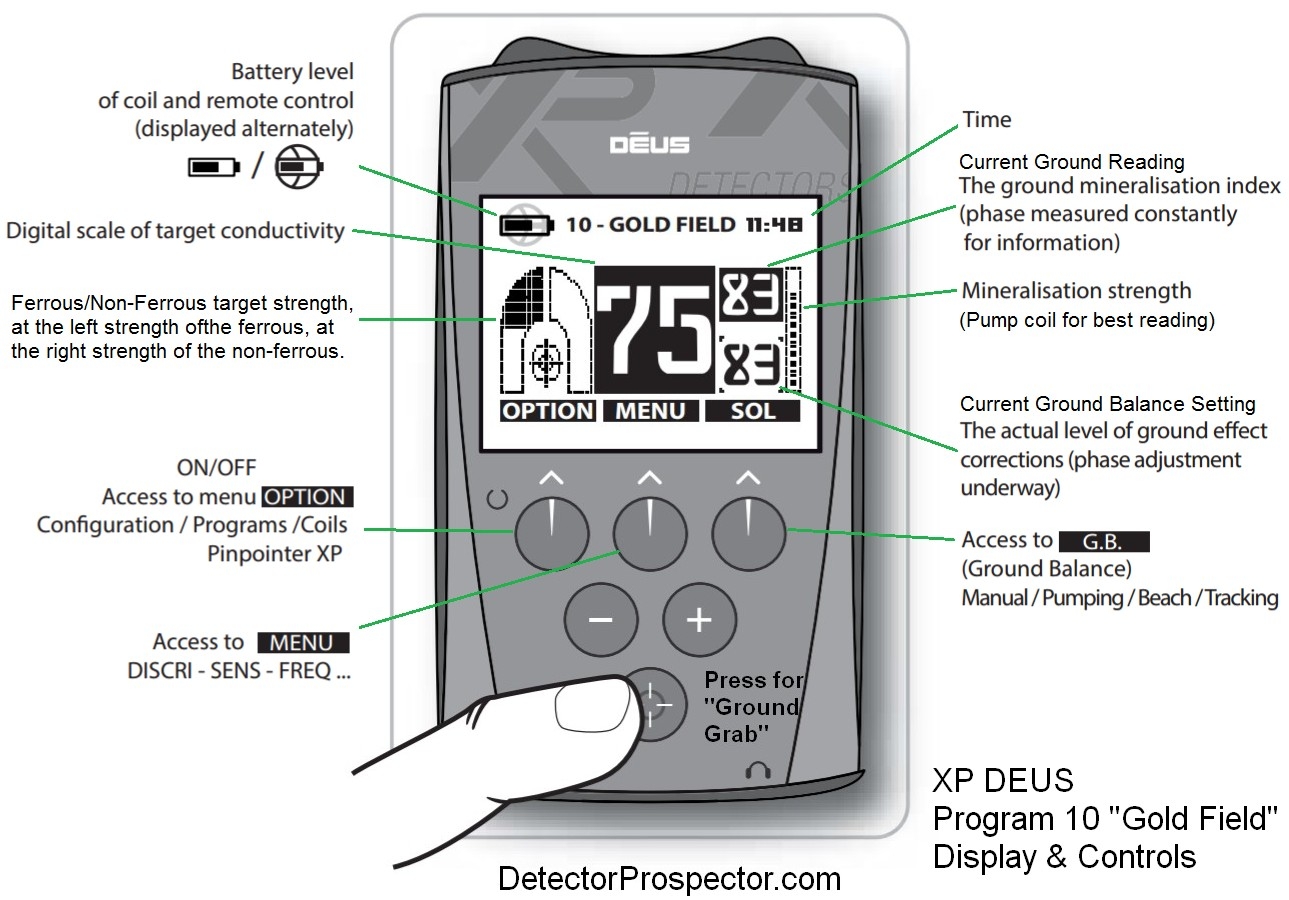 I left the disc settings at the defaults for GM Power which worked well - low tone iron, higher tones non-ferrous. I ran the IAR (iron reject) in Gold Field at 2. This was just enough to cause ferrous to break up. Higher settings would blank most ferrous completely but getting to aggressive can also eliminate weak gold signals. The ferrous discrimination worked very well in both programs. GM Power in particular was pretty awesome in the nail pits with iron tones firing off like a machine gun. I bumped reactivity back to 2 in the dense trash.
Anyway, this is a very preliminary report and so no point getting too deep into it as I will probably modify my opinions and settings as I get more time on the machine. Right now this is a high price option if all you need is a prospecting unit, but for a person wanting one machine to do everything XP just kicked it up a notch. If they introduce a dedicated gold unit at a lower price similar to the Depar DPR 600 it would be very competitive. For now this is an option for somebody that wants a detector for more than just gold prospecting since the Deus is a superb coin, relic, and jewelry detector.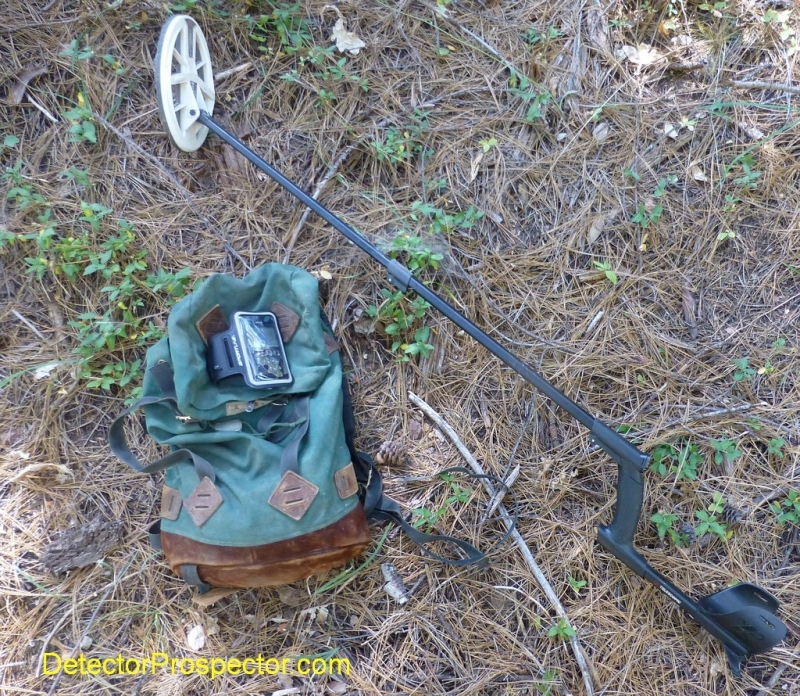 Steve's XP Deus with HF elliptical coil - it collapses to fit in that rucksack!
The elliptical coil and rod assembly is just 1 lb 13 oz (1.8 lbs) and so a true featherweight. At 5' 11" I have to run it fully extended and at that it does flex a bit, but I did not find that bothersome at all. A solid coil cover will be good as there are too many coil edges that want to hang up on rubble and sticks. A minor quibble however as the machine is a joy to handle, especially when reaching uphill waist high and higher. A great unit for poking in and around bushes and other obstructions. The coil is hotter at the tips which also helps in poking into tight locations.
Early days but the final word is that I am happy with how this coil performs on small gold nuggets after all the wait. Time will tell how it handles the really bad ground and how it fares directly against some of the competition as other people report in. As always giving it time and waiting for a consensus opinion from many users to develop is a wise policy with any new detector.
This article originated as a post on the DetectorProspector Forum. There might be additional information there in follow up posts.
~ Steve Herschbach
Copyright © 2017 Herschbach Enterprises
1