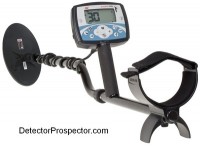 The Minelab X-Terra 705 was released in 2009 and is still in production. It is a feature packed detector available for under $500 and weighing less than 3 pounds. Quite a remarkable detector for the price, the X-Terra 705 can run at any one of three separate frequencies by changing to various custom tuned "smart" coils.
Unlike some detectors that select between frequencies while using a single coil, the X-Terra 705 insures optimum performance by using coils specifically tuned for each operating frequency. The coils contain a chip that tells the detector what frequency it is designed to run at, and the detector automatically switches to match the coil. You can choose between 3 kHz, 7.5 kHz, and 18.75 kHz.
The original X-Terra 705 comes stock with the 9" round concentric coil, which is great for general purpose detecting. The X-Terra 705 Gold comes with the 10" x 5" 18.75 kHz DD coil deemed best as an all around prospecting coil.
The X-Terra 705 has a full complement of ground balancing options - a simple "Ground Grab" automatic push button option, full adjustable manual ground balance, and automatic ground tracking, making it one of the few prospecting detectors that offer all three methods. There are several tone id options to choose from, all the way from a simple mono tone to a full multi tone mode. The X-Terra 705 features full programmable notch discrimination with memory to save all your settings when turned off.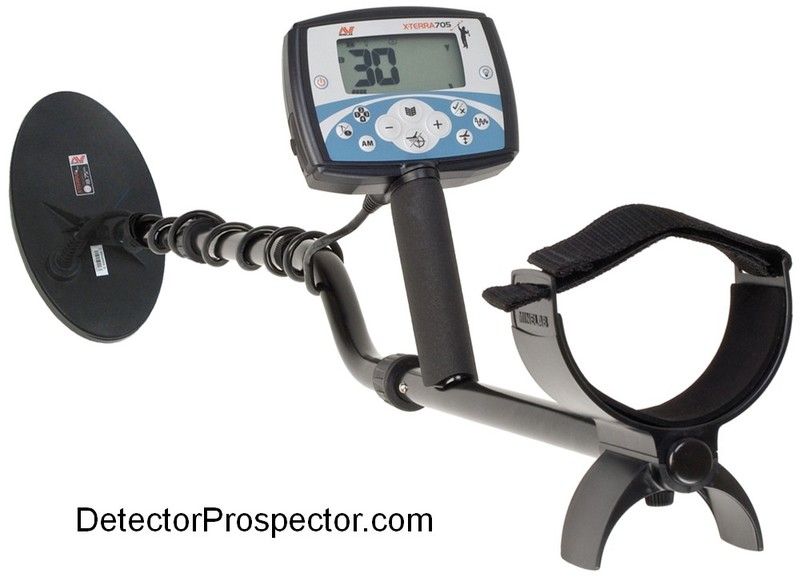 Minelab X-Terra 705 Gold multipurpose metal detector
Most importantly, the X-Terra 705 Gold has a very powerful threshold based all metal mode, one of the best available. The all metal mode "Prospect Mode" has an adjustable "iron mask" which allows shallow ferrous trash to be identified and rejected even while in the all metal Prospect Mode.
The Beach setting along with the optional alternate frequency coils makes the Minelab X-Terra 705 a worthy contender for those seeking a single powerful "do-it-all" detector in an affordable and lightweight package. At one time this was a $700 detector and it was a good value then - at $499 it is a true bargain.
Official Minelab X-Terra Gold Page
Minelab X-Terra 705 Instruction Manual
Minelab X-Terra 705 Gold Start Guide
Understanding Your X-Terra by Randy Horton
X-Terra 70 & 705 On Gold Nuggets
Forum Threads Tagged "minelab x-terra"
Minelab X-Terra 705 Gold Technical Specifications*

| | |
| --- | --- |
| Internet Price | $499.00 |
| Technology | Induction Balance (IB) |
| Frequency | 18.75 kHz (X-Terra Gold model) |
| Autotune Mode(s) | Preset Slow Autotune |
| Ground Rejection | Ground Grab, Manual, Tracking |
| Soil Adjust | Normal and Salt (Beach) Modes |
| Discrimination | Variable with Visual ID, Tone ID, Notch ID |
| Volume Control | Yes |
| Threshold Control | Yes |
| Tone Adjust | No |
| Audio Boost | No |
| Frequency Offset | Yes |
| Pinpoint Mode | Yes |
| Audio Output | 1/4" headphone socket & speaker |
| Hip Mount | Shaft Mount Only |
| Standard Coil(s) | 10" x 5" DD (X-Terra Gold model) |
| Optional Search Coils | Nine or more accessory coils available |
| Battery | Four AA |
| Operating Time | 20 - 30 hours |
| Weight | 2.9 pounds |
| Additional Technology | Can change frequency by changing coils to 3 kHz or 7.5 kHz from 18.75 kHz, has ground tracking offset feature |
| Notes | The 10" x 5" coil is not rated as waterproof |
*Notes on Technical Specifications - Detailed notes about the specifications listed in this chart.
Edited by Steve Herschbach