The Tesoro Lobo SuperTRAQ detector was released in 1997 and was discontinued in 2019. It is also referred to as the Lobo ST. I have had some experience with the Lobo over the years and have seen a lot of gold found with it. See Detecting for Gold with the Tesoro Lobo and Metal Detecting for Gold at Ganes Creek, Alaska at Steve's Mining Journal.
The Tesoro Lobo SuperTRAQ replaced the earlier Tesoro Lobo, which was produced from 1989 - 1997. The main difference between the two units is that the earlier model lacked automatic ground balancing, the SuperTRAQ signature feature. Be aware that coils for the earlier Lobo do not work on the newer model. The The old coils had a female coil connection and the new coils have a male pin connector. The original Lobo is listed at running "at approx. 20 kHz" while the Lobo ST runs at 17.8 kHz. Note: The Lobo ST is also quoted widely as running at 17.5 kHz. The latest spec posted on the Tesoro website is 17.8 kHz.
Another change in the old Lobo versus the new SuperTRAQ is that when the old model was manually ground balanced, the ground balance carried over in both all metal and discriminate modes. The new SuperTRAQ automatically tracks ground conditions while in all metal mode. When switched into discriminate mode, the automatic ground tracking is disabled and the unit uses a factory pre-set ground rejection. This is a less than desirable situation. In all metal nugget hunting mode it is impossible to disengage the automatic ground balancing system. Very small or very deep nuggets that generate a minimal signal are at great risk of being tracked out. Conversely, in discriminate mode there is no ground balance at all except what the factory has chosen for you.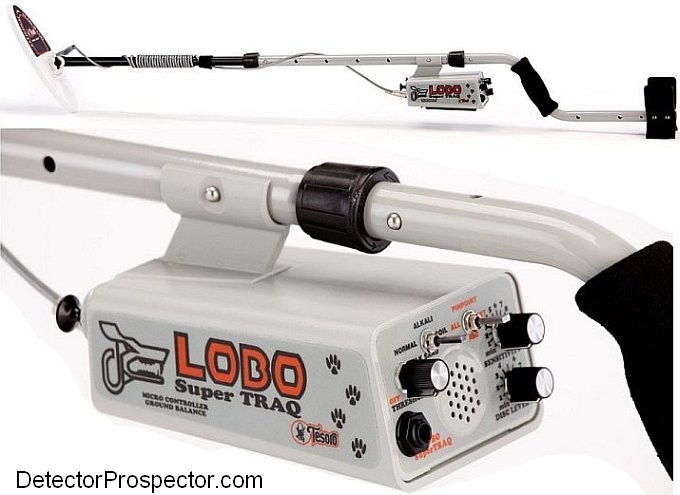 Tesoro Lobo SuperTRAQ metal detector
Despite the lack of flexibility in ground balancing there is no doubt about one thing - the Lobo is one of the easiest detectors for a novice nugget hunter to learn. The lack of manual ground balance contributes greatly to the machine being very easy to operate, and this is a important feature in itself. The Lobo is a very forgiving metal detector.
My main experience with the SuperTRAQ came with my involvement with Moore Creek Mine in Interior Alaska. The mine produced a lot of large gold nuggets but also had hot rocks in the form of highly magnetic basalt cobbles. After trying just about every VLF detector made we decided the Lobo SuperTRAQ handled the ground as well or better than any other VLFs available at the time. The automatic ground balance smoothed the hot rock responses and in a worst case scenario the unit could be put in discrimination mode. Dialing in a discrimination setting of 1.5 eliminated the hot rocks and nearly all ferrous trash responses while still responding well to larger gold. The SuperTRAQ produced a lot of gold at Moore Creek over the years we operated the mine.
The Tesoro Lobo SuperTRAQ is getting somewhat dated in that most of the competition offers target id meters but it is still a very versatile detector. It is very easy to operate. It also is one of the few nugget detectors still produced that allow the control box to be hip or chest mounted, a very desirable feature for those working in and around water. It also has a very good coil selection, including the rare ability to run a 3" x 18" sweeper coil (Tesoro Clean Sweep).
Official Tesoro Lobo SuperTRAQ Page
Tesoro Lobo SuperTRAQ Instruction Manual
Forum Threads Tagged "tesoro detector"
Tesoro Lobo SuperTRAQ Technical Specifications*

| | |
| --- | --- |
| Internet Price | Discontinued - was $679.00 |
| Technology | Induction Balance (IB) |
| Frequency | 17.8 kHz (also widely quoted at 17.5 kHz) |
| Autotune Mode(s) | Pre-Set Slow Motion |
| Ground Rejection | Tracking (All Metal) and Pre-Set (Disc Mode) |
| Soil Adjust | (Normal/Blk Sand/Alkali) Three position switch |
| Discrimination | One turn control |
| Volume Control | No |
| Threshold Control | One turn control |
| Tone Adjust | No |
| Audio Boost | No |
| Frequency Offset | No |
| Pinpoint Mode | Yes |
| Audio Output | 1/4" headphone socket & speaker |
| Hip Mount | Hip, chest, or shaft mount |
| Standard Coil(s) | 10" x 5" elliptical Widescan (DD) |
| Optional Search Coils | Seven accessory coils available |
| Battery | Eight AA |
| Operating Time | 20 - 30 hours |
| Weight | 3.5 pounds |
| Additional Technology |   |
| Notes |   |
*Notes on Technical Specifications - Detailed notes about the specifications listed in this chart.
Edited by Steve Herschbach