The Garrett AT Pro metal detector was introduced in 2010 and is still in production. The AT Pro is a fully submersible 15 kHz VLF metal detector aimed primarily at coin, jewelry, and relic detecting. The AT Pro was revolutionary at the time it was released due to it having a full complement of controls, an LCD display, and built in speaker, all while being waterproof to ten feet. This and a low price has resulted in the Garrett AT Pro being one of the most commercially successful metal detectors ever designed.
12/1/2018 - Take note of a temporary offer to buy the AT Pro with the smaller 5" x 8" coil as standard instead of the 8.5" x 11" coil. Garrett AT Pro Sport Special
"This all-terrain detector offers new and exclusive Garrett technology that makes it ideal for hunting coins, relics, caches, jewelry, and even gold nuggets. The AT Pro includes Garrett's exclusive Target ID technology and patented discrimination features. Two indicator scales allow you to see the detector's discrimination setting (Lower Scale) as well as the analysis of each target (Upper Scale). In addition, a Digital Target ID scale provides a more specific target value. The AT Pro also features High Resolution Iron Discrimination (40 points) for separating desirable targets from iron junk in cluttered areas, several advanced audio features and a standard 8.5" x 11" elliptical Double-D searchcoil engineered for optimum performance in more challenging mineralized soils. In addition, the AT Pro can be operated in a very user-friendly Standard (STD) Mode or in a more advanced PRO Mode for experienced hunters." Source: Owner's Manual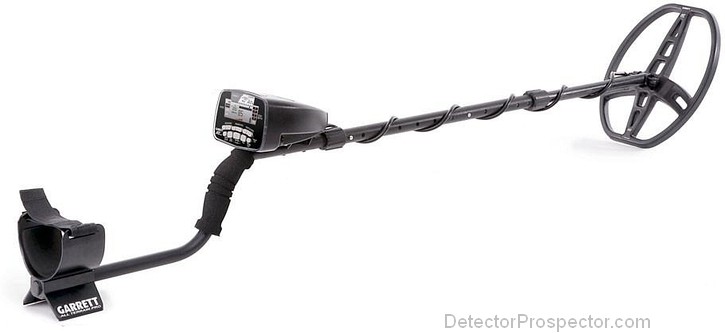 Garrett AT Pro metal detector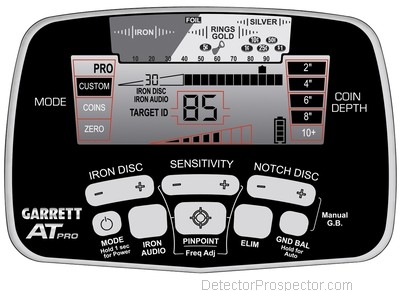 Garrett AT Pro control panel
Pro Mode Audio - Proportional Audio response and Tone Roll Audio features allows user to hear subtle changes in target's response to better judge conductivity, size, shape and depth.
All Terrain Versatility - Weatherproof design for dusty, humid, or wet environments; and fully submersible to 10-foot depth.
High-Resolution Iron Discrimination™ - Provides fine resolution of iron discrimination (40 levels) for the most precise ability to separate a good target from iron trash.
Iron Audio™ - Allows the user to hear discriminated iron (normally silenced) to avoid digging tricky, undesired flat iron objects (i.e. bottle caps, steel washers) and to alter the detector's mid-tone signal's range.
Digital Target ID - Numeric scale from 0 to 99; indicates a target metal's conductivity for increased ability to distinguish targets from each other.
Fast Track™ Ground Balance - Automatic feature that allows the user to quickly ground balance the detector in mineralized soil conditions.
Ground Balance (Manual) - Allows the operator to manually adjust the detector's ground balance to reduce the detrimental effects of ground mineralization.
Pinpoint - This non-motion All-Metal Mode function is used to precisely locate a detected target in the ground.
Fast Recovery Speed - Allows greater ability to pick out good targets amongst trash.
One-Touch™ Treasure Hunting - With one touch of a button, your detector is: powered on; automatically reset to factory (or your) settings; and ready to search!
More Info: Continuous coin depth indicator to help determine target depth. Battery condition indicator. Graphic Target Analyzer identifies target conductivity. Adjustable Frequency helps eliminate interference.
Garrett AT Pro U.S. Owner's Manual
Garrett AT Pro International Owner's Manual
Forum Threads Tagged "garrett at"
Edited by Steve Herschbach
1