The XP Orx metal detector was introduced in 2018 and is still in production. It is a selectable frequency induction balance metal detector aimed primarily at gold prospecting with accessory uses of coin, jewelry, and relic detecting. The operating frequency range is determined by the coil in use, with each primary frequency having numerous offsets. The 9'' HF coil allows three primary frequencies of 15, 30, and 50 kHz. The elliptical HF coil has a higher top frequency option of 15, 30, and 80 kHz. The X35 coils offer lower frequency options of 4, 8, 12, 17, and 25 kHz. This detector is so new the U.S. price is estimated.
"Why have XP metal detectors released the ORX ? The team at XP wanted to produce a hybrid machine while still maintaining the much loved Deus DNA.
The ORX has a very easy to understand menu with 4 factory pre-set programs 2 Gold and 2 Coin – All accessed by the simple press of a button. The main menu has a wide range of features if you feel the need to make any adjustments in the field." Source: Official Orx review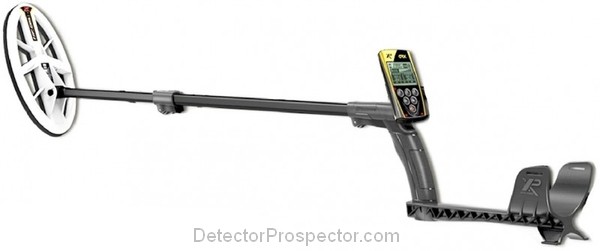 XP Orx metal detector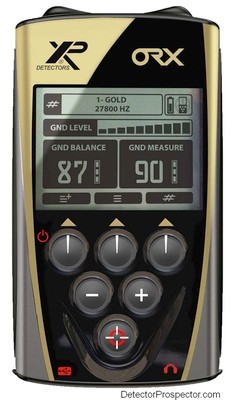 XP Orx control panel
HF coil technology (21 Frequencies ranging from 13 to 81kHz).
Extreme sensitivity to small targets with high frequency 50kHz and 81 kHz.
4 factory programs: Gold Prospecting (x2) – Coins and Relic (x2), + 2 user.
Trusted XP fast wireless technology: Coil – Remote – Headphones – MI-6.
The all new "WS Audio®" compact wireless headphone receiver.
Re designed ultra-light Telescopic "S" stem.
The lightest machine on the market at only 770grs (remote hip mounted).
Easy to operate with a user-friendly interface.
Wireless connectivity to the MI-6 pinpointer + advanced remote settings.
Lithium batteries, giving up to around 20 hours of detecting.
Easy to charge with any certified USB charger or via computer (XP USB charger optional only)
Available with a choice of HF coils – 22cm (9') Round or 24/13cm (9.5'/5') Elliptical.
Compatible with the X35 coil range (22, 28, 34/28cm).
Software Update (remote control via USB cable).
Go terrain mobile app compatible (coming 2019).
5-year warranty – Made in France.
Affordable price – Suggested maximum retail price: 699€ including taxes – 799€ including taxes with wireless headphone (WSA).