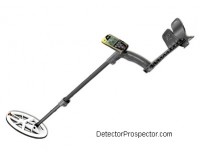 The XP metal detector company has announced a new model for late 2018 called the XP ORX. This new model appears to be a refined version of the XP manufactured Depar DPR 600. The DPR 600 was made to take advantage of the African gold rush by offering a model designed primarily as a gold prospecting detector with other uses taking a back seat. I personally think the Depar DPR 600 was used as a proving ground for the new high frequency (HF) coils while also offering an opportunity to fine tune the Gold Field program. My expectation all along is that XP would eventually release a similar model for sale outside of Africa. It looks like after almost two years that new refined version of the DPR 600 is available for purchase as the XP ORX.
This introduction is so new that information at this time is limited - everything here is subject to change as new details emerge. For now what we know for sure is that the XP Orx will be available in two configurations. The versions are basically the same, with a wired headphone version for 700 Euro, and a wireless headphone version for 800 Euro. U.S. pricing is unknown at this time but $799 and $899 is probably in the ballpark. You can choose either the 9" round HF coil or 5" x 9.5" elliptical HF coil. There is no exact word on availability yet, but presumably we will be seeing this model available for purchase in early 2019.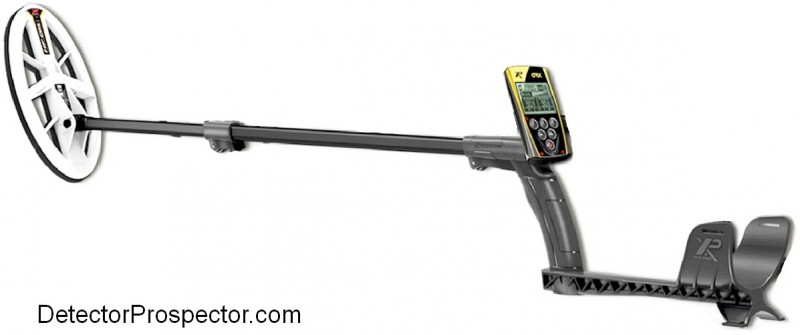 XP ORX gold prospecting metal detector
It is possible hints about the new XP Orx can be gleaned by reading the DPR 600 User Manual. One main difference is in the User Modes. The DPR 600 and XP Orx both have four preset programs plus two user custom program slots for saved programs. The programs on the DPR 600 are designated as 1. General 2. Large Gold 3. Fine Gold 4. Iron Discriminate. The XP Orx is designed for a bit wider appeal, and so it looks like the General and Iron Disc modes have been recast as coin hunting modes. The modes on the XP Orx are 1. Gold 2. Fine Gold 3. Coin Fast 4. Coin Deep
ORX Key features:
HF coil technology (21 Frequencies ranging from 13 to 81kHz).
Extreme sensitivity to small targets with high frequency 50kHz and 81 kHz.
4 factory programs: Gold Prospecting (x2) – Coins and Relic (x2), + 2 user.
Trusted XP fast wireless technology: Coil – Remote – Headphones – MI-6.
The all new "WS Audio®" compact wireless headphone receiver.
Re designed ultra-light Telescopic "S" stem.
The lightest machine on the market at only 770grs (remote hip mounted).
Easy to operate with a user-friendly interface.
Wireless connectivity to the MI-6 pinpointer + advanced remote settings.
Lithium batteries, giving up to around 20 hours of detecting.
Easy to charge with any certified USB charger or via computer (XP USB charger optional only)
Available with a choice of HF coils – 22cm (9") Round or 24/13cm (9.5"x5") Elliptical.
Compatible with the X35 coil range (22, 28, 34/28cm).
Software Update (remote control via USB cable).
Go terrain mobile app compatible (coming 2019).
5-year warranty – Made in France.
Affordable price – Suggested maximum retail price: 699€ including taxes – 799€ including taxes with wireless headphone (WSA).
Note that the upper armrest area of the rod has been redesigned and is different than the existing Deus rod assembly.

XP ORX Controls & Settings
ORX settings:
99 levels of sensitivity
21 frequencies (13 kHz to 81 kHz).
99 levels of discrimination + 5 levels of IAR Discrimination in Gold programs.
20 levels of Threshold.
4 levels of Reactivity.
Iron Tone with Pitch audio (ON/OFF)
Ground balance: manual adjustment from 60 to 90 or automatic (fast grab).
Salt mode ground rejection: 00-25
4 factory + 2 user programs.
Target ID/ Iron probability.
Pinpoint function with target zoom.
Go-Terrain compatible (smartphone app coming soon).


ads by Google...
Advanced remote settings when the ORX is paired with the MI-6 pinpointer:
50 levels of sensitivity
Audio tone from 120 Hz to 1582 Hz
2 audio modes: PITCH or PULSE
3 factory + 1 user program
Recover a lost MI-6 (even when switched off)
Target zoom screen
Battery life indicator
I don't think there is much mystery here except for how many people will opt for this new model versus the new X35 coil based Deus models. In my opinion by extending the top end frequency of the new X35 coils to 28 khz has inadvertently removed some of the demand for this higher frequency version. Small gold sensitivity gains over 30 khz are quite minimal and with the extra features the Deus offers many people may continue to prefer it as their detecting solution. A lot may boil down to the price difference between a 9" round X35 Deus package and the 9" round HF Orx package.
No matter what I am very confident this new high frequency XP model will do very well for gold prospecting. I do not expect performance to be any different than that I observed while testing the XP Deus with elliptical HF coil on small gold.
XP ORX Technical Specifications*

| | |
| --- | --- |
| Internet Price | estimate $649 wired headphones or $795 wireless headphones |
| Technology | Induction Balance (IB) |
| Frequency | 14, 28, 56 kHz (round 9") or 14, 28, 70 kHz (elliptical) |
| Autotune Mode(s) | Multiple "Reactivity" Settings |
| Ground Rejection | Grab, Manual, Tracking |
| Soil Adjust | No |
| Discrimination | Variable, Visual ID, Tone ID, Notch |
| Volume Control | Yes |
| Threshold Control | Yes |
| Tone Adjust | Yes |
| Audio Boost | Yes |
| Frequency Offset | Yes |
| Pinpoint Mode | Yes |
| Audio Output | 1/8" headphone socket & speaker, wireless headphones |
| Hip Mount | Yes |
| Standard Coil(s) | 9" round DD or 9.5" elliptical DD |
| Optional Search Coils | new X35 coil series |
| Battery | Built In Rechargeable |
| Operating Time | 20 hours |
| Weight | 2.0 lbs |
| Additional Technology | Wireless coils, control box, headphones; firmware updates via internet |
| Notes | Probably based on "Africa Only" Depar DPR 600 |
*Notes on Technical Specifications - Detailed notes about the specifications listed in this chart.
Edited by Steve Herschbach
3