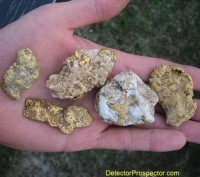 There is a prelude to this story. In mid-May my wife and I flew down to Reno for our youngest daughter's college graduation. Her older sister was also there, and the last night of our visit we went out for dinner. The place had Asian food, and we all got fortune cookies. My fortune:
''You will have gold pieces by the bushel.''
I put it in my wallet.
My friends Jeff, Brian and I made a spur of the moment trip to Ganes Creek near McGrath, Alaska to metal detect for gold over the three day Memorial Day weekend. We made a similar trip last year in July, and had good luck finding gold nuggets, including the largest I've ever found, a 4.95 ounce nugget. As you may imagine, we have been anxious to make a return trip. Brian is new to detecting, so I loaned him my chest mount converted White's GMT with 14" coil for the trip. Jeff and I used Fisher Gold Bug 2 detectors, both with 14" coils.
It was spring at Ganes Creek, but the weather had been hot in Alaska, and so the only ice was left on some ponds and along the creek. Daytime temps were hitting the 70's and 80's, but it was into the 40's at night. There were many fires in Alaska due to our abnormally hot, dry spring making for hazy air, and at times you could smell the smoke. The mosquitoes were not yet out in force, and head nets were not needed. Unfortunately, this is not normally the case later in the summer.
Jeff went up Friday morning, and Brian and I met him Saturday morning. Brian was feeling a bit competitive and worried Jeff would get a big jump on him, but my hopes were to see a lot of gold on our arrival.
I was a bit worried that perhaps our visit last year was a fluke, and that gold might be harder to find than we thought. So I was not happy when Jeff reported only one nugget for a long days hunt just upstream from where I had found the 4.95 ounce nugget last year. And only a pennyweight nugget at that. Not very promising.
I had my heart set on hunting some old dragline piles next to the airstrip. We had hit them a bit last year, with no results but some trash. But I felt there had to be gold there. We had found several nuggets in the airstrip itself, including a 3.5 ounce nugget my father found. The airstrip was topped with material from this tailing pile, and so we figured the gold had come from there. We loaded up our detectors and headed off to give it a try.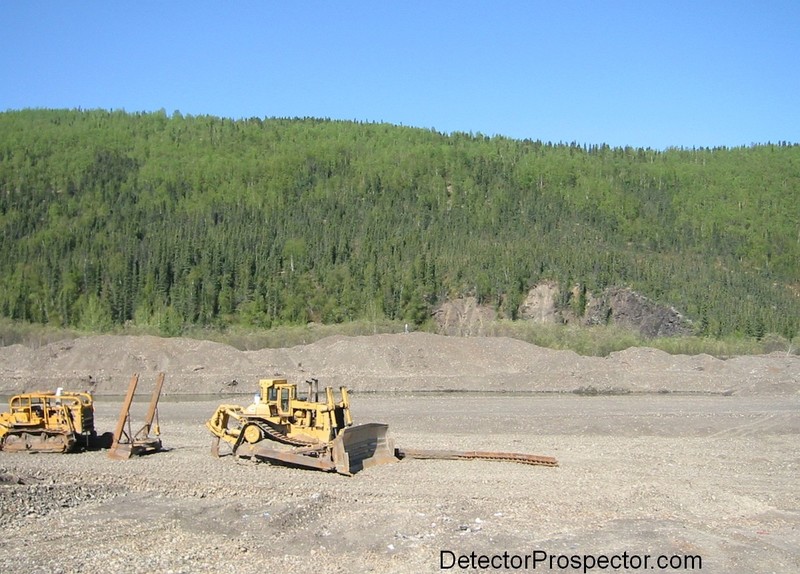 Tailing piles along airstrip at Ganes Creek (Brian standing in top center pile for scales)
I walked up onto the pile and in ten minutes had a 1.11 ounce nugget! Jeff was amazed. He had spent a long day before looking for gold, and I score a big nugget right off the bat.
That set the tone for the three days. I had numerous areas I wanted to try, pinpointed from my aerial photos. At most we hit I had the first nugget, in about ten minutes. Sometimes the other guys found gold, sometimes not. I on the other hand was unusually lucky this trip. I just kept putting my coil over the gold.
Still, Jeff found his largest nugget ever this trip, a one ounce nugget not 50 feet from my first in the ''Airstrip Pile''. Brian also found his largest nugget ever, a 1.33 ounce nugget from a pile within a couple hundred feet of the camp, christened the ''Cabins Pile''. I found a 1.89 ounce nugget in this same pile.

Brian with his 1.33 oz "Bear Nugget"
The next day I got off to a slower start, but caught up at the very end of the day with a 2.45 ounce nugget off the ''Airstrip Pile'' down in the brush. I like hitting oddball spots, and my willingness to work in the brush paid off big time.
The last day, Memorial Day, I went clear off the scales. We went over a mile upstream above the camp, and I found a .97 ounce nugget. Another tall tailing pile by the runway with the windsock stuck in it, the ''Windsock Pile'', gave me 9 nuggets, five a 1/4 ounce or better. Everywhere we went I found gold.
I wanted to try the old bucketline tailings way downstream, and within ten minutes found the largest nugget of the trip, a 3.22 ounce gold/quartz specimen. Finally, trying above the cabins upstream on the tributary, Potosi Creek, got three more nuggets; 4.2 dwt., 6.0 dwt, and 11.3 dwt.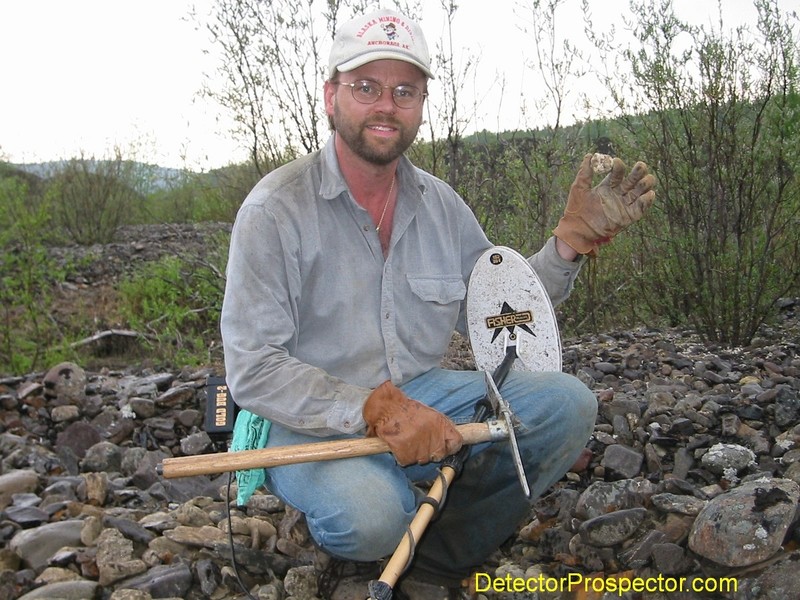 Steve with 3.22 ounce gold/quartz specimen
The bottom line is I could do no wrong with a detector this on this trip. Brian got 2.5 ounces, Jeff 2.8 ounces, and I ended up with an incredible 14.4 ounces! The last day alone I found 8.14 ounces of nuggets. Grand total for three people in three LONG days - 19.72 ounces.
So is it all gone? Did we get it all? No way. We did not scratch the surface. Ganes Creek is vastly larger in area than you can imagine. The tailings run for miles. There are a couple areas we have given pretty good attention, but none I would not hunt again. All hunting was with the Fisher Gold Bug 2 or White's GMT with 14'' coils, with full rejection of any iron targets. Only solid good signals were dug, and all scanning was ''speed scanning''. All the areas that produced gold should produce more with careful work. All I can say now is there is plenty of gold to be found, and after everyone gets through hammering the creek this summer I will go up again this fall, and find more gold to prove it.
But really, what do I think of the odds for finding gold at Ganes Creek now? Brian is relatively inexperienced compared to Jeff and I, and was learning a new detector. I'd say his finds were about on par with what I expected of him. Jeff was way off... a real cold streak. He should have found twice as much. And I was hot as could be. I found about twice what I would expect. All this is based on bare gut feelings, but I'm thinking 1 ounce a day is a sort of average. But any number of nuggets will blow that away... and bad luck could shoot anyone down.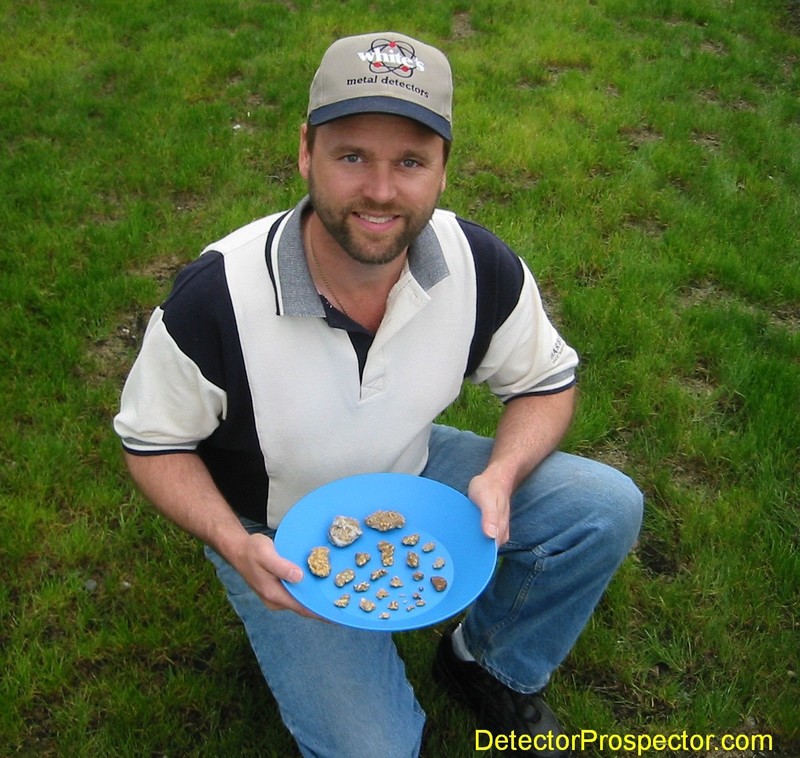 Steve shows off gold found at Ganes Creek over Memorial Day weekend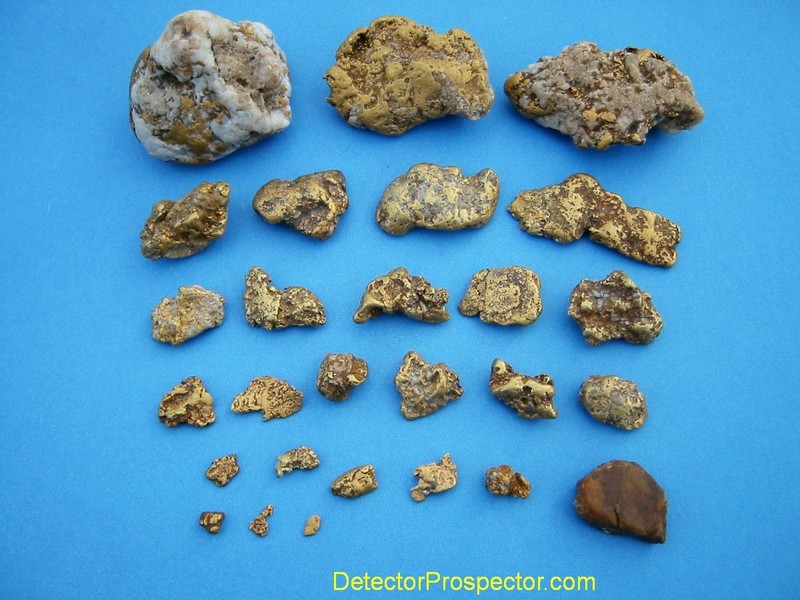 Close up of the gold nuggets and specimens from Ganes Creek
The big thing here is the ''nugget factor''. You can find nothing all day, then end up with a couple ounces in one nugget. I was just plain lucky in that regard. I simply happened to place my coil over more large nuggets. They add up fast, and so really get you ahead fast.
So the biggest advice I have is never quit, never give up, never slow down. We put in about 15 hour days, and used them well. But if you are easily discouraged, you'll have a tough time at Ganes Creek. Persistence is the name of the game. And a good fortune cookie might help.
The newer dragline/bulldozer tailings are vast in extent, and seem to have more nuggets, but more trash, than the old bucketline tailings. But I can't help but feel that really big nugget is in the bucketline tailings. They are relatively trash free, and so require real patience. You can hunt for a couple hours with hardly a signal, and those are usually large steel. It's easy to get the feeling there is not much gold in the cobble piles. But in all those cobbles I just have to believe there is a fist-sized cobble of gold/quartz lurking. Just like my 3.22 ounce piece... but larger! 2011 Update: I was right - many nuggets weighing over a pound have come from the cobble piles since.
But if you do not mind more trash targets, the dragline/bulldozer piles seem to have more nuggets in general, and would be worth the most attention for most people.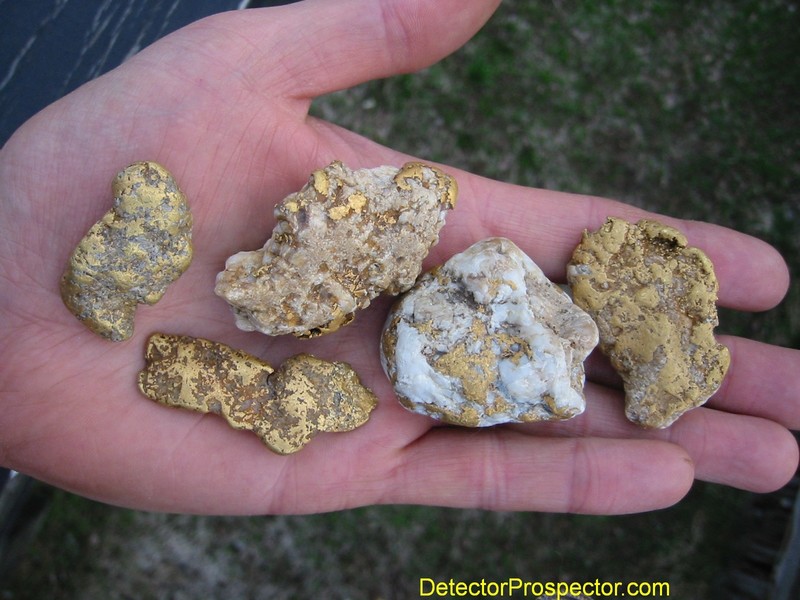 Steve's five largest "chunks" of gold from Ganes Creek weekend
Ganes Creek is being opened to the public for the first time this year, with one week stays at the mine running $3000 per person, room and board provided. You keep all the gold you find. The largest nugget found at Ganes Creek weighed 122 ounces. For more information and photos see the Ganes Creek page here.
2011 Update: Those early days of easy pickings at Ganes Creek are gone forever. Now, ten years later the pay-to-mine operation continues. I was at Ganes for two weeks in 2011 and will be there again for two weeks in 2012. These days bulldozers are run every day to turn material over and expose new nuggets. Every nugget found is one less to be found, however, and it is getting harder to find gold at Ganes these days. In 2010 I found 6 ounces of gold in one week at Ganes Creek. My spring 2011 trip of two weeks also got me 6 ounces. A half ounce to an ounce a day average may still sound pretty good, but the fact is only a few very experienced detector operators like myself pull it off. The majority of people who visit Ganes would do better to set their sights on perhaps an ounce of gold in a week of detecting. Though big finds still happen now and then - the largest nugget found at Ganes Creek by a visitor in 2011 was a solid 10.5 ounce beauty.
~ Steve Herschbach
Copyright © 2002 Herschbach Enterprises
1