The Minelab GPX 5000 detector was released in the fall of 2010 and is still in production. I got one the same year - see First Alaska Gold with the Minelab GPX 5000 at Steve's Mining Journal.
The Minelab series of pulse induction (PI) metal detectors starting with the SD 2000 are widely acknowledged as being some of the most powerful gold nugget prospecting detectors currently available. The GPX 5000 is the latest and most refined in the series. I can say that having used all the models the changes from model to model were gradual, but the difference between a Minelab SD 2000 and a Minelab GPX 5000 is nothing short of astounding. Minelab has dramatically refined this technology over the years. See Steve's Guide to Differences of Minelab SD, GP, & GPX for details.
I believe that Minelab has really squeezed about all the performance I think I can expect out of a pulse induction (PI) with the GPX 5000. The stability, depth, and sensitivity are superb, as is the ability to adjust the machine to handle almost any ground mineralization or hot rocks that may be encountered.
There are only two things that I can see that realistically can be improved on at this point. First, the the iron discrimination system, which is unreliable in general and of no use at all on deep targets. Second, the overall physical package, which has changed little since the SD 2000 first came out. The harness and bungee system is actually quite effective and comfortable for long hours of detecting but the separate battery and lack of speaker are an issue. However, it is possible with modern high capacity batteries to eliminate the separate battery/cable system and add an external speaker. Minelab would then be doing for people what many are now doing with aftermarket add on equipment.
Still, there is no doubt at this point that for the serious, dedicated prospector, the Minelab GPX 5000 represents the current state of the art in pulse induction detectors. It is the detector of choice for many prospectors around the world.

Minelab GPX 5000 - state of the art in pulse induction metal detecting
My own GPX 5000 was exceptionally good to me, helping me locate the best gold nugget find I have ever made. I spent a month metal detecting in Alaska in 2013 in the Fortymile area. The month was about up and from July 22 to July 28 six days of metal detecting had netted me only three gold nuggets. That is a lot of detecting and digging for just three happy moments! I was getting burned out plus missing my wife and new home. My wife had also let me know one of my dogs was not doing well. It all just added up to time to go home. Besides, I had about 5.5 ounces of gold, not bad at all and better than I had hoped for. Good weather, good gold, good times with friends, it really had been a near perfect trip.
Therefore on the morning of the 29th of July I wandered up to Chris and Bernie's camp and told them I was done. I was paid up at Chicken Gold Camp through the 31st so my plan was to be packed up and hit the road for Nevada early on August 1st. I had just a few days left so had to decide what to do.
There is an area on upper Jack Wade known to have produced big gold in the past. Like nuggets weighing pounds, and a 10 ounce nugget had been found there by a dredger the previous season. It was on the ground owned by a miner I had a deal with. I had of course hunted it previously but only found a few small nuggets and lots of little ferrous trash. It was a gorgeous sunny day and the area was relatively open and level so easy hunting. I fired up the Minelab GPX 5000 with Nugget Finder 14" x 9" mono and crossed over the creek to give it a go. I was really relaxed because mentally I was done working and just happy to be out beeping a couple more days. It was really a nice feeling knowing I would soon be heading home.
I barely had got started when I crested the top of a small ridge of tailings and got a massive boomer signal. Just a huge descending low tone, the type you might get if you buried a huge bolt or some other large ferrous target not too far down. There was a recent dig hole on the target, and I thought "well, let's see what he left in the hole" and gave just a couple big scoops. It was sandy easy digging stuff, and as it slid down the hill I glimpsed gold. I thought "no way!" and as I grabbed it could feel the weight. I stood there looking at 6.5 ounces of solid gold in my hand!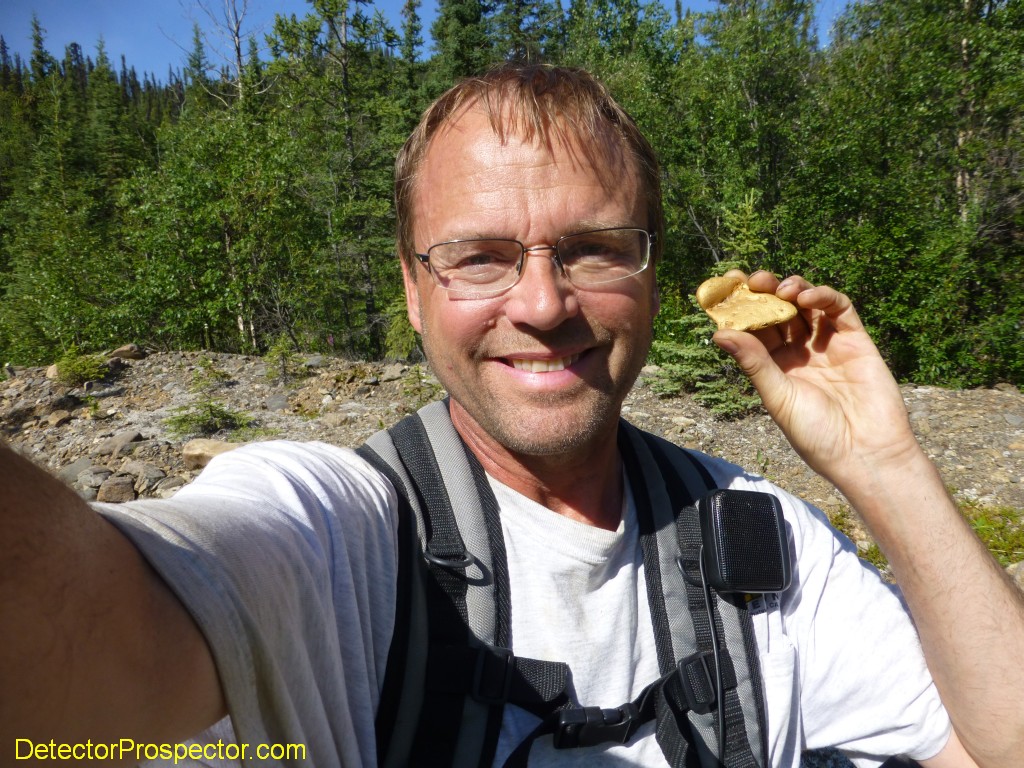 The Selfie We All Want To Take - Steve With 6.5 Ounce Gold Nugget
There is no doubt in my mind about the addictive nature of nugget detecting. It is not easy to do and the gold is not easy to find. There can be lots of false starts and disappointments along the way. It is all that however that makes it so sweet when gold is finally found, when all the hard work and effort is rewarded. I get a thrill out of every nugget I find, no matter how small, because I work hard for every one of them. The really big finds are much rarer yet, so much so that few people ever get to say they found a nugget weighing one ounce or more. The feeling of accomplishment is indescribable because it verges on feeling like a miracle has occurred. Once you get a taste of that feeling you want to feel it again, and it is that quest that powers me and others through days, months, and years of effort. The thrill of finding gold!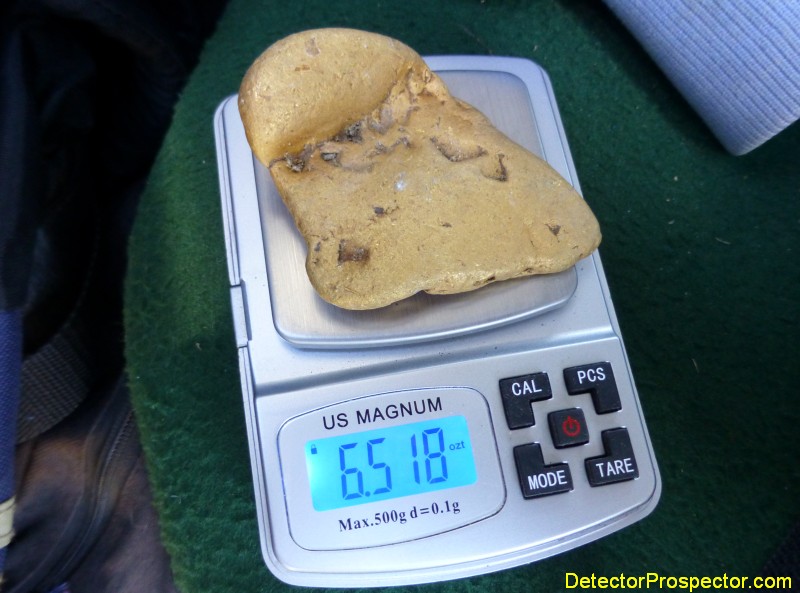 Just Out Of the Ground, Unwashed, And On The Scale
After an hour of photos and just plain soaking up the moment I proceeded to hunt that area extra well, because as you can imagine after a find like that visions of piles of nuggets enters your mind. If one got lost, might there not be others? Unfortunately it does not seem to work like that, and continued careful hunting of the location only produced one more nugget, a clean little 1 gram piece. No surprise there. How even one nugget like this gets lost is something we all wonder about. How does a half pound of solid gold end up in a tailing pile? Who knows, I am just happy it did. For a combination of size and the solid gold content it is the best nugget I have ever found.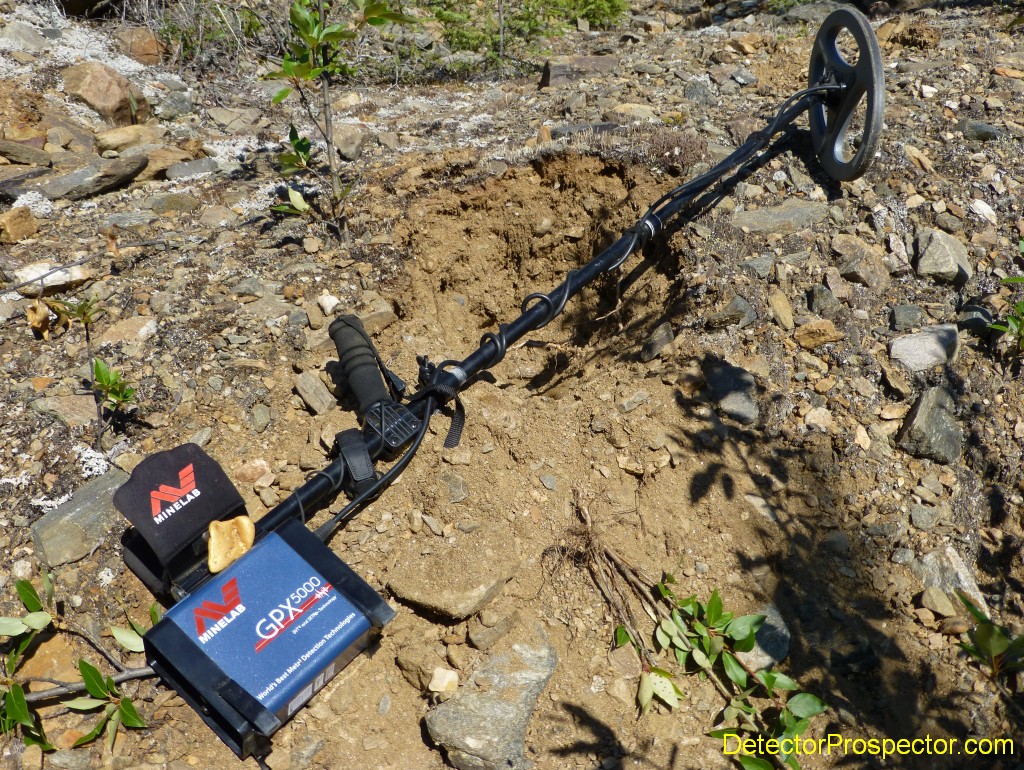 Minelab GPX 5000 With 6.5 Ounce Nugget At Dig Location
The biggest question of course is who started to dig that nugget and then quit? The material was easy digging, about as easy as you could ask for. I surmise it had to be a Minelab operator. If you run a Minelab long enough you get huge boomer signals very often, and they are almost always a can or bolt or some other shallow, large junk target. They can also be very large gold nugget but if you get that signal enough times and dig it up, only to find junk, your brain gets trained to think that is all it could be. "Too big to be gold" - have you ever thought that? I wonder how many people have done like this unknown person, got a target, and then decided nope, it has to be junk, and walked away? I know I have done it and I am pretty certain it has cost me. It may be that a small percentage of the very biggest nugget signals are still out there, having been detected and left for junk. In fact, I am willing to bet that is the case, though there are a couple less now.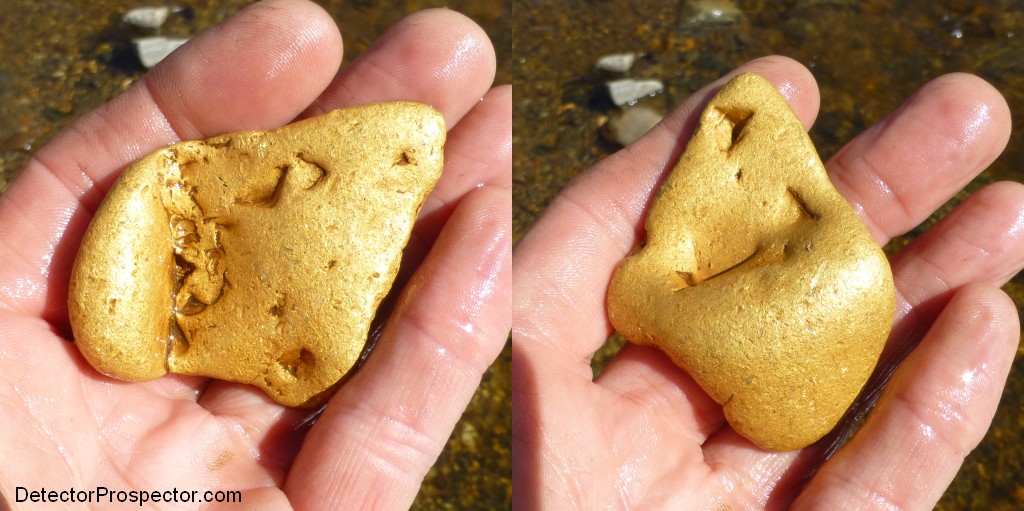 View Of Both Sides, Just Rinsed In Creek
I first went and showed the nugget to the claim owner and then Bernie and Chris. However, I asked them to keep quiet about it. The trip had been so enjoyable, and finding something like that right at the end, well, it was obvious I was going to be back in 2014. There was a lot of public area left to hunt on the creek still, and I saw no reason to possibly start a little gold rush to the area before I got the chance to come back and give it another go. That trip has now come and gone at Steve's 2014 Alaska Gold Adventure and so now finally you get to hear the rest of the story.
Speaking of the public area, Bernie and I went and hit it the very next day. We had mostly taken advantage of our access to areas not available to the general public while we could and had been leaving the public area for later. There is information about it at the 2104 tale. We both started out with our GPX units but I could tell Bernie was less thrilled than I to be digging junk, so I suggested we go back to the truck and grab our VLF detectors. We did just that, and I no more than got my Gold Bug Pro swinging when it made a loud beep, and up pops a 5.9 dwt nugget practically off the surface! It was just another over the top easy nugget after all the days of digging nothing but junk. Even wilder is that fact that in 2014 several days detecting by several people including myself in this same location produced no gold at all. It is liked I walked up and banged the only nugget there.
The next day and a half produced no other nuggets but I am certainly not complaining about that. My trip had gone from great to off the charts fantastic with just over a Troy pound (12 Troy ounces) of gold found. 12.3 ounces actually found in exactly 30 days of time spent actually nugget detecting. Not a get rich quick scenario by any means but not bad at all either. All the gold except a few smaller nuggets were found with the Minelab GPX 5000. Overall the time spent in the Chicken area during the summer of 2013 will go down in my memory as one of my best times ever.
There are many more photos from this trip in the Photo Gallery.
~ Steve Herschbach
Copyright © 2014 Herschbach Enterprises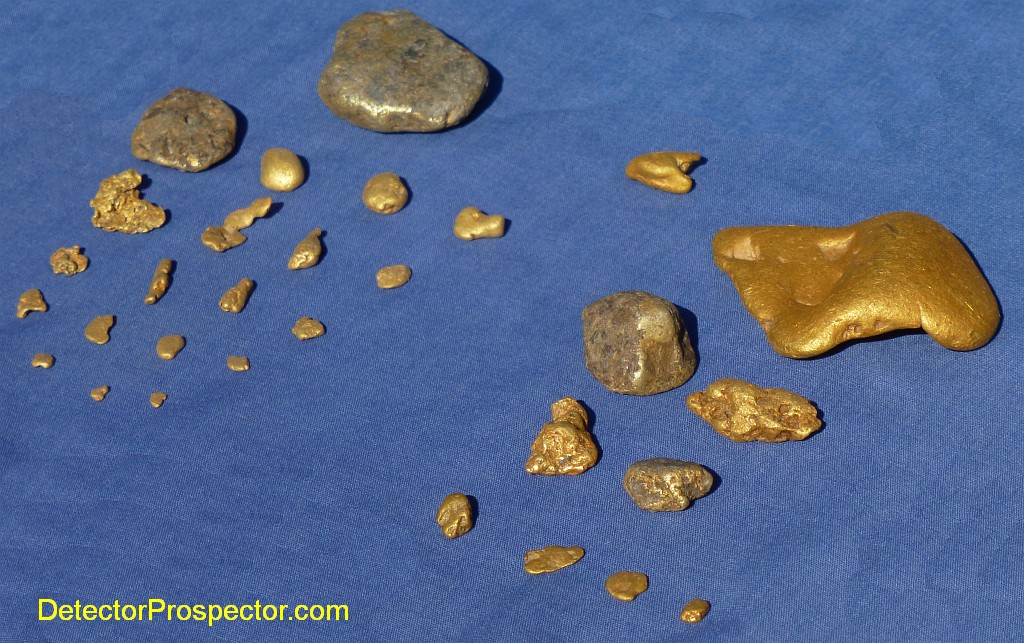 Troy Pound Of Gold Nuggets From Jack Wade Creek, Alaska 2013
Official Minelab GPX 5000 Page
Minelab GPX 5000 Instruction Manual
Beginner's Guide to Tuning the Minelab GPX 5000
Minelab GPX 4000-5000 Timings Charts
Difference Between Minelab SD, GP, and GPX Models
Forum Threads Tagged "minelab gpx"
Minelab GPX 5000 Technical Specifications*
Internet Price
 $3999.00
Technology
Ground Balancing Pulse Induction (GBPI)
Frequency
1100-4500 PPS?
Autotune (Motion) Mode(s)
Very Slow, Slow, Medium and Fast
Ground Rejection
Slow, Medium, Fast Tracking, Fixed, and Off
Soil Adjust
Eight settings (timings) - see chart below
Discrimination
Variable 1-10 and Off in Menu
Volume Control
Variable 1-20 in Menu
Threshold Control
One turn control
Tone Adjust
Variable 1-100 in Menu
Audio Boost
Quiet, Normal, Deep, Boost in Menu 
Frequency Offset
Automatic Tune plus Manual 0-255 in Menu
Pinpoint Mode
No
Audio Output
1/4" headphone socket (No speaker) Headphones supplied
Hip Mount
Shaft Mount Only
Standard Coil(s)
11" round DD and 11" round Mono
Optional Search Coils
Over 100 accessory coils available
Battery
Rechargeable 7.4VDC 9.2A/hr Lithium Ion
Operating Time
14 - 15 hours
Weight
5.3 lbs (w/11" coil, excluding battery (1.7 lbs)
Additional Technology
Multi Period Sensing (MPS)
Dual Voltage Technology (DVT)
Smart Electronic Timing Alignment (SETA)
Numerous Audio Adjustments via menu
Coil (Double D/Mono/Cancel) - 3 pos. switch
Notes
The GPX 5000 employs an external battery carried on a backpack harness and connected to the control box via a power cord. The detector is normally suspended from the harness with a bungee cord, allowing for nearly weightless operation in level ground.
*Notes on Technical Specifications - Detailed notes about the specifications listed in this chart.
4

1