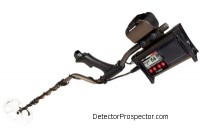 The Nokta FORS Gold was introduced in 2014 and discontinued in 2016, replaced by the Nokta FORS Gold+. Nokta Detectors is a new name to most people in the United States. Nokta Engineering is a company based in Istanbul, Turkey since 2001. I had an opportunity to acquire a FORS Gold and discovered it was a well built detector offering a lot of features and performance for the price. In the process I discovered the most spectacular gold/quartz specimen I have ever found!
The Nokta FORS Gold key features:
1. The FORS Gold runs in pure all metal mode while displaying target id number in the handle mounted LCD window. This allows for best performance with an eye towards dig it all detecting, yet allows obvious junks targets to be verified and ignored if desired. The key is no mode switching is needed, and time waster and ultimately something that wears out controls.
2. You have all ground balancing options possible. There is the easy push button and bob, or "grab" type ground balancing. There is pure manual adjust up and down ground balancing. And there is full automatic ground tracking.
3. There is an efficient dual tone based discrimination mode, called Boost Mode (DI2 on the CoRe model), that can be used to easily sort out ferrous trash and most hot rocks by either tones or outright discrimination of these undesired targets. Yet detection of gold nuggets is only minimally affected.
4. There is a three tone mode aimed more at coin detecting that makes the FORS Gold suitable for almost all detecting tasks, whether coin, relic, or jewelry detecting. The only area to expect only moderate performance would be on saltwater beaches, where all single frequency detectors suffer. The FORS CoRe has an additional mode to help it deal with conductive salt water conditions that the FORS Gold lacks.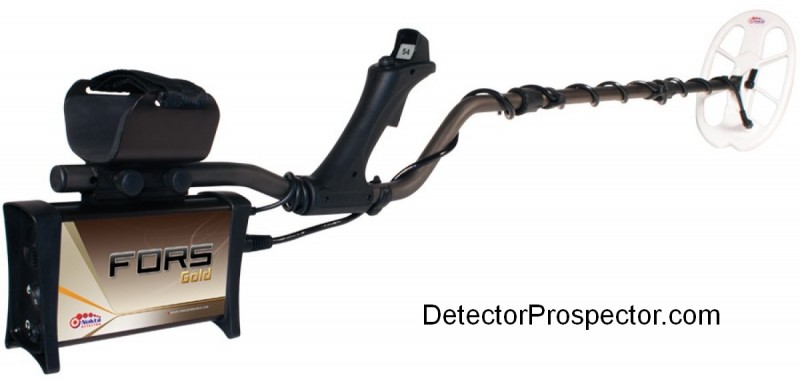 Nokta FORS Gold prospecting metal detector
Here are some details on the three modes offered on the FORS Gold. There is a true threshold based all metal mode that has no discrimination control. There is no variable discrimination in this mode but the on screen target id does kick in for targets in discrimination range. Because all metal reaches deeper than discrimination modes the deeper targets will give an audio signal but no on screen target id number. This is how you locate deep targets beyond what a discrimination mode can detect.
Then you have preset tone modes, either two tones or three tones. In two tone mode it is low tone ferrous and medium tone non-ferrous. Three tone mode adds a high tone for targets zinc penny and higher. These discrimination modes are "silent search" with no threshold sound.
In both the disc modes you have a variable control called ID Mask. It is just like the control on a single knob disc machine, up and down with anything below the setting rejected. This is on top of and in addition to the tones. However, ID Mask is not like on most detectors where it starts at iron and goes up from there. The control starts all the way down in the ground range and goes up from there. This is important because many detectors cannot be set for a true "zero disc" mode but always have a little iron discrimination built in even at minimal settings. The FORS are like other Euro machines that let you fine tune the ferrous responses for extracting targets out of thick ferrous trash. This combined with the small coil makes it deadly in ferrous trash.
ALL modes always have an active on screen visual target id number:

Nokta FORS target id number chart
If you want you can run ID Mask very high to eliminate foil or aluminum or whatever on the high end, but like other machines you will lose nickels if you go too high. There is no notch function. The best way to proceed there is use three tone mode. Run ID Mask up to just below nickel range. Now you get no signal on targets that fall below nickel, nickel to just below zinc penny medium tone, and zinc penny on up high tone.
My FORS reads 56 on a nickel. If I turn the ID Mask up to 56 it still accepts the nickel. If I turn it to 57 nickel breaks up badly. At 58 nickel is gone.
There is no threshold in the disc modes so no threshold nulling. The rejected targets are simply gone, and nothing pops up on screen for a target id. So on screen target id is not 100% independent of settings.
If I turn the ID Mask up to 99 nothing goes beep so the control operates over the entire discrimination range unlike many detectors that do not allow the control to run into the coin range. The ID Mask control has exceptional range all the way from ground on one end up to silver coins and above on the other end.
I like the out-of-box thinking Nokta is displaying in the design of their detectors. The FORS Gold has a small LED flashlight built into the handle to illuminate the work area in low light conditions or to just use as a flashlight when you get back to your vehicle in the dark. And in a nugget detecting first, there is an adjustable vibration mode built into the handle that operates in conjunction with or independently of the audio. This feature alone can be a real benefit to people with hearing loss and in theory will allow somebody who is totally deaf to go metal detecting effectively! Now that is some real cool out of box thinking and the reason we need more companies like Nokta in the business. Even people with good hearing can benefit as most of us have run into high wind or other situations where hearing the detector is difficult at best. Anyone who has ever used the new pinpointers already knows how this works.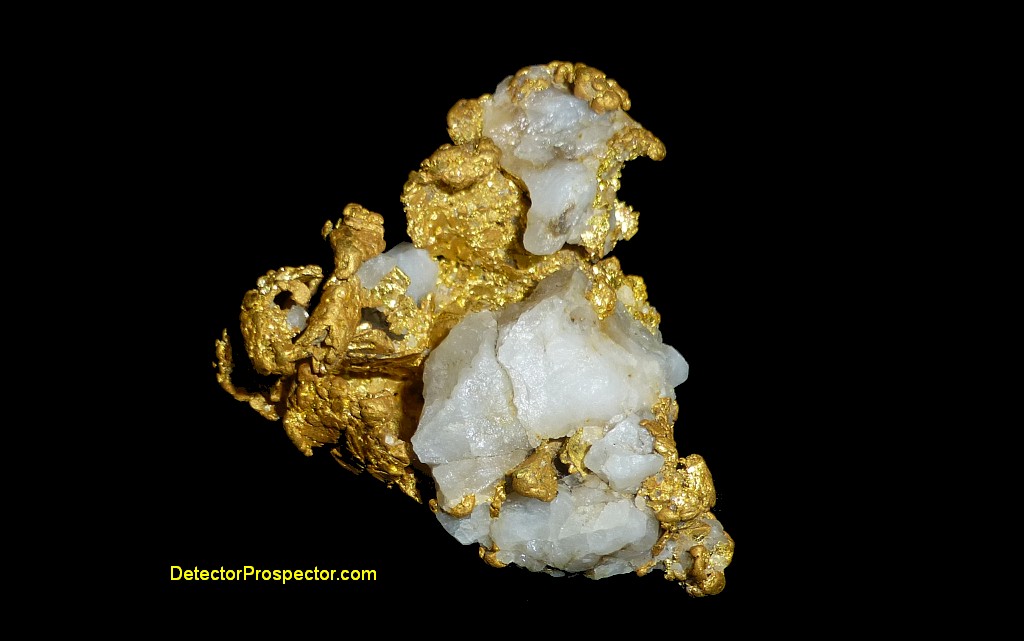 Spectacular 1.83 ounce gold specimen found by Steve with Nokta FORS Gold
I used the FORS Gold and did a very in-depth review on the forum. Rather than duplicate it here see Detailed Review of Nokta FORS Gold Metal Detector. Also my story Nokta FORS Gold Scores Spectacular Gold Specimen!
I found the Nokta FORS Gold to be very easy to operate on one hand, yet it has features to please a demanding detectorist like myself. The FORS Gold is an extremely capable prospecting VLF detector with excellent ground handling capability. I was able to become proficient with it in very short order and recover several very nice gold nuggets with it. Nokta is a name to pay attention to in the future as I believe this company is going places.
The Nokta FORS CoRe and the Nokta FORS Gold are the almost the same detector with the FORS CoRe offering a salt water beach mode for the same price and for that reason I think most people would be better served by purchasing a FORS CoRe. The FORS Gold instead has an alternate mono tone DI2 offering that the FORS CoRe lacks but overall I think the Salt mode on the CoRe may be more useful even for prospectors who may encounter salt or alkali conditions. Other than that everything on this page would apply just as much to both models. For those interested in using these detectors hunting around old cabins and campsites here is a Review of the FORS CoRe by Keith Southern.
Again, the Nokta FORS Gold has been discontinued and replaced by the Nokta FORS Gold+. However, the machines are nearly identical so almost everything here still applies. The main changes were a boost in the frequency from 15 khz to 19 kHz and the FORS Gold+ comes with the elliptical 5.5" x 10" coil instead of the 7" x 11" coil.
~ Steve Herschbach
Copyright © 2015 Herschbach Enterprises
Nokta FORS Gold Color Brochure
Nokta FORS Gold Instruction Manual
Difference Between Nokta FORS Gold And FORS Core
Nokta FORS CoRe Instruction Manual
Forum Threads Tagged "nokta fors"
Nokta FORS Gold Technical Specifications*

| | |
| --- | --- |
| Internet Price | $699.00 Discontinued, replaced by FORS Gold+ |
| Technology | Induction Balance (IB) |
| Frequency | 15 kHz |
| Autotune Mode(s) | Pre-Set Slow Motion |
| Ground Rejection | Grab, Manual, & Tracking |
| Soil Adjust | Gold - No, CoRe - Yes (COG Mode) |
| Discrimination | Variable with Visual ID & Tone ID |
| Volume Control | Yes |
| Threshold Control | Yes |
| Tone Adjust | Yes |
| Audio Boost | No |
| Frequency Offset | Yes |
| Pinpoint Mode | Yes |
| Audio Output | 1/4" headphone socket & speaker |
| Hip Mount | Shaft Mount Only |
| Standard Coil(s) | 7" x 11.2" DD |
| Optional Search Coils | 4.7" x 5.2" DD and 13.3" x 15.5" DD |
| Battery | Four AA |
| Operating Time | 25 - 30 hours |
| Weight | 4.3 pounds |
| Additional Technology | Handle Mounted LED Flashlight, Vibration Mode Incorporated Into Handle |
| Notes | Discontinued in 2016 |
*Notes on Technical Specifications - Detailed notes about the specifications listed in this chart.