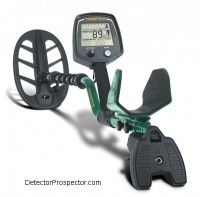 The Teknetics T2 was introduced in 2006 and is still in production. It was the first major project released by First Texas (parent company of Teknetics) that involved famed engineer Dave Johnson after he joined the company. Dave had a hand in many top gold prospecting detectors at many companies, including the Fisher Gold Bug 2, Tesoro Lobo, and White's GMT.
The Teknetics T2 was one of the earliest metal detectors to gain a following in the Africa Gold Rush of the late 20th century. Although technically not a nugget detector per se, the Teknetics T2 has a very powerful threshold based all metal mode. This, combined with its 13 kHz operating frequency, makes it suitable for basic gold nugget detecting.
Nobody seems to know the real story but apparently a local prospector in Africa chose to use a Teknetics T2 detector to search for gold nuggets. It is conjectured that this prospector found a lot of gold, leading to others using the same detector. Word of mouth advertising as produced by actual results rules all other forms of advertising in Africa, and it was not long before the t2 developed a reputation as being the machine to have if you wanted to find gold nuggets. Huge numbers were shipped to Africa. So many, that counterfeiting soon became a problem.
The original T2 was therefore replaced by other models with extra features that also helped keep the counterfeiters off balance. The T2 is made by Teknetics, a company owned by First Texas. First Texas also owns the Fisher and Bounty Hunter brand names. A T2 offshoot called the F75 was marketed under the Fisher brand name. The T2 was designed specifically to run DD search coils so a main goal in the Fisher F75 design was to add the ability to also use concentric coils. The two detectors are very similar, with the main difference being that the T2 is geared more towards simple recovery of non-ferrous targets in the midst of ferrous trash. To this end it has an expanded ferrous target id as compared to the F75. The F75 is geared more towards U.S. coin hunters, and so features a target id range geared more to that task. The F75 also includes features like a meter backlight and the ability to save settings when powered off that the T2 lacks.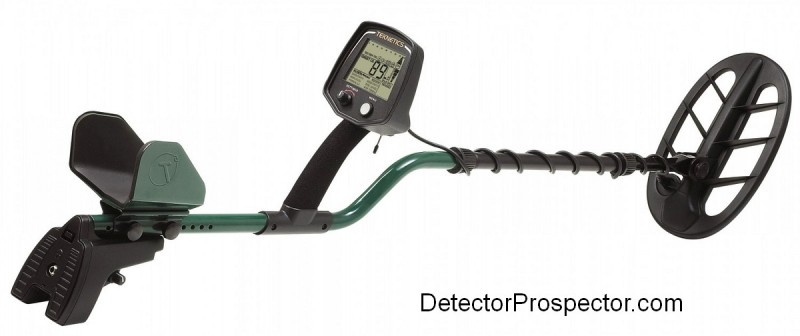 Teknetics T2 metal detector for relics, gold, and more
The T2 and F75 saw several similar model variants including a "Limited Edition" LE model with camouflage color scheme and an all black "Special Edition" SE model. These models featured extra settings and dual coil packages. There were unfortunately both hardware and software bugs that saw sub-variants produced of each model. The was another version in 2014, a "Limited Edition 2" or Ltd2 model with digital filtering designed to reduce electrical interference issues along with other extra features. The T2 has been reissued as the T2 Classic with the original green color scheme for a reduced price of only $499 in 2016. Finally, Teknetics released the T2 Ltd as a single coil package with a pinpointer in 2018 and called it the T2+.
The ergonomics of the T2 are superb. It is a perfectly balanced 3.5 lbs. People do not understand how important balance is but a balanced 3.5 lb. detector creates less arm strain than a nose heavy 2.5 lb. detector. The T2 only sips at the four AA batteries, getting a week of long days on a set of good alkalines and nearly two solid weeks of detecting in a set of premium lithium batteries.
~ Steve Herschbach
Copyright © 2016 Herschbach Enterprises
Teknetics T2 Instruction Manual
Forum Threads Tagged "teknetics detector"
Teknetics Metal Detector Forum
Teknetics T2 Technical Specifications*

| | |
| --- | --- |
| Internet Price | $499.00 (Classic) $549 (T2+) $699 (T2 Ltd) |
| Technology | Induction Balance (IB) |
| Transmit Frequency | 13 kHz |
| Autotune Mode(s) | Pre-Set Via Different Modes or "Processes" |
| Ground Rejection | Ground Grab and Manual |
| Soil Adjust | No |
| Discrimination | Variable with Visual ID, Tone ID, Notch ID |
| Volume Control | Yes |
| Threshold Control | Yes |
| Tone Adjust | Yes |
| Audio Boost | No |
| Frequency Offset | Yes |
| Pinpoint Mode | Yes |
| Audio Output | 1/4" Headphone Socket & Speaker |
| Hip Mount | Shaft Mount Only |
| Standard Coil(s) | 11" Elliptical DD |
| Optional Search Coils | Over 7 accessory coils available |
| Battery | Four AA |
| Operating Time | 40 - 50 hours |
| Weight | 3.5 lbs. |
| Additional Technology |   |
| Notes |   |
*Notes on Technical Specifications - Detailed notes about the specifications listed in this chart.