The Fisher Gold Bug DP is a version of the Fisher Gold Bug Pro metal detector that was introduced in 2010 and is still in production. It is a 19 khz VLF metal detector aimed primarily at gold prospecting, relic, jewelry, and coin detecting. The Gold Bug Pro has been a very popular entry level gold prospecting detector. Note that the Fisher Gold Bug Pro normally comes with a non-standard 5" round coil. This is good for nugget detecting but too small for most common uses. The Fisher Gold Bug DP is simply a Fisher Gold Bug Pro that comes with the 7" x 11" DD instead of the 5" round DD coil.
"The Gold Bug® family has revolutionized gold prospecting with new prospecting tools, Target-ID, incredible depth and all at an affordable price! Its fast retune speed and biaxial Search coils create superb target separation with impressive depth. V-BreakTM, the industry's first Variable Breakpoint tone discrimination system, allows user control of the multi-tone Audio ID system. This feature helps distinguish iron targets with a distinctive low audio tone while non-ferrite targets like gold, induce high tones. Tone discrimination combines with a dead-accurate Visual ID system to give gold prospectors a vital new tool in finding gold without having to dig any iron targets. An expanded 40-Point Iron ID target range helps differentiate between larger iron objects and smaller nails and pieces. The way it minimizes the masking effects of ferrous targets near non-ferrous targets is simply amazing! Coin and relic hunters marveled at how well the Gold Bug® Pro performed with our legendary 11 "DD Searchcoil, and the Gold Bug® DP was bom. Two more unique features are the real-time display of the Ground Phase value and an Fe304 meter that indicates the amount of mineralization present. These features monitor changes in soil conditions to locate and trace black sand concentrations where gold is commonly found. The Ground Balance system handles the toughest of ground conditions, capable of balancing all the way to salt. No longer do you need a specialized detector for prospecting and another for coins and relics; the Gold Bug excels at both!" Source: Fisher 2016 catalog

Fisher Gold Bug DP Metal Detector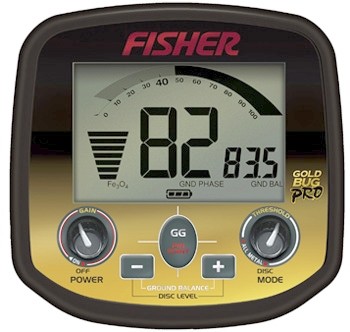 Fisher Gold Bug DP Control Panel
Discrimination Mode for coins and relics
Motion All Metal Mode
Computerized GROUND GRAB with Manual Adjust 
No-motion Pinpoint with Depth Indicator
Continuous Ground Phase and Mineralization Readout
V-BreakTM, Industry's first Variable Tone Breakpoint Discrimination
Threshold and Gain Adjustments
Signal Strength Indicator
Target-ID and 2-Tone Audio that includes V.C.O.
1/4" (6.3 mm) and 1/8" (3.2 mm) headphone Jacks
Uses one 9V Alkaline battery
Standard with 7" x 11" DD Waterproof Search coil
19 kHz Operating Frequency
Weight: 2.8 lbs. (1.1 kg)
5 Year Warranty
Official Fisher Gold Bug DP Product Page
Fisher Gold Bug Pro Owner's Manual
Fisher Gold Bug Pro - Steve's Review
Forum Threads Tagged "fisher gold bug"
First Texas (Fisher) Metal Detector Forum
1