The Tesoro Sand Shark metal detector was introduced in 1999 and ceased production in 2018. The Sand Shark is a fully submersible pulse induction (PI) metal detector aimed primarily at beach and underwater detecting. The Sand Shark is submersible to 200 feet and therefore suitable for SCUBA diving. Note however that the coil and headphones are hardwired for extra waterproof integrity and are not interchangeable. There is a choice of 8" or 10.5" search coils at the time of purchase.
"The Sand Shark is the perfect beach companion. The combination of moving salt water and mineralized soil can wreak havoc with the standard metal detector. The Sand Shark utilizes Pulse Induction technology to eliminate this issue and allows the detectorist to hunt in areas that frustrate others. This unit provides control over the pulse width to balance battery life and depth. The Sand Shark also includes a tone adjustment, allowing the user to choose either a variable pitch or a single tone. The Sand Shark's headphones and coils are hardwired to the detector to protect it from leaks, allowing it to dive
up to 200 feet. Available with an 8" or 10.5" search coil." Source: Tesoro 2013 catalog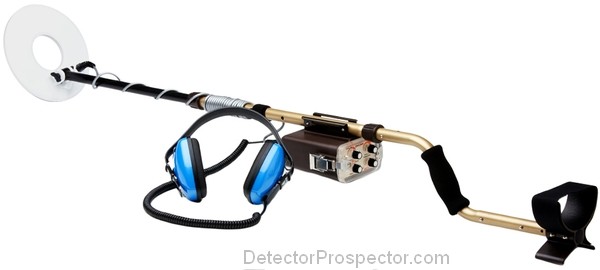 Tesoro Sand Shark metal detector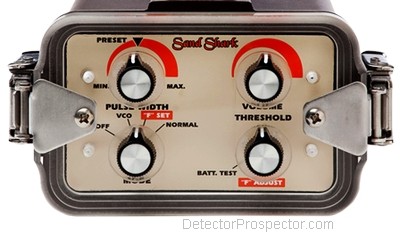 Tesoro Sand Shark control panel
Operating Frequency    600 pps
Searchcoil Type    Printed Spiral
Searchcoil Size    10½" diameter
Audio Frequency    Approx. 220 - 450 Hz
Audio Output    Stereo Piezo Headphones
Weight (may vary slightly)    Less than 4½ lbs.
Battery Requirement    Eight AA DC (alkaline)
Battery Life (at preset)    10 to 20 hours
Optimum Temp. Range    30° to 100° F
Optimum Humidity    0 to 75% R.H.
Operating Modes    VCO Motion ALl Metal
Adjustable Audio Frequency All Metal
Maximum Depth Rating    200 ft
Official Tesoro Sand Shark Product Page
Tesoro Sand Shark Owner's Manual
Forum Threads Tagged "tesoro detector"
Edited by Steve Herschbach