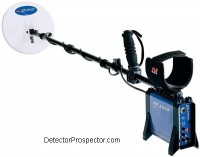 The Minelab GP 3000 detector was released in April 2003 and it was discontinued in 2005, replaced by the Minelab GP 3500. I got one the same year and that detector sure did find gold for me! See GP 3000 & MXT Get Fortymile Gold and Minelab GP 3000 at Moore Creek, Alaska plus Moore Creek Permits & Gold at Steve's Mining Journal.
The Minelab series of pulse induction (PI) metal detectors starting with the SD 2000 are widely acknowledged as being the most powerful gold nugget prospecting detectors currently available. The GP 3000 is a variant in the series. See Steve's Guide to Differences of Minelab SD, GP, & GPX for details.
The GP 3000 was an improvement on the earlier SD 2200D and GP Extreme models, both of which I also owned. Minelab set the bar rather low with the introduction of the GP 3000. All that was touted was "NEW Low-Noise circuitry, NEW battery harness, and a NEW "Smart Point" diagnostic port". OK, new harness, nice, but no big deal. A diagnostic port? Nice for the service department but does nothing for my detecting. There is so little difference between the GP Extreme and the GP 3000 that if you download the GP 3000 Instruction Manual below you will see it is just a modified GP Extreme manual. It even refers to the unit as a GP Extreme in a couple places!
One oddity about the Minelab detectors that bears mentioning is that the Minelab coils are only water resistant. They should not be submerged. There are fully waterproof aftermarket coils available along with external speakers for those who do not want to use headphones.
For me the only real improvement was in the stability of the threshold tone, presumably from the low noise circuitry. The earlier Minelabs had a distinct "warble" in the threshold tone. A smooth threshold sound is critical to allow very faint signals from very small of very deep gold nuggets to be easily discerned. The uneven threshold in the earlier models could cause faint signals to be missed. This small but very important improvement was more than enough to make me happy I had upgraded to the GP 3000. The detector paid for itself many times over.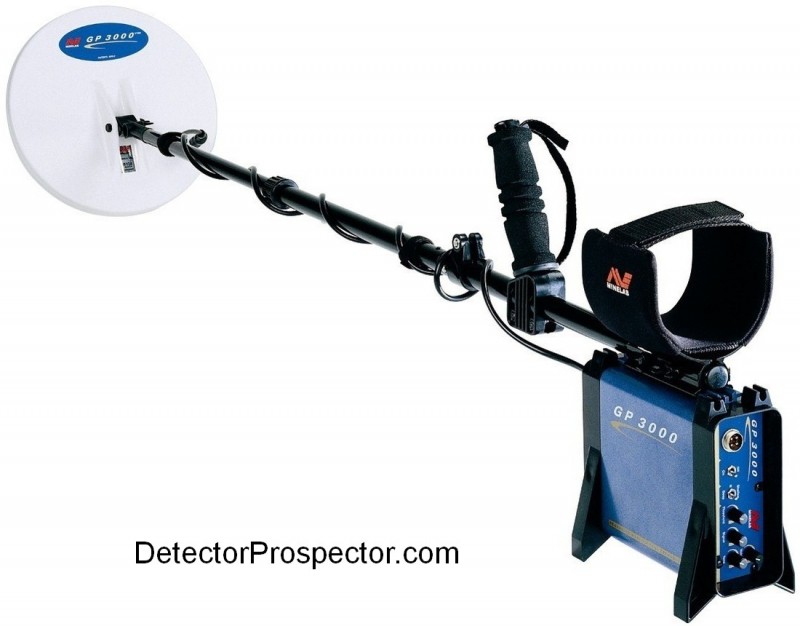 Minelab GP 3000 pulse induction metal detector for gold prospecting
The Minelab GP 3000 was a very solid performer as was the GP 3500 that followed. These two models were the last of the analog based Minelab PI models, with the switch made to a digital control interface with the Minelab GPX 4000. The GP series however are very capable, and a used model GP 3000 or 3500 would serve a person very well. The main problem is Minelab only services detectors for up to seven years after they are discontinued, so there is a little risk buying these used. If you suffer a major failure it may be difficult or impossible to find somebody that can perform a proper repair.
Still, I would not let that dissuade me personally were I looking for one of these machines used, as long as the detector has been well kept. The main item that bear serious thought is the battery. The GP series used sealed lead acid batteries, and they have a limited lifetime. It would be best to assume any batteries for these older units are no longer going to hold much of a charge. That is fine, since you can still buy batteries for these detectors.new for $128, but do factor that into a purchase of a used detector unless you are positive the battery is fine.
The other item to be aware of on these older models is the power cable to the battery. This item flexes a lot and is a common failure item. Always have a spare, and if a used detector only has one, I highly recommend buying another one new for backup.
Minelab GP 3000 Instruction Manual
Forum Threads Tagged "minelab gp"
Minelab GP 3000 Technical Specifications*
Internet Price
No longer available new - was MSRP $3495 later increased to $3650
Technology
Ground Balancing Pulse Induction (GBPI)
Frequency
1100-4500 PPS?
Autotune Mode(s)
Slow Motion
Ground Rejection
Tracking and Fixed
Soil Adjust
(Sensitive/Normal/Salt) Three position switch
Discrimination
(All Metal/Iron Disc) Two position switch
Volume Control
One turn control
Threshold Control
One turn control
Tone Adjust
One turn control
Audio Boost
(Shallow/Normal/Deep) Three position switch
Frequency Offset
Automatic Tune push switch
Pinpoint Mode
No
Audio Output
1/4" headphone socket (No speaker) Headphones supplied
Hip Mount
Shaft Mount Only
Standard Coil(s)
11" round DD and 18" round DD
Optional Search Coils
Over 100 accessory coils available
Battery
Rechargeable 6VDC 12A/hr sealed lead acid
Operating Time
14 - 15 hours
Weight
5.3 pounds (w/11" coil, excluding battery)
Additional Technology
Multi Period Sensing (MPS)
Dual Voltage Technology (DVT)
Level Adjust - one turn control
Signal Pitch - one turn control
Coil (Double D/Mono/Cancel) - 3 pos. switch
Notes
The GP 3000 employs an external battery carried on a backpack harness and connected to the control box via a power cord. The detector is normally suspended from the harness with a bungee cord, allowing for nearly weightless operation in level ground.
*Notes on Technical Specifications - Detailed notes about the specifications listed in this chart.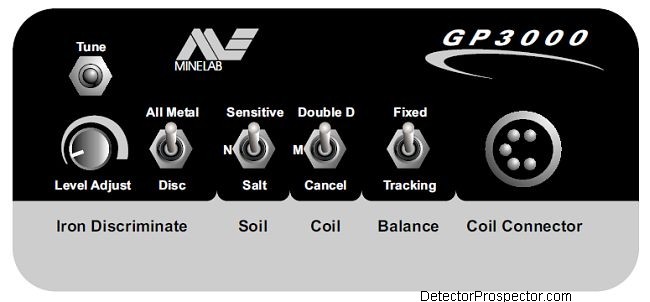 Minelab GP 3000 Front Control Panel (from owner's manual)
Edited by Steve Herschbach
1