The Fisher Impulse AQ is a new pulse induction (PI) metal detector that has a probable release date of late 2019. This first of a possible series is a waterproof model intended for beach and water hunting. The machine is expected to offer excellent depth and superb sensitivity to small jewelry items due to an very low 7 uS pulse delay option. The most anticipated feature is discrimination that is supposed to be better than that currently offered on any other pulse induction metal detectors, although this discrimination is aimed more at gold rings than coins. The compact waterproof design and relatively light weight is also attracting attention. Follow up models may be aimed at gold prospectors and possibly even the coin and relic market.
May 2019 - the latest information indicates the machine is almost ready for production, once some issues with waterproof integrity get worked out.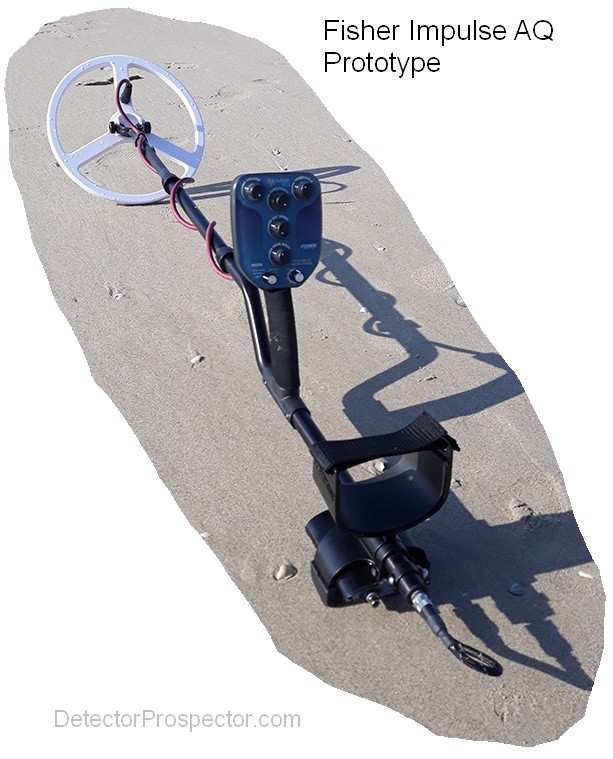 Fisher Impulse AQ Prototype
A thread on this websites First Texas Forum is tracking the latest developments. Information will be added here periodically. All information here is preliminary and subject to change, especially pricing and final specifications.
Latest pulse induction technology
Waterproof to 1 meter or 3 feet
Lithium Ion battery
Battery under armrest may be swapped out with a fully charged battery (optional)
Standard battery run time 5.5 - 6 hours
Larger external battery option - 11 - 12 hour run time
12.5" Mono Coil, weighs 400 grams or 14.1 ounces
Detector complete with battery under four pounds
Weight of detector with battery on belt 3.24 lbs or 1428 grams
Price US$2100 - US$2500?
Controls
Volume
Threshold
Sensitivity
Self Adjusting Threshold (SAT) Speed
Iron Mask
Pulse Delay
Adjust Noise Cancel
Mode Switch:
Power On/Off
Battery Test
Set For Noise Cancel
All Metal (One Tone)
Tone (Two Tones)
Mute
First Texas - Bounty Hunter, Fisher & Teknetics Metal Detector Forum
Edited by Steve Herschbach
3