The Garrett Axiom metal detector is new for 2022, and will be released before the end of the year. The Axiom is a ground balancing pulse induction (PI) metal detector aimed primarily at gold prospecting, with possible additional uses for relic/coin, and jewelry detecting.
"Advanced pulse timings provide enhanced sensitivity and complete versatility in the most extreme mineralized soils and in saltwater. Choose from four settings, each ideally engineered for finding all types of gold, from larger nuggets to sub-gram pickers." Source: Garrett website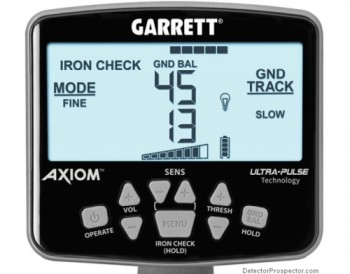 Garrett Axiom control panel
TERRA-SCAN - Axiom's advanced system provides independent dual-channel ground balance that covers the full range of mineralization, from heavily mineralized magnetic ground to saltwater, and everything in between.
IRON CHECK - This feature helps you audibly identify iron targets with the Axiom when using a DD searchcoil.
VOLUME AND THRESHOLD CONTROLS - Not all detectors in this class offer both, with the threshold control often gone missing.
2 AUDIO TYPES - Choose from PWM Audio or VCO Audio options.
FOUR TIMING MODES - Fine (Default), Normal, Large, Salt
SPEED (REACTIVITY) OPTIONS - Slow, Medium (Default), Fast
FOUR GROUND TRACKING OPTIONS - Ground Grab (Default), Slow Tracking, Medium Tracking, Fast Tracking
AUTOMATIC FREQUENCY CANCELLATION- Reduce or eliminate electromagnetic interference (EMI) for other nearby detectors, or other external sources.
EASY ACCESS TO COMMON CONTROLS - Everything you need at the push of the thumb, with advanced options via an easy access menu.
MANY COIL OPTIONS - Three mono coils, and three DD coils, 11", 13", and 16" semi-elliptical.
Garrett Axiom 16", 13", and 11" search coils, both DD and mono
EXTREME BATTERY LIFE - With about 16 hours on a full charge, Axiom's built-in, high-capacity Lithium Ion battery provides twice the battery life offered by some prospecting detectors!
USB-C PORT - For both charging via most stand USB charging options on the market, plus for use to upgrade the Axiom firmware over the internet via your computer!
LCD SCREEN BACKLIGHT - For low light conditions.
FULLY RAIN RESISTANT - And fully waterproof to control box, for wading in water, coils fully waterproof.
HIGH VOLUME SPEAKER - For hunting without headphones.
BUILT IN HIGH SPEED WIRELESS - Garrett exclusive Z-LYNK technology, for use with both Garrett wireless headphones, and option Z-LYNK enabled Garrett Pro-Pointer!
1/4" HEADPHONE JACK - For use with all types of popular metal detector wired headphone options.
LIGHTEST DETECTOR IN ITS CLASS! - 4.2 lbs. (1.9 kg) with 11" mono coil and coil cover, 4.7 lbs. (2.1 kg) with 13" mono coil and coil cover
Official Garrett Axiom Product Page
Forum Threads Tagged "garrett axiom"
Garrett Z-Lynk Wireless Audio System Details
Garrett Z-Lynk Enabled Pro-Pointer AT Pinpointer Details
Axiom Specifications
Ultra PulseTM Technology
Pulse Rate - 1500 Hz (adjustable)
Frequency Scan - Automatic EMI cancellation
Z-Lynk Wireless (integrated) - Yes
Backlight - Yes
Ground Balance - Automatic, dual channel
Ground Balance Readings - Dual independent numbers
Ground Balance Window - Yes
Ground Track Modes - OFF, Slow, Medium, Fast
Iron Check - Yes
Volume Control - Yes
Threshold Control - Yes
Tone Control - Yes
Audio Type Adjustment - Audio 00 (PWM audio) or Audio 01 (VCO audio)
Sensitivity/ Depth Adjustments - 8
Water/Weather Resistance - Yes
Waterproof coil/stem - Yes
Rainproof control box - Yes
Available Searchcoils - 11" x 7" mono coil, 11" x 7" DD coil, 13" x 11" mono coil, 13" x 11" DD coil, 16" x 14" mono coil, 16" x 14" DD coil
Length (Adjustable) - Fully extended: 61.5" (156 cm) collapses to 25" (63.5 cm)
Total Weight - 4.7 lbs. (2.1 kg) with 13" mono coil and coil cover, 4.2 lbs. (1.9 kg) with 11" mono coil and coil cover
Battery Source - Rechargeable Lithium Ion, built-in; 76 Wh, 306 grams
Battery Condition Indicator - Yes
Warranty - 2 Years, Limited Parts/Labor
Standard Axiom Package with Wireless Headphones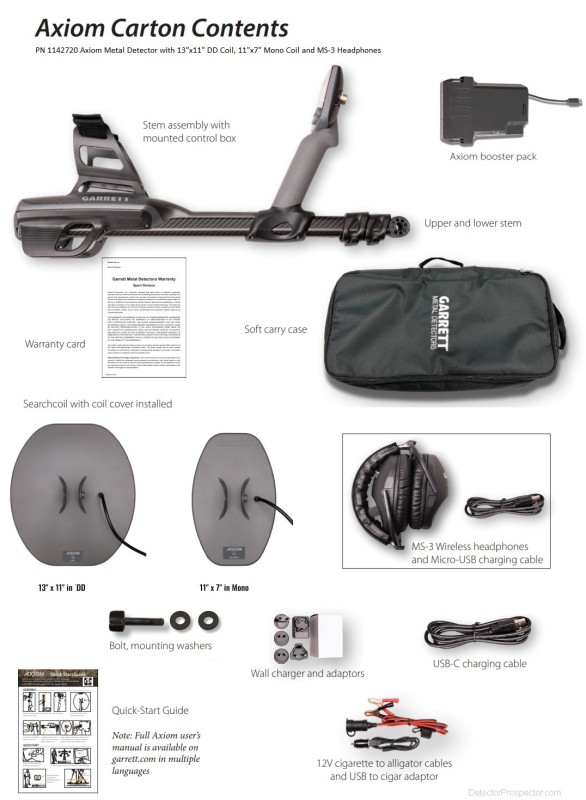 8