The Garrett Ace 250 metal detector was introduced in 2006 and was discontinued in 2019. The Ace 250 is a 6.5 kHz VLF metal detector aimed primarily at coin, jewelry, and relic detecting.
"Garrett has placed big features into the ACE 250—excellent detection depth, rugged design and ease of operation—for a price that can't be beat." Source: Garrett website

Garrett Ace 250 metal detector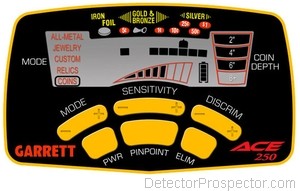 Garrett Ace 250 control panel
Electronic Pinpointing: to precisely locate target and speed recovery
Accept/Reject Discrimination: to modify discrimination patterns
Five Search Modes: select pre-set discrimination pattern or create your own
Continuous Coin Depth Indicator: to determine target depth
Battery Condition Indicator: shows battery life continually
Interchangeable ACE series searchcoils: are available
Expanded Target ID Legend: easy-to-read above large LCD screen
Pushbutton Controls: with One-Touch operation
Other features: 3-piece travel/storage, disassembles to 24"; adjustable arm cuff; quarter-inch (1/4") size headphone jack.
Garrett Ace 250 Owner's Manual
Edited by Steve Herschbach