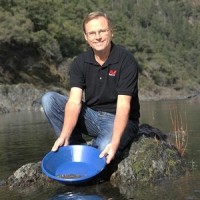 This is a list of areas open to the public where you can search for valuable minerals in the United States and elsewhere. Many of these locations are free of charge. Others are private mines that charge a fee and yet others are club sites that require club membership. Most of the locations listed are places where you mine the material at the source yourself. Other sites have material you can mine or sort through that has been collected for you. Finally, some of these listings are not sites where you can mine but that may be of interest nonetheless, like old mines of historic interest and museums.
A key concern for many is access to places without fear that they are accidently going to be on mining claims or breaking some sort of rule. Many people have families and so areas are desired that are suitable for both the young and the very old. Ease of access is important. Many people are tourists who want to experience some local history and who may know almost nothing about prospecting and mining. Areas that are clearly defined and with easy to understand rules are important. The focus of this section of the website will therefore be to list sites set aside specifically for public mining.
Some states have very little information other than general rules and vague hints about where you might prospect. Links are provided to that information to at least get you started. Be cautious working in these states until you have more specific information. Always check the links for the latest information from original sources as things change constantly and material here can easily be out of date.
If you have suggestions for additions to this list please contact me with your information. If a site has been listed here and should not be, please notify me to have it deleted.
Alaska -  Arizona -  Arkansas -  California -  Colorado -  Georgia -  Idaho -  Indiana -  Michigan -  Minnesota -  Montana -  New Hampshire -  New Jersey -  North Carolina -  Oregon -  South Carolina -  South Dakota -  Utah -  Vermont -  Washington -  Wisconsin -  Australia -  Canada -  Italy -  New Zealand -  Scotland
ads by Amazon...
ads by Amazon...
1

1