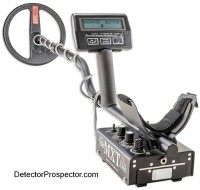 The White's MXT was released in 2002 and had a great run, but is no longer in production due to the demise of White's Electronics in 2021. I helped popularize the use of this detector for searching tailing piles for large gold nuggets. Hundreds of ounces of gold have been found at Ganes Creek, Alaska alone by people using the White's MXT. My own largest gold find, a 6.85 ounce specimen, was with the MXT at Ganes Creek. I have a couple stories on Steve's Mining Journal that highlight the MXT. See Infinium & MXT at Ganes Creek and GP 3000 & MXT Get Fortymile Gold. My most recent find of note with the MXT Pro was a 267 AD Roman coin found while on a trip to the UK in 2010. See Metal Detecting Ancient Coins at Colchester, UK
The MXT is extremely popular because it does almost everything very well; coin, relic, jewelry, and nugget detecting. Despite being so versatile the MXT is also a bargain priced detector with performance rivaling much more expensive detectors. It is remarkably easy to operate, with a condensed operating guide actually printed on the bottom of the control box. Three knobs and three switches are all the controls you need. The controls have specially marked settings so that if you do not know what the controls do, just set everything at the little triangle marker and you are off and running.
A major feature on the MXT is the LCD screen that gives you visual information about the items detected as well as battery readings. White's employs a numeric target identification system that runs from -95 to +95, with ferrous targets reading as negative numbers and non-ferrous targets reading as positive numbers. White's calls these "Visual Discrimination Indicator" numbers usually referred to as VDI numbers.
The MXT also comes with one of the best manuals and DVDs of operating tips that I have ever seen come with any detector. The MXT is almost perfectly balanced due to the control box being slung back under the elbow. One simple thing about the MXT also pleases me - it does not fall over on its side like nearly all the other detectors I use when I set them down! The control box is very water resistant. I have used the MXT in the rain all day long with no adverse effects.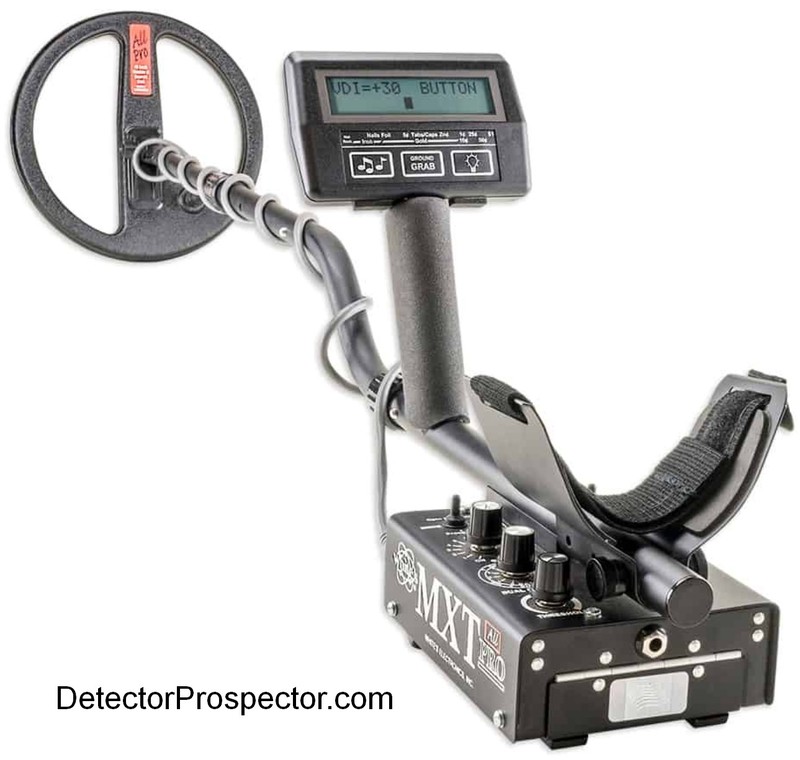 White's MXT All Pro metal detector for coins, jewelry, relics, and gold nuggets
There have been several MXT models. There is the original MXT which comes with a 9.5" round concentric "950" coil. This version of the MXT was discontinued in 2017 and is essentially the same detector as originally released in 2002. The was also an MXT 300, also no longer in production, which was the same detector with a 300 mm (12") search coil and a matte black paint job for $100.00 more. The MXT 300 was replaced by the MXT Pro for the same $899.95 price. The MXT Pro added multi-tones and a meter backlight plus a redesigned pod with a touch pad.
The new features do not really add anything needed from a nugget detecting perspective but are popular with coin and jewelry hunters. There is a "Ground Grab" that is nice for nugget detecting but just for convenience. Instead of switching to ground tracking for a minute and back to fixed it is possible to just remain in fixed and hit the grab button to update the ground balance setting.
A very good way to compare the MXT and the MXT Pro is to download and read both operating manuals linked to below. You can also find a quick comparison reference chart at Jeff Foster's website here.
The target reference in the MXT display above is replaced by three touch pads on the MXT All Pro. An audio pad controls various audio options, the "Ground Grab" button resets the ground balance, and there is a pad to toggle the display backlight on and off.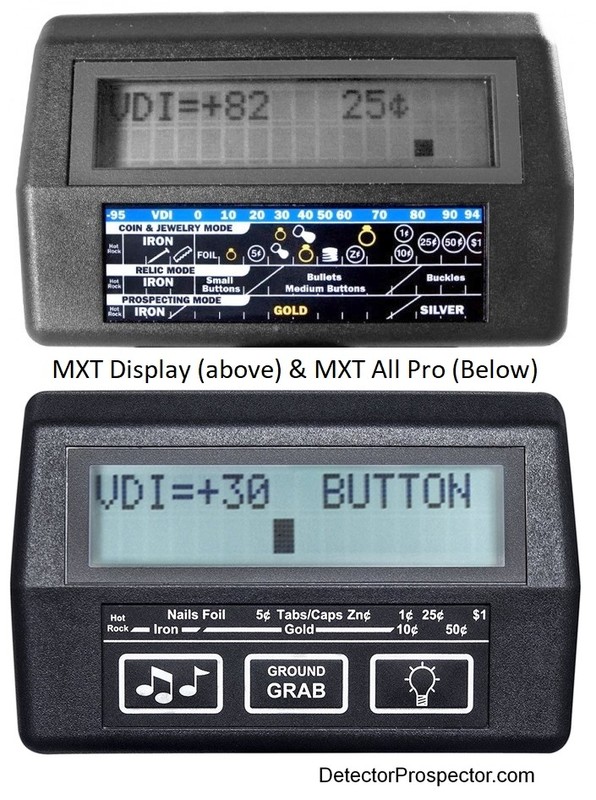 MXT vs MXT All Pro display pod showing new touch pad buttons
The MXT came with the 9.5" round concentric coil and the MXT All Pro is offered with either the 9.5" concentric coil or 10" round DD coil. My personal preference is for the MXT All Pro as I do like tone id for general detecting and the Ground Grab button alone is worth the extra money as far as I am concerned. I prefer to leave automatic ground tracking off most of the time and update via the grab function. The ground grab button alone is enough to make me prefer the MXT All Pro for gold prospecting. It is also a little known fact that the MXT was designed to work best with DD coils.
Here is a post by Dave Johnson (one of the engineers of the MXT) on the TreasureNet forums 2/3/2013:
"Back in the late 1990's and very early 20th century, the MXT was developed around the 10x6 elliptical DD. When you're used to that searchcoil, stick a 950 on and the 950 feels downright clumsy with its muddy response and bad masking characteristics. Downright insufferable. The 950 searchcoil geometry was designed for completely different platforms.
But, if you ask "does the 950 work?", well, yeah, it does. Wrong question.
I ain't gonna knock the MXT, it may be an old platform but it still works good. More than 10 years after, if you demand "ground tracking" (not that I say you should demand that), the GMT/MXT have the best in the industry. Not even Minelab (!) denies that! And as far as I know, the MXT/GMT are the only VLF-IB machines on the market with active transmitter regulation that makes it possible to work (with reduced performance) in heavy magnetite black sand, a circumstance otherwise left up to PI's. We're talking very good machines here. They may be a bit old in the tooth, but this is an industry that takes time to weed the turnips out of the beet patch. Ain't like celfonz where in 6 months the whole world has decided what kyckes and what szux. It takes time to deliver good beep verdict.
MXT. 10x6DD is the foundation. Everything else is an accessory. I am telling you this because if you are a White's loyalist, I want you to spend that extra buck, the folks in Sweet Home are my friends!"
Having noted that commentary, many users prefer the concentric coil options for beach use or low mineral parks where bottle caps are common. Concentric coils generally identify flat ferrous targets more reliably than DD coils.
The large 12" concentric coil and even the 9.5" concentric coil do not handle extreme ground mineralization very well, and the 12" is too large for many other tasks, like coin detecting trashy locations. The 6" x 10" Eclipse DD coil is possibly the best all around prospecting coil for the MXT for those that do not already have the 10" round DD coil and want to add a DD to the MXT. The solid construction is less likely to hand up on stubble and the narrow profile is good for getting into tight locations. However, if you have an All Pro and already have the 10" round DD coil it is a less useful upgrade. In that case I would tend to recommend the 4" x 6" Shooter DD coil for trashy locations and small gold nuggets.
To sum up, I recommend using either the 10" round or 6" x 10" elliptical DD coils for hunting heavily mineralized ground. To get the best performance on small gold, use the 4" x 6" elliptical DD (Shooter) search coil. The 9.5" concentric 950 coil and 12" concentric are best used for hunting tailing piles, beach detecting, or coin detecting in parks. The little 6" round concentric (Eclipse 5.3) is a good little coil for almost any use, including gold prospecting for small nuggets in low mineral ground.
The MXT is blessed with a large number of aftermarket coil options due to its popularity. There are so many in fact it is impossible to keep up with them so I will leave that for the reader to discover via Google.

White's MXT DD search coil options

White's MXT concentric search coil options
The MXT Pro does have an undocumented feature it is worth knowing about. The MXT in Coin & Jewelry Mode has a "Pull Tab Notch" feature when the trigger switch is locked forward. Meter readings of VDI +28 to +49 are silenced, knocking out common pull tab responses while still allowing US nickels to signal. The MXT Pro eliminated this function (trigger switch forward locks the pinpoint mode) and instead added the seven tone audio identification used by the White's M6 detector.
The intent was to have the option for different tones for preset VDI ranges while in the Coin & Jewelry Mode. The multi-tone feature was not intended for the Relic or Prospecting Modes. However, through a bug that is not documented in the owner's manual you can activate the multi-tone mode by getting your MXT all set up in Coin & Jewelry Mode and then selecting multi-tone by pressing the "Musical Note" button. Now flip the toggle switch to either Relic Mode or Prospecting Mode and the multi-tone function will remain engaged. However, if you touch any of the control pads at any time now the multi-tone function will shut off. White's decided this "bug" might actually be useful so has left it as is for you to experiment with.
There is a book written about the MXT that has no equal - The MXT Edge by Jeff Foster. If you have an MXT do not hesitate to get a copy. An interesting note is that the White's GMT and the MXT share a common heritage - see the MXT Engineering report below.
White's MXT 950 Owner's Manual
White's MXT 300 Owner's Manual
White's MXT Pro Owner's Manual
Forum Threads Tagged "whites mxt"
Unofficial MXT User Support Page
Steve's Guide to White's Electronics GMT versus MXT
White's MXT Technical Specifications*

| | |
| --- | --- |
| Internet Price | MXT All Pro $823.00 |
| Technology | Induction Balance (IB) |
| Frequency | 13.889 kHz |
| Autotune Mode(s) | Variable Self Adjusting Threshold (V/SAT) |
| Ground Rejection | Tracking and Fixed |
| Soil Adjust | (Ground/Lock/Salt) Three position switch |
| Discrimination | One turn control, Visual ID, Tone ID |
| Volume Control | No |
| Threshold Control | One turn control |
| Tone Adjust | No |
| Audio Boost | No |
| Frequency Offset | No |
| Pinpoint Mode | Yes |
| Audio Output | 1/4" headphone socket & speaker |
| Hip Mount | Shaft Mount Only |
| Standard Coil(s) | 12" round DD |
| Optional Search Coils | Over 15 accessory coils available |
| Battery | Eight AA |
| Operating Time | 30 - 40 hours |
| Weight | 4.3 pounds |
| Additional Technology |   |
| Notes | Alaska's most successful gold nugget detector for tailing piles |
*Notes on Technical Specifications - Detailed notes about the specifications listed in this chart.
Here are a few nugget detecting tips for the MXT. I highly recommend that if you are new to detecting you seek out a sandy location like a freshwater beach or volleyball court or the woodchip area around playground equipment to practice and learn your new MXT. The goal is to set up the detector as if you are nugget detecting and to dig everything that signals. It does not matter what it is, the goal is to learn. You should be trying to find the smallest items possible, and attempting to learn how to separate ferrous from non-ferrous signals.
It is always best to dig all targets when nugget detecting, but some areas are so full of ferrous trash that it is something that must be tuned out to some degree. Aluminum is a very common find, and that is good. Aluminum and gold respond identically on a metal detector, and the smaller and/or deeper the aluminum is, the better your detecting skills. Concentrate on the faintest signals. Hours spent practicing like this will save many more hours wasted time and frustration in the field.
Normally when looking for gold it only makes sense to use the MXT Prospecting Mode. This pretty much turns the MXT into a GMT although a bit less sensitive to very small gold. Start with the Gain at the preset (small triangle) setting. The Threshold should be set as low as it can go while still being audible. You want to be able to hear variations in the threshold sound but you do not want it so loud as to be annoying when listening to it for hours on end. Set the Trac switch to "Ground" and pump the coil over the ground until the sound caused by this pumping action dissipates. the MXT is now ground balanced, so flip the switch to the "Lock" position. This locks in the current ground balance setting.
The "Dual Control" while in Prospecting Mode is not acting as a discrimination control. The inner "SAT" section becomes active and a good starting place is the small preset triangle at the "5" setting. SAT stands for self-adjusting threshold. The threshold sound constantly varies and this circuit smooth's the threshold response. The higher the setting, the more aggressive the smoothing effect. Low settings are more sensitive to faint responses but can allow ground variations to also become to evident. Settings that are too high eliminate faint ground responses but can also cause faint signals from gold to become to faint to hear. In general less mineralized ground calls for lowest SAT settings and higher mineralization call for higher SAT settings.
ads by Amazon...
The Gain when increased does make the detector more sensitive to gold but also more sensitive to ground feedback and so-called hot rocks. The trick is to run the Gain as high as possible while retaining stable operation. Finally, in low mineral ground a locked Trac setting works best, but in ground that varies constantly running the MXT in the Ground tracking mode will result in smoother operation. Novice may want to stay in Ground Trac mode while learning the machine as it is the safe setting that keeps the machine properly ground balanced.
In theory the MXT is most sensitive with the SAT set low, the Gain maxed out, and the Trac setting locked. The reality is that increased Gain settings may also call for increased SAT settings. The goal is to seek the most sensitive balance of settings possible while while keeping the MXT stable and smooth. A small test nugget of small piece of lead can be essential for determining what setting most eliminates ground responses while most enhancing nugget responses. In general leave the SAT control at the preset, Trac in locked, and set the Gain as high as you can while still getting stable operation. If need be, switch the Trac setting to ground for smoother operation. In the worst mineralization advancing the SAT control into the Hyper SAT mode will put the MXT into a very smooth mode able to deal with extreme mineralization while still reporting small gold nuggets.
Remember, the key is to seek a smooth, stable threshold sound. It is this stable sound, when it varies, that indicates very deep or very small targets.
There are a very few detectors that can be run in what is referred to as "mixed mode". These units have the ability to run in all metal and discriminate at the same time. I am not sure who first came up with this feature but Nautilus has for a long time offered units that put the all metal signal in one ear of your headphones and the disc signal in the other ear. The advantage to this is that pure all metal modes detect deeper than discrimination modes. Hunting in regular all metal requires lots of switching back and forth to check targets. Mixed mode gives you both at once.
The White's MXT has the Relic Mode, which is a mixed mode. I wonder how many people use relic mode but really do not understand it. Good targets give a high pitched chirp. Junk targets honk. The split between high chirp and low honk is determined by the setting of the discrimination knob. This should be set to just cause iron and steel items , like a small nail, to honk, generally at a setting of 2 or less. Do not set the discrimination too high! Now here is the important part - there is a third, more subtle audio signal that indicates a target is there but the detector cannot identify it because it is too deep. This is the all metal signal. The meter will be blank. When nugget detecting, you want to hear these, and dig down until the target identification kicks in. I think many people focus so much on the other two audio responses that they ignore the fainter deep all metal signal. It is easy to fall into a habit of just digging only those high pitch targets. Not good.
The key to mixed mode is simple. Those targets in a good location that are so deep you get no indication on the discrimination channel are the ones you really want to think about. If the area has produced good finds but is now near to being worked out, these deep signals are the ones anyone running in a normal discrimination mode is going to totally miss. Sure, it could be trash. But really deep targets are often the best, and so digging some of these on occasion can produce some really good finds.

Steve with MXT and 6.85 ounce gold specimen found with it at Ganes Creek, Alaska in 2002
Unlike most dedicated nugget detectors it has a LCD based visual discrimination indicator (VDI) system. This is for the MXT coin and relic modes in particular. It turns out that for certain nugget detecting tasks the MXT has extra capabilities due to the visual target identification system.
Alaska has huge areas of old mining tailings that provide great opportunities for nugget detecting. The nature of the old operations was such that many of the very largest nuggets were lost into the tailing piles. Unfortunately there is a huge catch. Some of these tailing piles contain incredible amounts of iron junk, and at any depth. Some creeks were mined many times, and old campsites and dumps were churned up and mixed in with the tailings. This junk can be anything from rusted flakes and slivers of steel on up to cans, bolts, washers and nuts, and finally even 55 gallon drums, and various large steel plates, pipes, boilers, or even larger items.
Ganes Creek, Alaska is possibly the best known of these locations. New visitors from areas in the western US where the Minelab SD/GP/GPX detectors have reigned supreme have a hard time adjusting to the concept that there is such a thing as too much power when coupled to a poor discrimination system.
If you run a Minelab at Ganes Creek here is a likely scenario. You are in a field of fist-sized and larger cobbles. You get a nice little signal and no iron blanking. You start to dig, as best you can in a pile of rocks. After a great deal of effort you are at two feet, signal is louder, but no target. You pull out another cobble and half the hole falls in. You pull all those rocks out, and get another six inches down. Forty-five minutes has passed. You pull out another rock and the hole caves in again. Fifteen minutes later you are at 3 feet again and really tired. Over an hour has passed since you started this hole. The signal is very loud now...too loud really. You dig down a bit more, then some more, and the whole thing caves in again.
You walk away in disgust. Or you keep digging and finally find an old quart-sized can.
How deep can you hit a large can with a Minelab GP 3000? How about a 2'x 2' steel plate? How about a 55 gallon drum? There answer is very deep indeed, and they are all there waiting! Normally you would just figure it is junk past a certain depth, but the big question always must be how deep could you hit the 35 oz or 80 oz pieces found at Ganes Creek with metal detectors, or the 122 oz chunk found by the commercial miners at Ganes?
Because of this huge junk problem VLF detectors have generally been the way to go at Ganes. The low mineral conditions mean they keep you from wasting huge amounts of time going after junk targets. Most any good VLF machine works well for this, but the MXT gives you some extra capability once you learn its tricks.
There are four things to know. 1. VDI numbers increase as the nugget size increases. So a 1/4 oz nugget may read around 25 whereas a 1 oz nugget may read around 40 and a 2 oz nugget may read around 50 on the meter. 2. The larger a nugget, the deeper you can detect it. 3. Certain steel items can give positive VDI numbers and 4. VDI numbers are pulled down the deeper the nugget is buried. A 1/4 oz nugget near the surface will read 25, but at depth might read 10, and at max depth may finally read at 0 or lower and actually be identified as iron.
This last point is very important, for if you run a Fisher Gold Bug 2, or Tesoro Lobo, or Troy X5 in disc mode to tune out iron, as is common for many people at Ganes Creek, deep nuggets may read as iron. If they are, the machines will reject them; you will get no signal, and walk past the nugget. You will never know it is there. Or at best you have to search in all metal mode, then constantly switch to the discriminate mode to check the target. With the MXT, there is no switching and you hunt completely by ear.
With the MXT I like to run the detector in relic mode, with the disc set precisely at 2. Non-ferrous items will give a high tone, and ferrous junk a low tone. If you get a faint low tone, the first thing you do is kick and inch or two off the surface until you get a honk or a chirp. Now dig a little deeper. If the VDI number rises, keep digging. Targets that read iron initially and rise will often turn into non-ferrous readings, hopefully gold. If the VDI number stays the same or goes even lower, you have an iron target. Once again, be careful to listen for audio signals that give no reading on the meter - these are items being detected by the all metal channel at depths beyond what will cause the meter to react with a numeric id.
Where the MXT really shines are on 1/4 oz to 1/2 oz nuggets. Let's say you get a reading of 24. OK, that is about a 1/4 oz nugget. Now, we know that you can hit a nugget this size at 10-12 inches. You dig a foot, and no nugget. A large, deep iron item of a certain type can also give a 24 reading, but these large items can be detected much deeper than a 1/4 oz nugget. Dig them up if you wish, but once you go past that depth at which it is reasonable to find a nugget corresponding to a certain VDI number you are wasting your time. This method eliminates digging those false positive signals from deep items like steel plates. With the other VLF units the lack of VDI number means you have no way to judge the potential nugget size and so you end up digging deep for what may be a very large nugget when with a MXT you would know the VDI number corresponds to a smaller nugget. For the many smaller nuggets that are found at Ganes this method is pretty foolproof once you get the hang of it.
Finally, certain non-ferrous items can be found in quantity, particularly things like .22 shell casings. If you get into a bunch of these, they are usually very shallow. You can easily determine the VDI number of these multiple identical targets and then simply ignore them. You would miss a nugget with an identical VDI reading, but chances are a nugget will vary enough to make it stand out. There is no way to do this with a non-VDI unit.
The MXT is a very versatile detector, but I do not think anyone anticipated just how much gold it would end up finding in Alaska. I know one prospector alone who has found over 100 ounces of gold with the MXT.
~ Steve Herschbach
Copyright © 2004 Herschbach Enterprises
Edited by Steve Herschbach
9

2