The Tesoro Tejon metal detector was introduced in 2003 and ceased production in 2018. It is a 17.4 kHz VLF metal detector aimed primarily at coin, jewelry, relic, and gold nugget detecting.
"The Tejon features a dual discriminator that is activated by an effortless trigger switch, allowing for an instant target check. This detector also includes a tone adjustment option, which is designed for treasure hunters who have lost the ability to hear certain audio frequencies. The Tejon pushes the coil's signal deeper while increasing sensitivity for smaller targets. This unit is full of features that amount to more informed choices, less time digging trash, and most importantly: more time hunting." Source: Tesoro 2013 catalog


Tesoro Tejon metal detector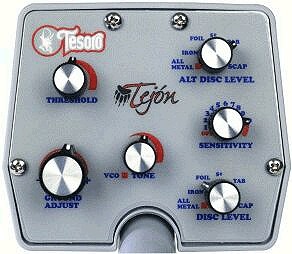 Tesoro Tejon control panel
Dual ED180 Discrimination Circuits
Easy To USe Trigger Mode Switch
MAXBoost Sensitivity
Adjustable Audio Tone Control
3-3/4 Turn Ground Control
Compatible With Lobo SuperTRAQ Coils
Operating Frequency    17.2 to 17.6 kHz
Searchcoil Type    Monolithic (Carbon Fiber)
Searchcoil Size    9 x 8
Searchcoil Family    Delta
Cable Length    Approx. 42"
Audio Frequency    Approx. 215 to 830 Hz
Audio Output    2 ¼" speaker and headphone jack
Headphone Compatibility    ¼" stereo plug
Weight (may vary slightly)    2.98 lbs
Battery Requirement    Eight AA (alkaline)
Official Tesoro Tejon Product Page
Forum Threads Tagged "tesoro detector"
Edited by Steve Herschbach