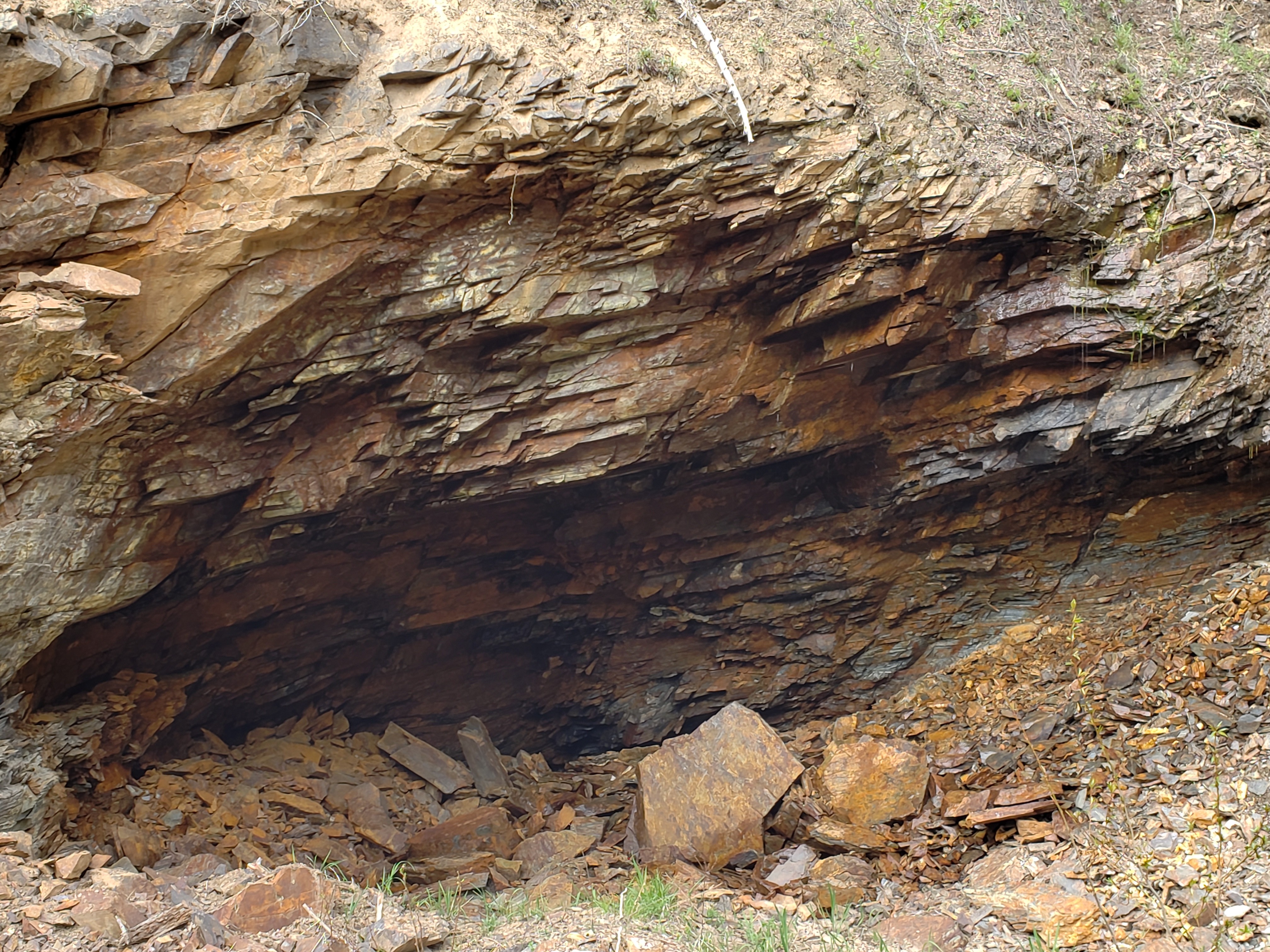 Posts

55

Joined

Last visited
Profile Information
Gender
Location:
Interests:

Panning & metal detecting, historical research, hiking; hunting; surveying & mapping; guitars, recording & music production

Gear Used:

Gold Bug 2, GM1000, Compass Coin Hustler, Subsurface Instruments ML-1M, & Shovel Bucket Pan
IDMineralSurveys's Achievements

Contributor (2/6)
Further ...speaking of gas, I was down between the middle fork and the south fork of the Clearwater River this last Saturday with my wife in her Jeep. Got back home at midnight after 450 miles, didn't go anywhere on Sunday, then when leaving the house on Monday morning for the office, found my son had run my Land Cruiser down whilst we were away... 15 miles to the nearest pump. I immediately texted him this photo labeled ..."bad thing"

I went to AKAU in the first group in June '19 and had fun, found gold. We were the largest group they'd ever had- 22 of us, most were friends with our prospecting group of N Idaho. One of our group spoke to me about planning another group trip next year and asked if I'd go. Took both my GB2 and my GM1000. There is lots of areas to detect - several places I want to go back to.

While I have not ordered my K3 yet, I have been planning to get this system... my understanding from a brother of one of the guys behind it, the frames are Very comfortable with extreme heavy loads ...like 140 lbs of meat - which I would prefer to be gold these days 😃. With the long hikes I do in steep mtns/wilderness I usually take three 1 qt plastic bottles -2 full to drink during hike, 3rd to have extra and fill all with my small MSR pump filter when closer to end of hike - It's usually very easy to find streams where I go. https://exomtngear.com/collections/packs The bag I currently use I found on clearance for $25 at Cabelas and so will probably just get the K3 frame for now.

Don't give up on the VLF's. Lunk & Gerry on this forum encouraged me on the vlf's and I've been trying for 3 years now and have approx 1.5 oz of tiny to medium sized gold pieces and am having fun with it although 70% of my days I'm skunked. I love the mountains and being out there - the bonus is the good days when I find a piece or two. One thing I've discovered is that extreme moisture content in our soils definitely limits the depth I've been able to find targets, especially the small and flat nuggets. I was going to go out this weekend, but decided it's still too wet (even some snow this morning) so I postponed my first trip. I'm just north of Cd'A and have quite a lot of research on areas to check out south of Moscow- have driven in and looked around at some, but my buddy and I decided to wait for drier weather so haven't hiked them yet. Lunk has encouraged me to bring a rake and shovel - sometimes it's been very helpful to have along. First photo here is 2 pieces found during a dry fall day - no shoveling, approx 10" down. The following photos are the same exact spot three weeks later - very wet detecting each inch by inch layer both raking and shoveling carefully. I'm sure there's more nuggets there, but 4 hrs only produced the tiny flat one less than 12" from the previous two which were both very audible; last one was barely heard at 1/2" depth - yet quite sizeable compared to dozens of micro pieces I've found at greater depths. That's when I cleaned my gear, put it away for winter and started making plans for places to visit this coming summer. Mike

I'm not sure this new metal detector circuit design is going to launch correctly because of the opposition of the electric eel's impedance being mismatched from the intensity of the moral rectifier...but then in after thought, the blender and vibrator rev speeds may just get the right multiplication voltage step offset to activate the decoy resistor correctly. It'll probably get good mileage on the doz D cells once ground balanced.

Congress only typically gets involved in the bona fide rights of the patents - not the the ROWs. US Congress issues the patents signed by the president. The road cases then become a component of the localized jurisdictions within each state and many end up in the state supreme courts regarding interpretation, therefore the FS lately has been stepping back ignoring it (at least since the 93 election).

I've tried nearly everything mentioned above without success (except the heels or a Ford) after 35 years of weathering in cold/wet... I finally discovered zinc oxide ointment heals the cracking up in a couple days. Use diaper rash ointments also with 40% zinc - it's white colored so i put it in the cracking at night, absorbs gone in the morning and works wonderfully.

Sheep herders "....baaad situation" 🤣 RS2477 roads/prescriptive rights... depends on your state's laws (these can change overnight (I know having effected a couple changes in Idaho myself, and only recently having 2 passed against me and my work), the govt's position/backing, and how deep is the pocketbook and how large the legal firm.

Matt- Those are awesome finds! Are they from some of the terrain area shown in your excellent presentation on Lidar 2 years ago? I was impressed with the "modeling" capability which can certainly help to try and follow it's erosion migration path, thereby hinting at where to concentrate efforts. Maybe Lunk will make a wide circle home this spring to sniff out some eastern nuggets with his GPZ? (Ha) Mike

I'm soooo happy to see this post! I can show my wife... that I'm not the only one who has old gold/treasure magazines/articles saved from decades ago!

My finds for the total of this year! At least I got out 3 times...

In case people are wondering, this is not a NEW thing. The update that added this happened at the end of 2018, so machines with this function have shipped for almost two years... Mine was purchased on 1.26.19 and does not have this feature... here's what was found yesterday... small one is first found @ half a grain and second one 25 ft away at 4 grams.

My eyes are okay... i was wearing my 😎

I've had to survey fences/structures built into the water along lakeshores for court cases over access... in Idaho it's often determined by mean summer pool level. Can also depend upon type of deeded right. As Steve mentioned, prescriptive rights to use can also be valid for access based on history, although difficult claim to back and often weak in court.